Scania Unveils First Bi-Articulated Euro 6 Gas Bus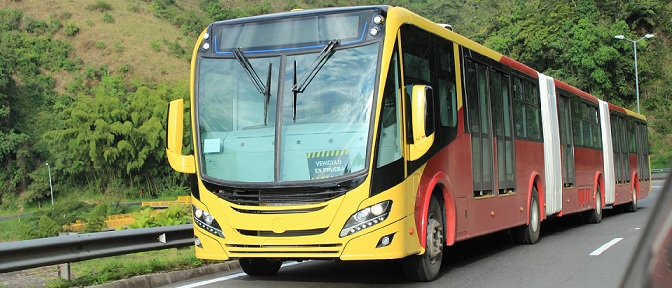 Scania has unveiled the world's first bi-articulated Euro 6 gas bus. The 26-metre front-engine bus has an impressive capacity for 250 passengers. 
"This large bus is specially designed for mobility-enhancing Bus Rapid Transit systems and each bus can actually replace 125 cars – with two passengers in each – on congested urban roads," says Rutger Hörndahl, Product Manager BRT at Scania Buses and Coaches. "The efficient gas powered engine will help decrease energy consumption and reduce urban pollution."
The bi-articulated F340 HA 8×2 bus  was developed in collaboration with the Colombian bus bodybuilder Busscar de Colombia. Scania already has its largest Euro 6 gas bus fleet in the Colombian city of Cartagena. Their capacity for high-altitude operations without loss of power and torque has been verified through independent tests.
Gas operations can significantly reduce particulate matter emissions. Additionally, when operated with biogas, carbon emissions can be reduced by up to 90 percent compared with conventional diesel. Carbon emissions are also slightly lower when using natural gas. Gas operations have the added advantage of a substantially lower noise level.
Scania is convinced that the innovative bi-articulated bus will be of increasing interest to cities around the world as they now address urban pollution and reducing their carbon footprint.