Samsung Galaxy S23 Series: Designed for a Premium Experience Today and Beyond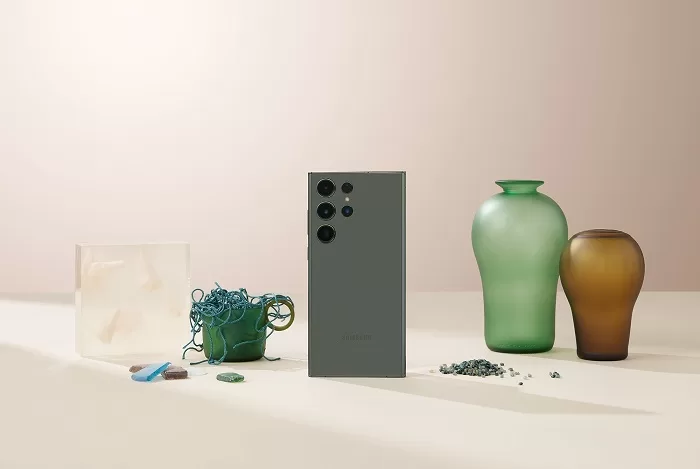 Galaxy S23 Ultra's most advanced camera, next-level gaming performance, and more eco-conscious design come together in Samsung's most innovative Galaxy S series yet.
Samsung Electronics Co., Ltd. unveiled the Galaxy S23 Ultra, Galaxy S23+, and Galaxy S23, marking a new era of Samsung Galaxy's ultimate premium phone experience. Samsung Galaxy's epic camera gives users more freedom to explore their creativity, like capturing truly cinematic Nightography videos with transformative AI. The Snapdragon® 8 Gen 2 Mobile Platform for Galaxy unleashes premium experiences, including groundbreaking AI, future-ready mobile gaming feature and powerfully sustained game play with the world's fastest mobile graphics.1 On the Galaxy S23 Ultra, an embedded S Pen2 that many long-time Samsung Galaxy users know and love offers more possibilities for productivity, notetaking, hobbies and more. All the Galaxy S23 series' new standard-setting innovations are housed within a striking design that advances the company's sustainability commitment with more components made using recycled materials than any other Samsung Galaxy smartphone.3
"The value of impactful technology is measured, not just by what it enables for people today, but also how it contributes to a better future," said TM Roh, President and Head of Mobile eXperience Business at Samsung Electronics. "The entire Galaxy S23 series is the new standard-bearer of trustworthy premium smartphone experiences. We're on a mission to redefine peak performance by bringing together powerful, lasting innovations and sustainability."
A Samsung Galaxy Camera with More Megapixels and Extensive Creative Controls, From Day to Night
Galaxy S23 Ultra makes it easier for any level of photographer to capture phenomenal content. It offers Samsung Galaxy's most advanced camera system, tailored for nearly any lighting conditions and engineered to render incredible detail. Improved Nightography capabilities transform how the Galaxy S series optimizes photos and videos in a wide range of ambient conditions. Filming a favorite song at a concert, snapping a selfie at the aquarium, or grabbing a group shot of friends at dinner — users can get sharper images and videos.4 Visual noise that usually ruins low-light images is corrected by a new AI-powered image signal processing (ISP) algorithm that enhances object details and color tone.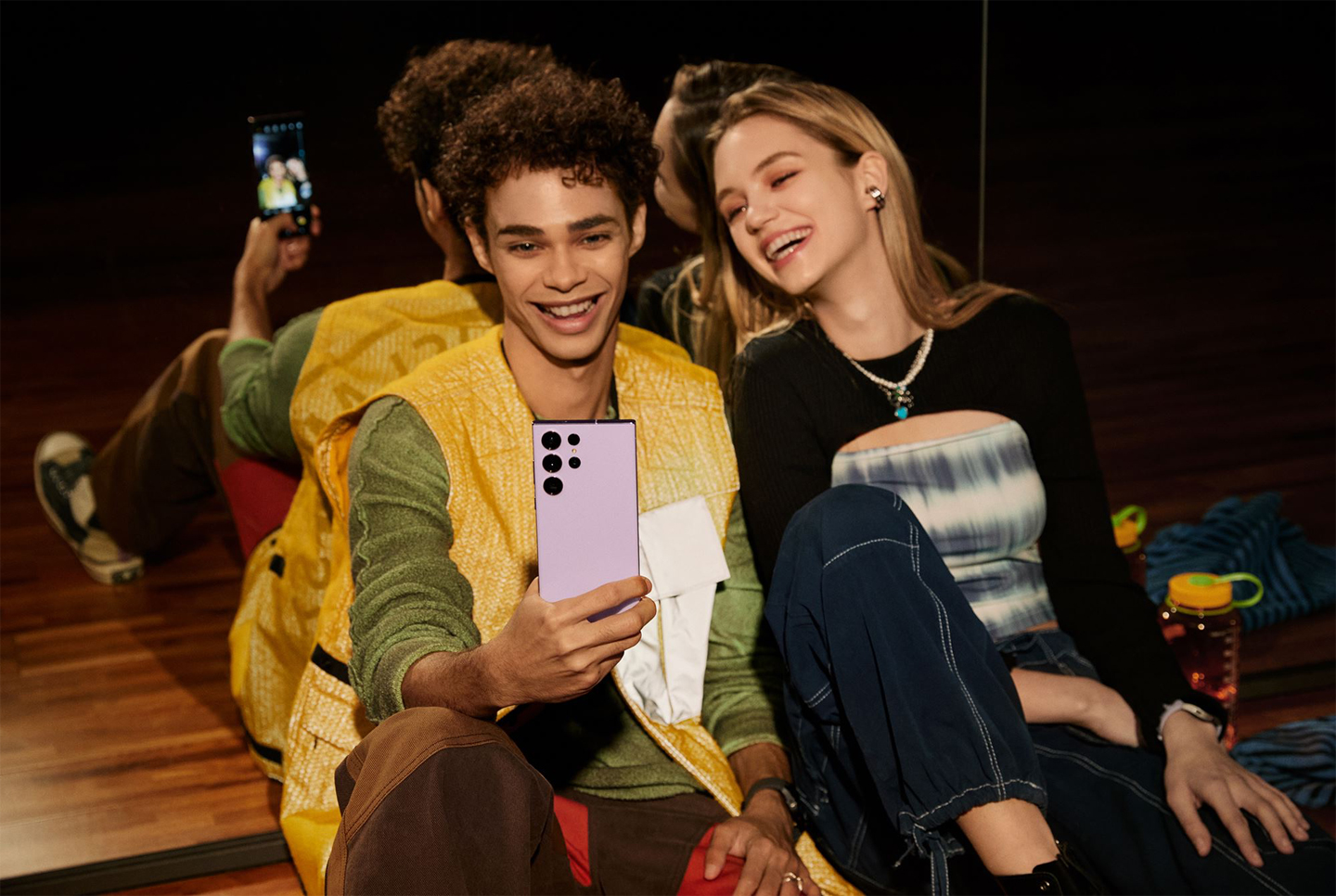 In a Samsung Galaxy first, Galaxy S23 Ultra boasts a new 200MP Adaptive Pixel sensor that captures epic moments with incredible precision. It uses pixel binning to support multiple levels of high-resolution processing at once.5 And because selfie cameras are more important than ever to how we communicate today, the Galaxy S23 series introduces fast autofocus and our first Super HDR selfie camera, jumping from 30fps to 60fps, for noticeably better front-facing images and videos.
For users who want the ultimate creative control and customization, the Galaxy S23 series offers a suite of tools that differentiate any photography experience. The Expert RAW app,6 available exclusively on Samsung Galaxy, enables DSLR-style image shooting and editing in RAW and JPEG — no bulky camera equipment is required. Users can experiment with Multiple exposures photo art or capture a clear view of the Milky Way with Astrophoto settings, and now, after being downloaded on Galaxy S23, Expert RAW features can be accessed within Samsung's native Camera app. Meanwhile, the new zoom capabilities on Galaxy Watch5 series' Camera Controller app7 empower users to capture a perfectly framed shot right from their wrist.
Additional camera advancements include:
Low-light or in situations that would normally create a blur, videos are stable with doubled optical image stabilizer (OIS) angles in all directions on Galaxy S23 Ultra.
Recording videos feel more cinematic with enhanced 8K video8 at 30 frames per second with a wider angle.
Advanced, object-based AI analyzes each detail in the frame, even down to minute facial features, such as hair and eyes, to carefully reflect a person's dynamic characteristics.
For an even more enhanced video experience, the new 360 Audio Recording feature9 on Galaxy Buds2 Pro creates multi-dimensional sound.
On Galaxy S23+ and Galaxy S23, the iconic Samsung Galaxy camera also gets an upgraded look. The contour housing has been removed, marking a new era of essential Galaxy design that makes the entire series stand out.
Premium Performance Makes Way for the Future of Mobile Gaming
For creators and gamers alike, the desire to push limits and constantly reimagine what's possible requires technology that outpaces expectations. Together, Samsung and Qualcomm optimized the Samsung Galaxy experience with the brand-new Snapdragon® 8 Gen 2 Mobile Platform for Galaxy, the most powerful and efficient platform ever in a Samsung Galaxy smartphone and the fastest10 Snapdragon available today. Meanwhile, on the Galaxy S23 Ultra, a 5000mAh battery11 powers a larger camera than Galaxy S22 Ultra without increasing the device's size.
A newly designed CPU micro architecture boosts the processing abilities of the Galaxy S23 series by about 30 percent compared to the Galaxy S22 series.12 Capturing stunning photos in low light requires trillions of calculations per second, so Samsung Galaxy's highly efficient NPU architecture has been optimized by 49 percent to balance performance and power while using an AI algorithm to help users take epic photos and videos.12 One of the most significant improvements to the Galaxy S23 series is the optimized GPU, which is approximately 41 percent faster compared to Galaxy 22 series and designed especially for power users.12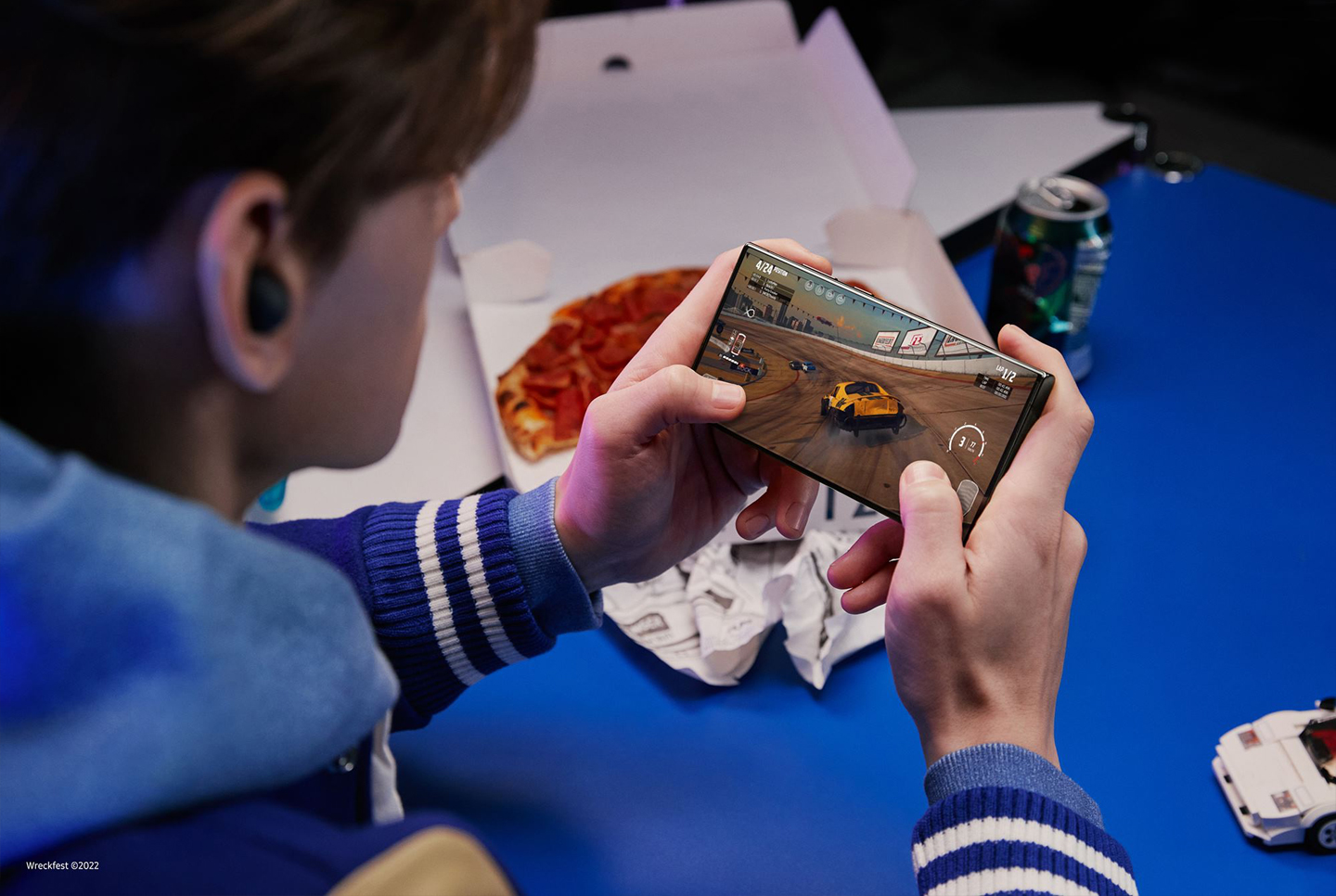 In anticipation of the future of ultimate digital realism, Galaxy S23 Ultra comes ready to support real-time ray tracing as it comes to the mobile gaming mainstream. Users will be able to see noticeably more lifelike renderings of scenes, thanks to technology that simulates and tracks every ray of light. Plus, Samsung Galaxy's vapor chamber, now bigger13 and on every Galaxy S23 series model, keeps your gaming marathon going.
All this power underpins Galaxy S23 Ultra's expansive 6.8-inch14 edge display with a reduced curvature to create a larger and flatter surface area15 for the best visual experience on a Samsung Galaxy smartphone. Samsung Galaxy's unique Enhanced comfort feature allows users to adjust color tones and contrast levels, lessening eye strain from screen time at night. Vision booster now adjusts at three levels of lighting instead of two to combat brightness and glare in daylight.
Designed with the Planet in Mind
The Galaxy S23 series raises the bar for premium technology that can enrich people's lives and help contribute to a healthier planet. Since the Galaxy S22 series, Samsung Galaxy increases its use of recycled materials from six internal components in Galaxy S22 Ultra to 12 internal and external components in Galaxy S23 Ultra. Galaxy S23 series also has a wider variety of recycled materials than any other Galaxy smartphone, including pre-consumer recycled aluminum and glass and post-consumer recycled plastics sourced from discarded fishing nets, PET bottles and water barrels.
The new S series is the first to feature Corning® Gorilla® Glass Victus® 2, offering durability for long-term use and consisting of an average of 22 percent pre-consumer recycled content16. Plus, every Galaxy S23 smartphone comes in a redesigned packaging box which applied paper made with 100 percent recycled paper.
With the Galaxy S23 series, Samsung Galaxy is doing more to minimize its impact on the environment without compromising quality and aesthetic. The Galaxy S23 series is UL ECOLOGO® certified17, meaning that the product has been certified for reduced environmental impact.
For users who want to extend the life of their device, the Galaxy S23 series' premium experience can be sustained through the years with four generations of OS upgrades and five years of security updates18. To enhance its longevity, users can also leverage programs such as Samsung Care+19, a support service for accidental damages, repairs and more.
User-Friendly Security and Privacy Enable a Transparent Experience without Compromise
Secure and private experiences are the foundation of the Galaxy S23 series. Every smartphone comes with Samsung's end-to-end Samsung Knox protection, which has received more government and industry certifications than any other mobile device, platform or solution on the market. The Security and Privacy Dashboard on Samsung Galaxy gives users full visibility over who has access to their data and how it's being used. With just a glance, it's easy to see if personal data is at risk and receive simple prompts to change settings for a more secure experience. Users can also decide exactly which applications and programs get access to their data and how it can be used.
For an added layer of security, Knox Vault, which was first introduced on the Galaxy S21 series, protects critical information on the Galaxy S23 series by isolating it from the rest of the device, including the OS, for added protection against vulnerabilities.
More Freedom and Flexibility for Connected Lifestyles
At the core of the Samsung Galaxy S series' premium experience is the uncompromising innovation of Samsung Galaxy Ultra. But the power and creative capabilities of Samsung Galaxy Ultra don't stop at smartphones. With the brand new, first-ever Galaxy Book3 Ultra, and the Galaxy Tab S8 Ultra, users can now enjoy an ultimate Samsung Galaxy's ecosystem.
Across every Galaxy S series model, connected experiences get added benefits. Samsung Multi Control,20 which connects mouse and keyboard functionality between a Samsung Galaxy PC and tablet, now extends to Galaxy S23 Ultra, Galaxy S23+, and Galaxy S23 for the ultimate flexibility between devices. Plus, enhanced text usability makes it easy to copy and paste text, like URLs, from one device to another to pick up an activity on another device. On Galaxy S23 Ultra, Google Meet paired with Samsung Notes and the embedded S Pen now make video calls even more collaborative. With Google Meet live sharing, participants can simultaneously co-edit21 a document from each of their Android devices, rather than viewing a shared screen.22
Availability
The Galaxy S23 series comes in four nature-inspired matte hues: Phantom Black, Cream, Green and Lavender23.
Starting on February 17, 2023, Galaxy S23 Ultra, Galaxy S23+ and Galaxy S23 will be widely available in carriers and retailers, and on https://samsung.com.
1 Snapdragon® 8 Gen 2 Mobile Platform for Galaxy is optimized for Samsung and exclusive at the time of Galaxy S23 series' launch. World's fastest Snapdragon claim true as of February 1, 2023.
2 S pen support is only available on Galaxy S23 Ultra. Not available on Galaxy S23+ or Galaxy S23.
3 Galaxy S23 Ultra uses recycled materials in 12 internal and external components (Galaxy S23+ and S23: 11 internal and external components), compared to six internal components in the Galaxy S22 Ultra.
4 Compared to Galaxy S22 Ultra.
5 Samsung's updated pixel binning technology for Galaxy S23 Ultra provides 200MP, 50MP, and 12MP output options.
6 Expert RAW must be downloaded separately from the Galaxy Store, for free, before use. Expert RAW app is available on Galaxy S23 series (S23 Ultra, S23+, S23), Z Fold4, Galaxy S22 Series (S22 Ultra/S22+/S22), Z Fold3, S21 Ultra, S20 Ultra, Z Fold2, and Note 20 Ultra.
7 Camera Controller app is preloaded on Galaxy Watch5 series.
8 8K video playback is available only on devices supporting 8K resolution.
9 The feature will be available on Galaxy Buds2 Pro paired with a Samsung Galaxy smartphone running One UI 5.0 or above with LE Audio support, including Galaxy S23 series. Installation of the latest software versions of Samsung Galaxy smartphone and Galaxy Buds devices is required. To activate the feature, go to Samsung Camera app > tap Camera settings after selecting Video mode > tap Advanced video options > turn on 360 Audio Recording.
10 World's fastest Snapdragon claim true as of February 1, 2023.
11 Typical value tested under third-party laboratory condition. Typical value is the estimated average value considering the deviation in battery capacity among the battery samples tested under IEC 61960 standard. Rated capacity is 4855mAh for Galaxy S23 Ultra. Actual battery life may vary depending on network environment, usage patterns and other factors.
12 AP performance improvements shown compared to prior generation chipset. Actual performance will depend on user environment, conditions, and pre-installed software and applications.
13 Compared to Galaxy S22 Ultra.
14 Display measurements are diagonal. Actual viewable area is less due to rounded corners and camera hole.
15 Compared to the Galaxy S22 Ultra.
16 Corning® Gorilla® Glass Victus® 2 is incorporated into front screen and back cover of Galaxy S23 series.
17 UL ECOLOGO® Certified products and services are verified for reduced environmental impact based on environmental performance criteria throughout its life cycle, including energy reduction, materials, health, environment, manufacturing and operations. Galaxy S23 series met the UL 110.
18 Availability and timing of Android OS upgrades and security updates may vary by device model and market. Devices eligible for four generations of Android OS upgrades and five years of security updates currently include Galaxy S23 series (S23 Ultra/S23+/S23), Galaxy S22 series (S22/S22+/S22 Ultra), S21 series (S21/S21+/S21 Ultra/S21 FE), Z Fold4, Z Flip4, Z Fold3, Z Flip3, and Tab S8 series (Tab S8/Tab S8+/Tab S8 Ultra).
19 Terms and conditions apply. Samsung Care+ coverage, service type and redemption may vary by market and deductibles (additional service fee) may apply. For detailed Samsung Care+ information, please visit https://www.samsung.com/samsung-care-plus/.
20 Samsung Multi Control works on Galaxy tablets with One UI 4.1 or above, Galaxy phones with One UI 5.1 or above and Galaxy Book series devices launched in 2021 or later with either Samsung Settings v1.5 (Intel) or Samsung Settings v3.3 (ARM). Some models may have limited feature support and both phone and PC must be signed into same Samsung account.
21 Co-edit is currently available on Galaxy S23 Ultra.
22 Users are required to log in both their Samsung and Google account to their device.
23 Availability may vary by market.