SALAM wins big at the 10th edition of the Global Brands Magazine Awards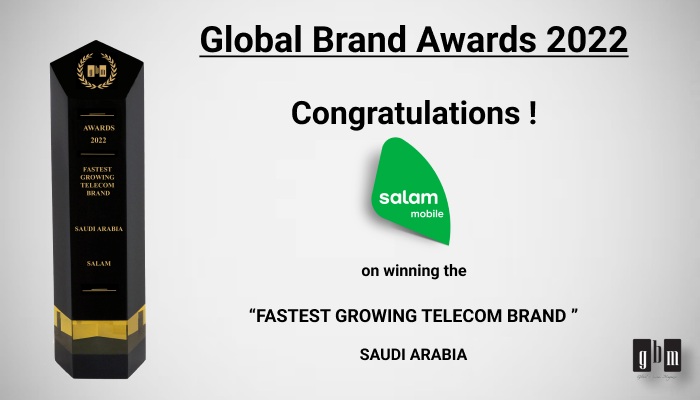 SALAM won the "Fastest Growing Telecommunications Brand" in Saudi Arabia for the year 2022. The felicitation ceremony was held on the 10th of December at the Palm Jumeirah – Waldorf Astoria, Dubai.
The Global Brand Awards is an annual event held by Global Brands Magazine (GBM), an international publication headquartered in the UK. The award recognizes brands across the globe achieving excellence. Global Brands Magazine covers various sectors while keeping its readers updated on key trends surrounding the branding world. SALAM was evaluated on several criteria, including customer service satisfaction, digital innovation, strategic relationships, and new business development, and they stood out in all aspects.
Commenting on SALAM winning the awards, Jay Reddy (Director) of Global Brands Magazine said, "For a telecommunication brand to succeed, so many aspects need to be catered to. SALAM has, time and again, made sure that its structures operate smoothly and that its customers are never left in the dark. Spanning across the entire nation of Saudi Arabia, SALAM is a prime example of telecommunications done right."
About SALAM
Salam is a leading Saudi-based telecom provider offering next-generation ICT solutions for broadband, connectivity, cloud computing, managed services, security services, satellite services, and internet services for government, businesses, wholesale, and consumer sectors.
About Global Brands Magazine (England)
Global Brands Magazine (GBM) has been at the forefront, bringing news, views, and opinions on brands shaping the future of their industry. The UK-based magazine provides its readers with the latest news and information on 'best-in-class brands across the globe. Each year, GBM develops a series of awards for companies that stood out, have a unique vision, exceptional service, innovative solutions and consumer-centric products among their industry leaders.
About Global Brand Awards
Global Brand Awards honours brands for their excellence in performance and rewards companies across different sectors for the quality of their services. The Brand Awards highlight the accomplishments of organisations that have performed remarkably well in finance, education, hospitality, automotive, lifestyle, education, real estate, technology, and several more. Global Brand Awards recognise vital players who progress towards excellence by providing a platform to acknowledge their efforts. In addition, GBM strives to create awareness concerning the significance of such organisations and rewards them for their notable efforts with the ultimate global recognition.