Returning to the Office After Coronavirus Pandemic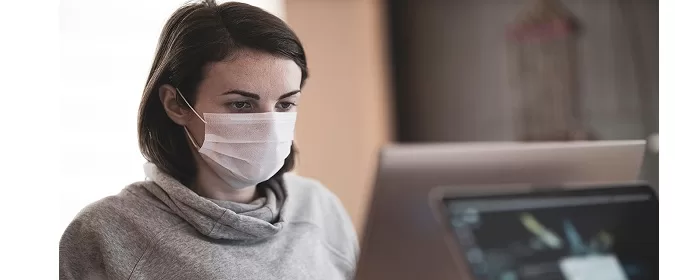 For those who have spent the past few months working from home, it's hard to remember a time when work didn't coincide with pajamas and a comfy spot on the couch. However, as nations around the globe begin loosening their lockdown measures, it is time for businesses to plan for a return to the office.
In order to implement a smooth transition back into the office, companies must keep in mind that the impact of coronavirus has led to major lifestyle changes that not only apply to our personal lives but to the workplace as well. Say goodbye to small spaces or packed meeting rooms, at least for now, as employers have a newfound responsibility to provide a safe and hygienic working environment.
Additionally, the novel coronavirus has shifted employee sentiment as many people are experiencing heightened anxiety surrounding office safety. While time will likely play a large role in easing public apprehension, there are a number of steps companies can take to make the emotional transition for employees easier.
From short-term fixes to long-term design modifications, companies must find a way to boost worker confidence while keeping hygiene at the heart of workplace policy. Check out these 15 simple steps to achieving a successful office reintegration that maintains safety and rebuilds employee morale:
1. Have Disinfection Stations Throughout the Office
A crucial first step to keeping the office space hygienic often starts with protecting the surfaces we touch. Having disinfectants readily available throughout the office is a great way to prevent the spread of germs/viruses and limit the exposure of outside contaminants to employees.
Office spaces should place disinfectants at the entrance and around the building to encourage employees to consistently disinfect their hands throughout the day. While this one may seem like a no brainer, disinfectants are oftentimes one of the first lines of defense against harmful pathogens.
2. Provide Employees With Masks
Returning to the office after COVID-19 can be both scary and nerve-wracking. Employees are understandably concerned about their health and safety as, for many, it's the first time returning to a public space. With that being said, new office policies should recognize these concerns and attempt to ease employee concerns by providing face masks.
This may be highly useful for those who work near others or feel more comfortable with an extra barrier of protection against pathogens. Providing face masks also displays the company's commitment to keeping employees safe and healthy upon their return to work.
3. Don't Make Going to the Office Mandatory
Unless you're a Twitter employee, it's likely that you'll have to return to the office eventually. However, it's not such a great idea to recall the entire office at once as many people are still grappling with the disruptive effects of coronavirus.
Whether it's health concerns or family responsibilities, many employees can't just drop remote work altogether. It's important that company policies take into consideration the impact coronavirus has had on the community and incorporate a level of flexibility to make things easier for those who are struggling to adjust. A great way to stay connected at a distance is through video conferencing; learn how to improve video call quality with five helpful tips.
4. Utilize Digital Tools to Enable Smooth Remote Collaboration
Digital transformation has played a critical role in the transformation for all businesses, brands, and enterprises during COVID-19. It's not only made remote work feasible, but it has also allowed many businesses to thrive during a time of crisis.
Therefore, it's paramount that office spaces empower the use of digital transformation to continue remote collaboration as various employees remain at home. Hooking up meeting rooms with video conferencing technology and providing all employees with a reliable VPN are just a few ways to enhance remote collaboration. Discover more about how coronavirus has set new waves of digital transformation and how your business can learn from it.
5. Ensure Desks and Open Areas Have Enough Space
Company offices should consider rearranging open spaces and furniture to enforce the practice of social distancing by employees. While it's nice to have someone to talk to throughout the day, desks in close proximity can quickly put the entire office in danger of spreading germs to one another.
A great way to keep employees safe while working starts with rearranging desks to stand at least six feet or 1.8 meters apart. It's also advisable to reconfigure the floor plan so that employees are not facing one another. This provides each employee with a safe and semi-sheltered working environment while in the office.
6. Limit Number of People Allowed in Meeting Rooms
As much as we all miss communal meetings, a stuffy conference room can be a breeding ground for viruses. It's important to determine how many people can safely occupy a meeting room while complying with the appropriate physical distancing measures. Removing extra chairs and placing markers will help enforce the limit.
For meetings that require a large number of attendees, offices should consider equipping each meeting room with conference call technology to keep everyone in the loop while facilitating safe social distancing.
7. Close Small Meeting Rooms With No Windows
Due to the nature of viruses, it's crucial that office buildings close off small spaces with poor ventilation before welcoming employees back in. Additionally, it's essential that all employees understand the new procedures for entering the building and using common spaces.
This issue may be alleviated by opening windows and increasing ventilation throughout the space. If there are areas that employees cannot maintain a safe six feet of distance, it's the employers job to rope off these problem spots.
8. Manage Office Capacity
To support a smoother transition for employees who are reintegrating into the workplace, companies should consider providing staggered shifts, such as morning and afternoon, or perhaps divvying it up by the week. This method of dividing up the workforce will keep the office capacity at a minimum while limiting contact with others.
A great way to determine which employees will attend the office is by distributing a signup sheet for available working hours. It's oftentimes more efficient to ask department managers to distribute the time blocks so that essential teams can work together.
9. Open Windows Frequently
While most of us don't prefer the windows open during summertime, it's a necessary measure company offices should take to improve ventilation. In fact, according to the US Centers for Disease Control and Prevention, increasing ventilation in your home or office by opening windows or adjusting the air-conditioning can be an important way to keep inhabitants healthy.
Office spaces should make an effort to enhance building ventilation by keeping windows open throughout the working day. Fresh air is far more likely to disperse the microscopic droplets of saliva from coughing, sneezing, talking, inhaling, and exhaling. Thus protecting the working space and employees in it, from housing harmful viruses.
10. Only Distribute Individually Packaged Food
Everyone knows that an office break room filled with savory and sweet snacks is the best kind. However, employees should say goodbye to homemade treats and shareables as offices focus on protecting their health and safety.
Food, snacks, or drinks that aren't individually packaged are vulnerable to hosting and spreading harmful germs. Therefore, even if no one in the office is presenting any symptoms, it's important to keep food items completely separated.
11. Use Internal Posters to Remind Employees of the Restrictions
It's always a good idea to remind employees of new policies and procedures with the help of internal posters. Whether it's a pun on frequently washing your hands or a warning to avoid cramped spaces, using posters to inform and encourage office safety is a positive method of enforcing new rules.
It's helpful to use internal posters near communal spaces of the office in order to remind employees to practice social distancing and avoid any close contact. It is also advisable to include them near the entrance of the office in order to prompt workers to disinfect their hands upon arrival.
12. Communicate Changes Frequently Across Internal Channels
Something we've all learned throughout the course of coronavirus is that things can change very suddenly. Therefore, it's of the utmost importance that companies preserve a channel of communication to share any changes in office policy or safety guidelines with employees.
Whether it's via email or Slack or something else, employees should consistently receive updates on the current health situation of the office. It is critical to ensure that all employees understand important items and that they feel comfortable with the practices and procedures in place.
13. Allow Flexible Schedules to Encourage Off-Peak Commuting
Although office spaces have the potential to be made safe, most public transportation options do not. Employers must keep in mind that calling employees back to work will likely require many of them to take the metro, bus, or train which is often packed with other people.
A great way businesses can show their employees some love is by allowing flexible working schedules so that workers can avoid cramped public transportation during rush hour. It's an extra step that will help protect employees' health inside and outside of the office.
14. Disinfect Commonly Used Surfaces and Areas
As previously mentioned, it is important to keep community surfaces clean and disinfected. This includes the kitchen area, restrooms, conference rooms, copiers, scanners, and other public equipment. Offices can provide disinfectant materials or sanitizing wipes nearby to encourage others to disinfect surfaces before and after use.
Additionally, businesses may want to explore ways to reduce or limit access to shared surfaces or equipment, while still providing the needed function. This may be achieved by closing off the kitchen area and limiting use of conference rooms.
15. Use Floor Markings to Encourage Distancing
Staying six feet away while standing in line for the coffee machine or passing a colleague in the hallway may not be as simple as it sounds. A helpful way offices can both inform and enforce employees to practice social distancing while working starts with placing markers around the workplace.
A great way to accommodate employees who can't simply eyeball six feet of distance, is by placing tape on the ground that indicates a safe social distance. This may also be achieved via posters on the wall that label every six feet of space in communal areas of the office.
The Takeaway
The impact of COVID-19 has transformed countless aspects of business, including how operations will resume in the general office environment. As many of us are itching to get out of the house, companies are grappling with a myriad of tasks to fulfill before the office is back in full swing.
Businesses have a responsibility to create a safe office environment and protect returning employees from catching or spreading viruses while at work. With that being said, here are a few things businesses should keep in mind before inviting workers back to the office:
The workplace environment needs to be physically altered to enforce social distancing, ventilation, and to limit the use of communal surfaces
Office spaces will require a hefty supply of disinfectant and should make disinfecting wipes and sprays readily available throughout the office, with special attention given to the entrance
A smooth transition requires flexibility, which means companies are encouraged to continue to allow remote work while bringing in a limited number of employees to the office at a time
Businesses should keep the health of employees at the top of their reintegration list; providing facemasks, germicides, and flexible schedules are all great ways to protect office hygiene
As life slowly returns to normal, we find ourselves taking extra precautions to safeguard others and our own health. Although the workplace may never be exactly as it was, it will certainly be safer for future flu seasons.