5 Reasons Chatbot Technology Can Help Your Site's CRM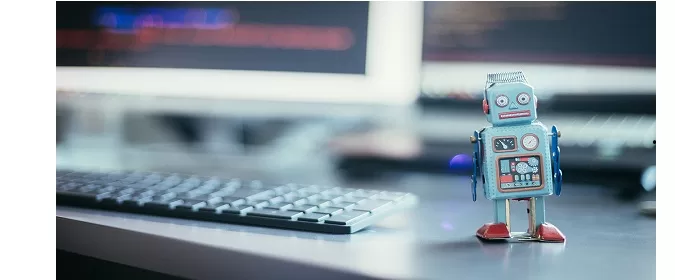 You have your work cut out for you if you are a digital marketer. Your goal is to attract people to your website, encourage those people to go through the necessary steps to make a purchase, and do so without any human interaction.
This is a tough job.
How do you attract potential customers when you can't charm them with your winning smile? How do you encourage repeat business when you can't have a face-to-face conversation with your customer about your new products or improved service?
No matter if you sell motion-sensitive cameras or jewelry made out of seashells, chatbots can attract the right customers to your website. According to Business Insider, the chatbot market size is expected to grow from $2.6 billion in 2019 to $9.4 billion by 2024.
Here are some reasons why chatbots will improve your business' customer relationship management.
Chatbots Provide a "Human" Connection
Even the most docile person can turn into the Hulk when trying to find the answer to a simple question about a product or service turns out to be not so simple. Here's what many customers experience:
The customer starts with a simple search on the product's website, only to be led down a rabbit hole of pages leading to nowhere
Once a customer service number is finally uncovered, they call only to hear an automated message, which promises a call back if a name or number is left
The customer finally tries to email customer care and receives a response two days later that doesn't answer the question
The customer goes on a tirade over social media, annoying his friends and family with long, rambling complaints about your company
Is this what your current customers experience when trying to find out more about your product or service? Go ahead and admit it. The first part of fixing the problem is accepting that you have a problem.
If you provide your customers with a chatbot, they will feel as if they are interacting with a real, live human – even when they are not. Chatbots have become so sophisticated, that many clients will assume they are chatting with a friendly, intuitive customer service agent who understands their problem and will work hard to take care of any issues you may be experiencing.
Yes, chatbots are that good.
Chatbots Are Available 24/7
Human beings have this pesky need to eat, sleep, and drink beer while watching Netflix. As much as you would like to staff your website with human customer care providers 24 hours a day, it simply isn't feasible.
Imagine how delighted your insomniac customer will be to find help available on your website, even in the middle of the night. Your customers can receive answers to simple questions, schedule appointments, or find out where their packages are no matter the time of day when using a chatbot on your website.
Chatbots Can Ask Customers if They Want Fries With Their Order
Imagine this scenario: Your website sells high-end athletic wear – the products people purchase not necessarily to wear while exercising but to look as if they intend to work out that day.
Your current website may be typical to most. Customers place items in virtual carts and then proceed to the checkout when ready to make a purchase.
But what if a "real-life" attractive exercise guru suddenly pops up in a chat window, suggesting that your customer also purchase the matching headband to complete the ensemble?
What if your furniture company's chatbot is a "designer from Oakland, California" who recommends that you purchase these funky, colorful throw pillows with your new sofa?
Since chatbots can be programmed to speak like a human and offer perfect suggestions for add-on items, your customers may be more likely to add additional items to the cart.
Chatbots can even remind your customers that he or she is only a $15 purchase away from getting free shipping.
Since your online company may not be able to hire a friendly, helpful sales associate to work at your store, adding a chatbot to your website is the next best thing.
Chatbots Give Customers the Service They Expect
People give names to the navigation voice coming from their phone. They ask Siri and Alexa questions all day long from "What's the temperature outside?" to "What's the score of the game?"
Even though most people know that no real-life person is instructing them on how to find the kitchen supply store, they chat with those "people" as if they are long-lost friends. Your customers want to be able to chat with someone in your company about your products or service, either through smart speakers or their smart home devices.
Chatbots Save Money
Think about how many people your company would need to hire to take the place of a chatbot powered by artificial intelligence.
The beauty of using chatbots is that it seems as if you are adding to your staff without adding to your payroll. And chatbots never go on maternity leave, are never rude to difficult customers, and always remember to suggest a sale at the end of an interaction with a customer.
The Takeaway
Chatbots are the way of the future. Customers have high expectations; they want to be treated like a valued customer because they know that there are plenty of other online marketplaces from which to shop.
By investing the time and resources into developing and curating an automated chatbot, your company will see the benefits of an improved customer experience. Give your customers what they expect by adding a chatbot to your website and boost your customer engagement.