Renowned Drake Hotel in Toronto opens Drake One Fifty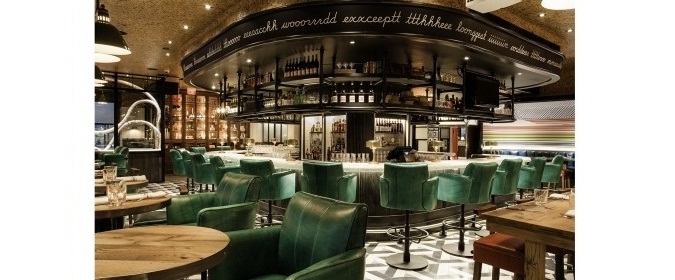 TORONTO–(BUSINESS WIRE)–
Drake Hotel Properties is delighted to announce its first-ever stand-alone restaurant in Toronto, Drake One Fifty, which opened Wednesday, October 2 in the heart of downtown Toronto (150 York St.). The newly renovated 6,000-square-foot space seats 180 guests and includes a dining room, bar, covered urban patio, micro-Drake General Store, curated art and performance space. Toronto's unprecedented growth continues to outpace all other North American cities, and the opening of design-forward, creative restaurants like Drake One Fifty in the financial district is a signifier of this rapidly paced change. From new hotels like the Shangri-la, Four Seasons, The Ritz-Carlton and The Trump, to more high-rise development than any city in North America, Toronto is continuing to improve upon its international reputation as a world-class food and entertainment destination.
Internationally renowned designer Martin Brudnizki collaborated extensively with the Drake team on the highly unique design, staying true to the instantly recognizable Drake style of contemporary-meets-classic. Executive Chef Ted Corrado has created an innovative Canadian brasserie menu, upholding the company's reputation for elevating comfort classics with high quality ingredients.
Nestled in an early 1980s postmodern office building, the newly transformed, light-filled space features a playfully deconstructed dining room and bespoke 60- foot oval marble bar. This new concept of a combined restaurant, bar, retail and art space is a wink to the original Drake Hotel concept – in effect, a Drake without beds.
"Our new venture in the thriving core of downtown Toronto allows us to showcase our superb food and cocktail program as the headline act, with all the usual Drake offerings, be it innovative design, visual or performance art backing it up," said Jeff Stober, CEO and founder of Drake Hotel Properties.
Drake continues to grow and evolve its particular brand of modern cooking at Drake One Fifty, where Corrado and his team of highly talented chefs (formerly at notable Toronto restaurants like Hoof Café, Pizzeria Libretto and Canoe) showcase their inventive twists on classic dishes. Highlights of the brand-new menu include: roasted shoulder of lamb (served with blanched haricot vert, roasted baby eggplant, new potatoes, chili puree and yogurt, $28), rotisserie chicken for sharing (with leeks, potato, carrot, Brussels sprouts, roasted chicken jus, $40), seasonal house-made pastas including rabbit confit torchetti (with sundried black olives, spinach, chanterelles and pecorino, $22) and a seafood tower (fresh daily mix of lobster, crab, oysters, shrimp, mussels, clams and squid, served with an array of sauces and available in multiple sizes, $50 to $150).
Drake One Fifty service offerings include a full lunch and dinner menu, afternoon nibbles, large group and catering menus, as well as late-night eats.
"I am thrilled to embark on this new adventure with the very capable and creative Drake team," said Corrado. "Working alongside the talented members of the Drake Hotel is a true pleasure, and I know that we'll delight our guests with the exciting menu we've created for Drake One Fifty."
Boasting a team of local and international award-winning mixologists, Drake One Fifty continues to develop the deep cocktail book for which Drake has been cited as Toronto's "best brown liquor purveyor", offering "finely tuned takes on classic cocktails and innovative originals."
Design
Designer Martin Brudnizki, whose previous projects include Soho Beach House, Cecconi's West Hollywood and Le Caprice New York, led the design, alongside the in-house Drake design team. This collaboration marks the first major Canadian project Brudnizki has undertaken. Brudnizki's upcoming projects include Roosevelt Hotel in Miami, the 5 Beekman Street Hotel in New York and the Fig & Olive restaurant in Chicago.
The design was inspired by historic brasseries and taverns, along with decades of modernism, and features a custom handmade tile floor, Brothers Dressler-designed wood pergola, one-of-a-kind marble top surrounding the circular main bar, custom cork ceiling and a louvered steel and glass window curtain wall, to form the entire east wall of the restaurant. Other design highlights include antiques from famed Brimfield Antique Market, crafted millwork, vintage light fixtures and a restored photo booth.
The 70-seat urban patio serves as a rare downtown outdoor refuge, echoing the design of its sister patio at the Drake Café with planters (which include one-of-a-kind neon orange gnomes) designed by award-winning landscape designer Joel Loblaw. Diners are also be able to purchase quirky treasures, apparel, retro finds and more from the Drake General Store, housed in the lobby in a 30-foot-long re-imagined antique wall unit.
Permanent and roving art installations, performance space
Drake One Fifty's permanent art collection and rotating site-specific works curated by Nielsen bringan eclectic, creative aesthetic to the financial district. In addition to art exhibits, the restaurant features Drake's popular artist-in-residence program, a small performance and DJ space reflecting the vibe of the Hotel's Underground music venue, and multiple projectors showcasing custom video art.
The restaurant is currently hosting an installation by Canadian author (Generation X) and artist Douglas Coupland, and Sobey Award nominee Eleanor King's "Cuppa Cups" installation dominates the front vestibule. Textual and typographic treatments include Micah Lexier's text-based work and Garry Neill Kennedy's "Quid Pro Quo" paintings. Drake One Fifty will explore future cultural partnerships with its many downtown neighbours including the Toronto International Film Festival, the Art Gallery of Ontario, Canadian Opera Company, the National Ballet and more.
Drake has a history of recognizing emerging neighbourhoods. When Drake Hotel Properties opened the much lauded Drake Hotel at 1150 Queen St. W. in 2001, the community, which had a long history as an artists' enclave, was just beginning its revitalization and evolution. Drake is now taking its internationally recognized brand and incorporating it into both Toronto's financial district and Prince Edward County, through the renovation of the historic Drake Devonshire Inn (to open 2014), two communities that are undergoing a tremendous renaissance in their own right. As the first of two new properties, Drake One Fifty represents a significant moment of growth for a Toronto institution with sincere ambitions to represent its roots proudly wherever it goes next.
The Drake Hotel is located at 1150 Queen St. W. and Drake One Fifty is located at 150 York St. Visit www.drakeonefifty.ca or call 416-363-6150 for more information.
Follow Drake One Fifty on Twitter: @thedrakehotel
Find Drake One Fifty on Facebook: DrakeOneFifty
Follow Drake One Fifty on Instagram: @thedrakehotel
Contact:
rock-it promotions, inc.
Abigail Van Den Broek, 416-656-0707 ext. 106
abigail@rockitpromo.com
or
Natalie Petozzi, 416-656-0707 ext. 109
natalie@rockitpromo.com