JAPAN LAUNCHES THE WORLD'S FIRST INFLATABLE CONCERT HALL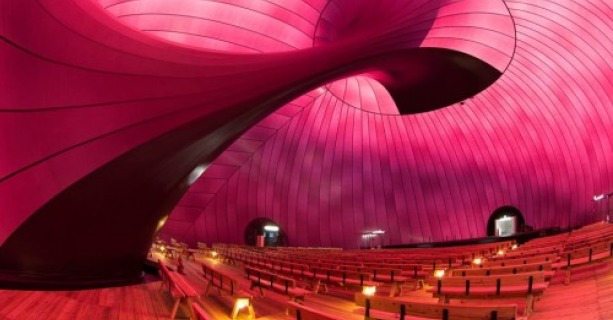 As a nation, Japan has offered plenty of innovations to the world for several years including the Bullet train, liquid pancakes, Jujitsu and many others. The Land of the Rising Sun now has another unique invention to offer on the islands of Matsushima.
Anyone who has visited Matsushima will agree that they will be at loss of words to describe the beauty of this group of islands. But if you are visiting this place any-time this weekend,  then you will be awestruck with not only the scenic beauty that the place has to offer, but also by the giant purple structure that is believed to be the world's first inflatable concert hall that was opened in this north-eastern coast of Japan.
The "Arc Nova" created by British sculptor Anish Kapoor and Japanese architect Arata Isozaki, is a giant balloon that has been coated with polyester material. The structure can be inflated in two hours, measures about 18 meters in height and 35 meters in width and can accommodate about 700 guests when fully inflated. The design process began in 2011 as a low-cost solution to organise relief concerts after tsunamis ruined the Miyagi Prefecture in March 2011.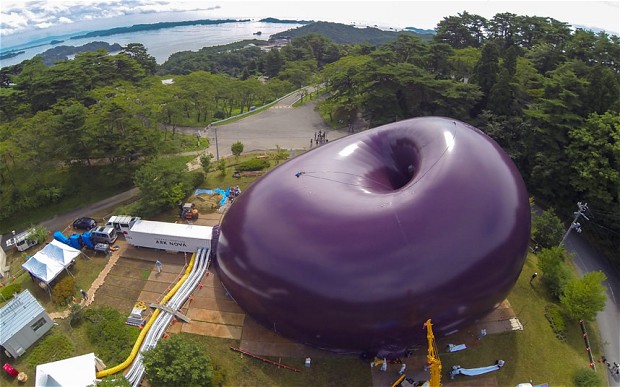 According to the creators, the giant structure can be deflated and carried around to different places to host events that will help unite people from different regions.
Keeping in mind the local connections, the wood from the damaged cedar trees in the Matsushima area will be used for the seating and acoustic reflectors in the hall. The concert hall will have its first event from 27 September to 14 October and will include performances by Sendai Philharmonic Orchestra, traditional Japanese kabuki theater, musical workshops for children and many more musical pieces.
The event that will be organised with the help of Switzerland's Lucerne Festival will witness a prominent gathering of renowned musicians from all over the world. The executive director of the festival, Michael Haefliger stated that the Lucerene Festival – Ark Nova Project will give hope to people who are living with the tragic images of 2011 in their minds.
The Japanese north-eastern coast of Matsushima was wrecked by an earthquake of 9.0 magnitude and an enormous Tsunami in 2011, in which nearly 19,000 people were killed. This also caused a spark at the Fukushima nuclear plant which led to the worst atomic accident witnessed by the current generation.