Reebok Releases Second Peppa Pig Kids Collection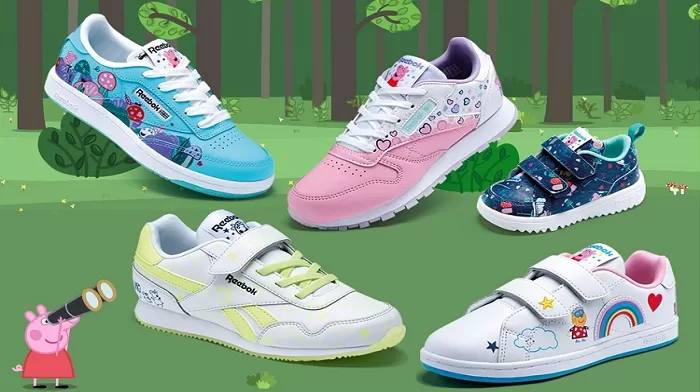 Let your imagination run wild with Reebok's latest Peppa Pig collaboration
Reebok announces its second Reebok x Peppa Pig kids-only collection in partnership with Hasbro. Stemming from the success of the first capsule collection launched in February, this new collection features five bright and bold silhouettes aimed to inspire children to let their imagination run wild.
Highlights of the Reebok x Peppa Pig collection include:
Classic Leather: Inspired by a summertime favorite activity of Peppa's — blowing bubbles — this Classic Leather sneaker features a splash of bright pink color on the upper with a whimsical and glittery graphic design on the sides and heel.
Complete Clean: Designed with Peppa and her friend's love for play in mind, the Complete Clean offers dual Velcro straps for double the fun without the fuss of laces. The sides include embroidered patches of her friends Suzy Sheep, Candy Cat and Peppa's trusted teddy.
CL Jogger: Featuring glow in the dark printed upper, laces, and outsole, the CL Jogger comes to life when the sun goes down.
Club C: Created for scavenger hunt-loving children, you can find Peppa and her friends peeking out of the plant and flower illustrations on the Club C sneaker's sides along with hidden graphic details on the outsole and heel tab.
Weebok Clasp: Representative of the many adventures Peppa and her family go on, the Weebok Clasp features an energetic pattern all over for a glimpse into Peppa's world. This is the only model that will be available in toddler's sizes only.
All shoes, except for the preschool Classic Leather and preschool Club C, offer either stretch lace or Velcro straps to ensure the shoes are easy to put on and take off. The preschool Classic Leather and preschool Club C come with traditional laces.
The Reebok x Peppa Pig collection will be available in toddler and preschool sizes beginning at $40 starting July 19th, 2021 on Reebok.com/peppa_pig at 10AM EST. The Club C and Classic Leather models will grant Reebok UNLOCKED members exclusive access to Find Peppa – a digital experience where kids can play a hide and seek game of locating Peppa in a playful setting.
About Hasbro
Hasbro (NASDAQ: HAS) is a global play and entertainment company committed to making the world a better place for all children, fans and families. Hasbro delivers immersive brand experiences for global audiences through consumer products, including toys and games; entertainment through eOne, its independent studio; and gaming, led by the team at Wizards of the Coast, an award-winning developer of tabletop and digital games best known for fantasy franchises MAGIC: THE GATHERING and DUNGEONS & DRAGONS.
Source: Reebok