"Master Your Own Style" With Reebok x DreamWorks Animation's Kung Fu Panda Available Globally January 8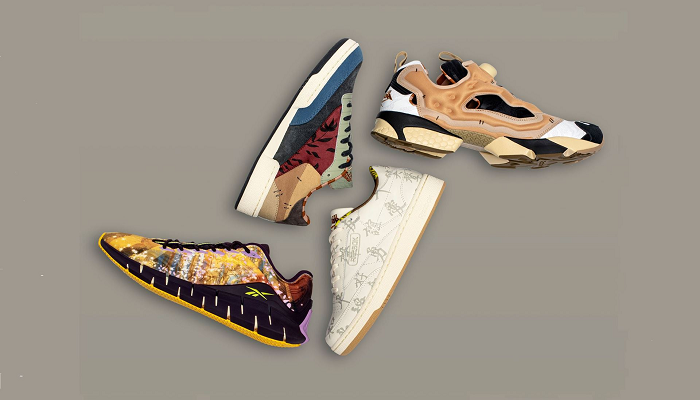 In partnership with DreamWorks Animation and Universal Brand Development, Reebok has officially unveiled its Reebok x Kung Fu Panda full-family footwear and apparel collection. Celebrating the iconic animated franchise, the collection is available globally from Reebok.com beginning January 8 before its wider release on January 15 from select local retailers, in time for the Lunar New Year.
Each of the collection's key footwear models embodies unique themes from the Kung Fu Panda franchise, its loveable hero Po, and the styles and teachings of the supporting cast:
Instapump Fury "Dragon Warrior" ($200, GZ8632) This tonal Instapump Fury execution embodies Po's evolution from Panda to Dragon Warrior – a symbol of hard work and dedication. Prominent features include a furry suede upper with dragon graphic on top, a textile Pump bladder and pull tabs nodding to his iconic patchwork shorts, a collar lining that ties back to his belt and waist band, asymmetric Pump ball noodle and dragon graphics, a sockliner design paying homage to fortune cookies and Po's journey to becoming a kung fu master, TPU shank at the outsole constructed with a bamboo finish representing Po's fighting staff, and lucky number graphics at the heel as a nod to the year of each Kung Fu Panda film release. Also available in Versa Pump for kids.
Club C "Master Your Style" ($110, GZ8634)
This color-blocked Club C execution brings together each of film's six Kung Fu Masters' unique wardrobes via a tapestry of materials and colors: the toe for Crane's pants, the toe box for Po's fur, the crosscheck for Tigress's kimono, the heel for Po's patchwork pants, the eyestays for each master's fighting foot wrap, the tongue for  Mantis' exoskeleton, the heel tab for Monkey's fur, the window box for Monkey's wrist cuffs, the heel webbing for Viper's scales and the collar lining for Po's waistband. The shoe also features a custom Reebok Kanji logo at the heel. Available in adult sizing.
Club C "Calling All Zodiacs" ($100, GZ8633)
Similar to the "Master Your Own Style" iteration but with a more-subtle graphic execution, the Club C "Calling All Zodiacs" model celebrates the unique ideologies and mentalities of each of the film's seven Kung Fu Masters: Po, Tigress, Monkey, Crane, Viper, Mantis and Shifu. Available in adult, grade school, preschool and toddler sizing.
Zig Kinetica "Master of Tai Chi" ($140, GZ8641)
This thoughtful iteration of the energetic Zig Kinetica celebrates the Soul – a key theme for Lunar New Year – encouraging wearers to believe in themselves and to trust their inner spirit. This narrative is brought to life with an upper graphic execution paying homage to the golden spirit world that Po enters in the franchise's third film, an all-over spiritual graphic on the sockliner, a cherry blossom heel graphic and a sublimated soul graphic across the all-textile upper. Available in adult, grade school, preschool and toddler sizing.
Complementing the robust footwear lineup and enabling fans to fully master their own style, the Reebok x Kung Fu Panda collection offers a full range of complementary apparel including hoodies, crew sweaters, short sleeve tees and sweatpants honoring Po's journey to become the Dragon Warrior.
Finally, in true Reebok fashion, fans will receive footwear in elevated Lunar New Year-inspired packaging. The box's red top symbolizes the red envelopes exchanged at holiday celebrations, while the base presents an action-packed graphic mashup bringing together themes from the Kung Fu Panda franchise. Inside, fans will find product wrapped in tissue paper that nods to Po's apprenticeship at his father's noodle shop, but more literally provides a restaurant-style menu of Reebok x Kung Fu Panda footwear offerings.
The Reebok x Kung Fu Panda footwear and apparel collection is available exclusively from Reebok.com beginning January 8th before its wider retail release on January 15.
About DreamWorks Animation's Kung Fu Panda
Inspired by traditional martial arts and set in ancient China, Kung Fu Panda tells the epic tale of wide-eyed Po, a chubby panda whose love of kung fu is matched only by an insatiable appetite. The Academy Award®-nominated 2008 inaugural chapter became DreamWorks' highest-grossing original animated film, and it has launched a trilogy that's made more than $1.8 billion at the global box-office. With its massive fan base, the franchise has expanded the saga of the Furious Five—Monkey, Crane, Viper, Tigress and Panda—as the rightful defenders of their beloved Valley of Peace.
As the ancient styles of kung fu are further brought to comedic and dramatic life with the series' elegant settings, visual humor and exotic locales, one rotund panda and his chosen family continue to stoke the epic adventures of awesomeness they began a decade ago. From cherished toys, thrilling video games and digital expansions to holiday specials, Emmy Award-winning television series and global theme-park attractions, the legend of Po has only just begun.
About Universal Brand Development: Universal Brand Development globally drives expansion of the company's intellectual properties, franchises, characters and stories through innovative physical and digital products, content, and consumer experiences. Along with franchise brand management, Universal Brand Development's core businesses include Consumer Products and Games and Digital Platforms based on the company's extensive portfolio of intellectual properties created by Universal Pictures, Illumination, DreamWorks Animation and NBCUniversal cable and television. Universal Brand Development is part of NBCUniversal, a subsidiary of Comcast Corporation.
SOURCE: Reebok