Reebok Launches CrossFit Nano 6.0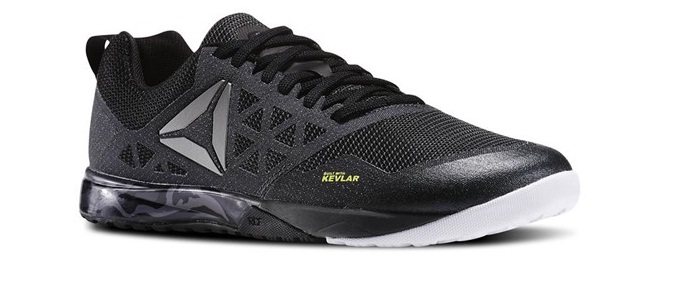 Reebok, the leading global provider of CrossFit® apparel and footwear, unveiled the latest iteration of the most sought-after shoe in CrossFit boxes around the world – the Reebok CrossFit Nano 6.0 — the #1 shoe in CrossFit.
Ever-evolving, the Nano franchise continues to demonstrate Reebok's commitment to refine and engineer the most groundbreaking CrossFit footwear available. The Reebok CrossFit Nano 6.0 features one of the most innovative outsoles for performance training while providing an anatomical fit that is both natural and secure.
Strength starts from the ground up and the Reebok CrossFit Nano 6.0 introduces a new shape that is built to support the movement of the foot under load. The shoe provides more natural stability and control through a new molded heel counter and foot bed alongside a new stretch Kevlar® fabric that retains durability.
"Continued innovation is at the heart of Reebok's footwear development for CrossFit. As CrossFitters ourselves, we take pride in being lock step with CrossFit athletes and the CrossFit community to understand and be a part of the evolution and growth of CrossFit as we continue to be the #1 brand with the #1 shoe for CrossFit. Deliver the best products that are worthy of and respect the work of CrossFit athletes worldwide – that is all that matters to us and we believe that is precisely what the Nano 6.0 will do in boxes worldwide," said Inga Stenta, Senior Director of Brand Management – Reebok.
The Reebok CrossFit Nano 6.0 introduces a collection of other cutting-edge advancements including:
Uppersole – 360 Degree abrasion protection Kevlar® shell, fused to breathable performance upper mesh combined with heavy textured Kevlar® on medial side, taking ROPEPRO to the next level
Midsole – Thermo-polyurethane midsole protective wrap for ultimate stability with R55 Rebound Reebok technology for great cushion, response and impact absorption during running movements
Outsole – MetaSplit Expansion forefoot flex grooves for optimum splay and increased stability for heavy lifting and dynamic movement​
"Refining the Reebok CrossFit Nano 6.0 to be a shoe that moves with your foot throughout constantly varied CrossFit workouts was a fundamental objective of improvement that we wanted to achieve. By speaking to and working with the CrossFit community, from coaches to elite athletes to everyday CrossFitters, we believe we have delivered a shoe that is going to give you the flexibility to maneuver the way any WOD demands," continued Stenta.
"Each year I look forward to what innovation Reebok is going to bring to the Nano and how it will support my performance at The Games. The Reebok CrossFit Nano 6.0 has moved the needle forward in providing a sleek, flexible and secure shoe to compete and train in. Versatility is essential at The Games, you never know what is going to be thrown at you, but the Nano 6.0 puts you in a position to confidently step onto the competition floor and conquer what is put before you," said Katrin Davidsdottir, 2015 Fittest Woman on Earth™ and Reebok athlete.
The Reebok CrossFit Nano 6.0 is available on Reebok.com and the official CrossFit store at store.crossfit.com. Visit Reebok.com for more information.