PUMA Reveals evoTOUCH-The Lightweight Leather Boot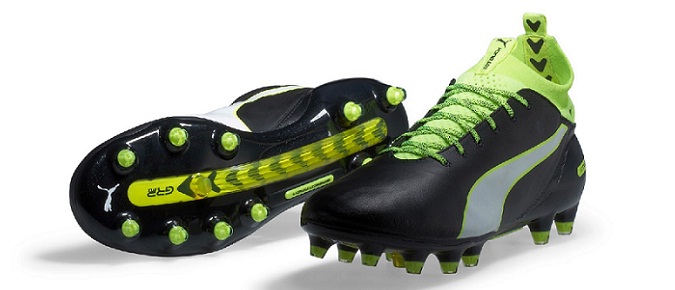 All New Boot Offers Unrivalled Control and Exceptional Touch
PUMA has launched the all new evoTOUCH, a leather football boot with unrivalled control and exceptional touch. PUMA's evoTOUCH is new to the Global Sport Brand's football boot category, designed for playmakers like Cesc Fàbregas, Marco Verratti and Santi Cazorla who will wear this boot on-pitch from the start of the new season.
PUMA's evoTOUCH is set to shake up the field of leather football boots; offering a lighter and faster solution for players that are looking for a lightweight and innovative boot combined with the benefits of the classic leather material. This boot has a unique construction, which PUMA engineered by taking the concept of touch from the inside out rather than starting with the moment of contact with the ball. PUMA's innovation team focused on what the foot needs and doesn't, before working on the upper. The result is a boot that enhances and encourages the creative playmaking that puts footballers such as Fàbregas, Verratti and Cazorla at the top of the game.
Experience PUMA evoTOUCH with the new virtual reality film 'Create Gravity', a 360 degree immersive film that lets the world experience the cosmic formation of the evoTOUCH boot. View with Google Cardboard, VR Headset, on mobile with the built in accelerometer and on desktop with the mouse and WASD keys.
View and embed to your website with these links:
YouTube: https://youtu.be/Q9KDY6-dGdg
The boot is made from a super soft, ultra-thin and lightweight leather upper, bringing the foot closer to the ball and creating exceptional touch in all conditions. The integrated evoKNIT knitted sock gives a snug fit, and the anti-slip GripTex arrows inside the sock lock down the foot, prevent slipping and ensure stability for the foot. Touch and comfort combine with stability, created by the new outsole with a raised SPEEDTRACK spine.
PUMA's Spanish midfield maestro Cesc Fàbregas said; "PUMA evoTOUCH is a great boot for my style of play, the connection and touch with the ball is very impressive which is important for maximum control on the ball. I'm impressed with the boot from the testing I have done and looking forward to getting back on-pitch and kicking of the new season with evoTOUCH."
PUMA evoTOUCH is available to buy now on www.puma.com, in PUMA Retail stores and through select specialist football retailers worldwide.