Record-Breaking Innovation, Everyday Application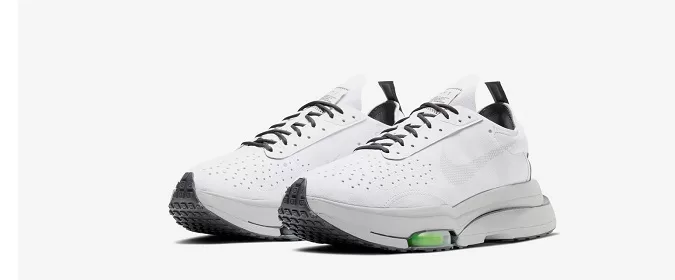 Unexpected geometries and hand-made detailing are hallmarks of the new Nike Air Zoom Type. The shoe's form finds its shape from an initial prototype for the Nike Air Zoom Alphafly Next%, but rather than set for record-breaking, the Air Zoom Type is engineered to solve for stress on the body and feet during a full day out.
The shoe has two Zoom Air pods in the forefoot and a supportive TPU plate running through the midsole. Both technical elements are housed within a plush foam and help create a new underfoot experience and sensation. The silhouette, stance, material choices and detailing celebrate Nike's irreverent approach to performance design, with an eye to progressive solutions for all athletes.
"We took the original prototype, scanned it and then reverse-engineered it for daily wear," says Lee Gibson, Nike Design Lead. "For example, the TPU plate provides some of the modulation of the Alphafly carbon plate, but doesn't give as aggressive of a rocking sensation."
Aesthetically, the main objective of the Air Zoom Type was to hold as close as possible to the original hand-built prototype created in Beaverton, Oregon. This approach evolves the concept-driven Nike N. 354 label. While most of the output under the experimental banner reworks prototypes from the Department of Nike Archives, the Air Zoom Type derives from working real-time with the investigation of a new performance product. The parallel path creates visual continuity between the shoe and the closely connected Nike Zoom Alphafly Next%.
"Rather than just repackage an aesthetic, I felt it was authentic to create a true connection to the innovation story," says Gibson. "We achieve that by drafting off the initial concept and idea, ultimately delivering a really raw, visceral version of the performance runner."
The shoe's details also relay the creative process in the finished product. The hand of the designer is apparent — seen in elements like the N.354 logo treatment and overt stitching. And, with a subtle DNA touch, the breathable tongue is nod to another pioneering Nike running shoe, the Lunar Racer.
The Nike Air Zoom Type releases June 5 on SNKRS, SNEAKERS and at select retailers.
Source: Nike