RBC Launches MyBusiness Dashboard – A Unique Tool that Helps Small Business Owners Make Smart Decisions to Manage and Grow their Businesses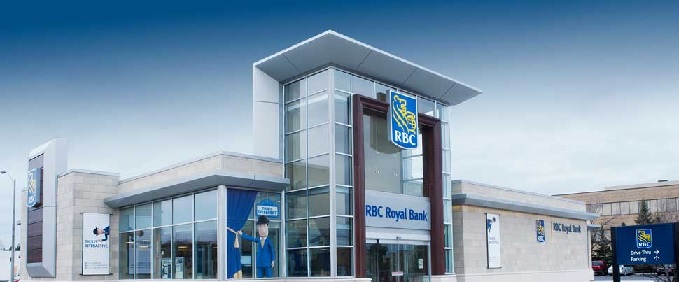 Royal Bank of Canada (RBC) has introduced MyBusiness Dashboard, a tool that brings together key metrics from the best online software into a single view to help owners make faster and better decisions to manage and grow their businesses. This first-of-its-kind offering in the Canadian marketplace is free to any small business owner in Canada.
MyBusiness Dashboard provides business owners with a current and complete summary of their business performance at a glance – at any time, on any device – with no more jumping between multiple spreadsheets and apps or manually compiling and interpreting the data. By securely aggregating the right information into one easy-to-understand dashboard, it's simple for business owners to plan ahead, allocate resources and make more informed decisions that impact their bottom line.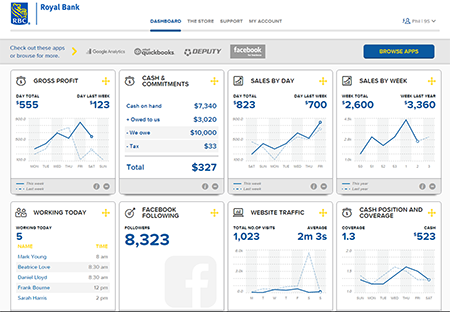 RBC MyBusiness Dashboard
Getting started with MyBusiness Dashboard
Getting started is easy:
Register on rbc.com/mbd in a few simple steps. It's free to sign-up.
Check out the "Connect" area of the site to pick the tools you need from the list of tried-and-tested apps curated specifically for your industry.
From there, metrics will be aggregated on your personal dashboard, helping you make timely and informed business decisions.
"We're always looking for innovative ways to simplify the lives of business owners," says Jason Storsley, Vice-President, Small Business at RBC. "MyBusiness Dashboard provides business owners with a powerful view into real-time business performance to let them see more, know more and do more for their business."
In addition, MyBusiness Dashboard takes the guess work out of finding the right tools for the job by providing specialized lists of proven apps that are curated by industry, including bookkeeping, workforce management, sales tracking, website analytics and social media monitoring.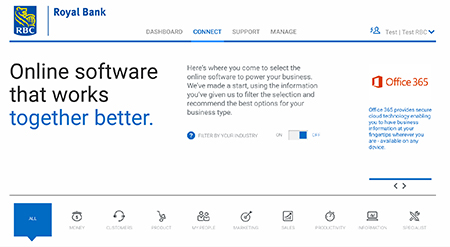 Available apps from RBC MyBusiness Dashboard
"The surplus of apps and software available to small business owners can be overwhelming, and it's difficult to know which ones will provide the most impactful information," said Storsley. "MyBusiness Dashboard cuts through the noise by suggesting the right tools and metrics that will help business owners address their biggest challenges and help them achieve their goals."
Over time, owners will also see how they compare to industry peers through peer tracking capabilities, and they can leverage industry benchmarking and best practices to further assist with daily decisions.
MyBusiness Dashboard is just one of the many offerings for RBC's small business clients that goes beyond traditional banking services. As the leader in commercial and small business banking, serving the most clients with the broadest range of advice and best-in-class products in Canada, this solution complements the specialized service and tailored advice provided by RBC business banking advisors.
For more information about MyBusiness Dashboard, visit www.rbc.com/mbd.
About RBC
Royal Bank of Canada is Canada's largest bank, and one of the largest banks in the world, based on market capitalization. We are one of North America's leading diversified financial services companies, and provide personal and commercial banking, wealth management, insurance, investor services and capital markets products and services on a global basis. We have approximately 81,000 full- and part-time employees who serve more than 16 million personal, business, public sector and institutional clients through offices in Canada, the U.S. and 35 other countries. For more information, please visit rbc.com.‎