Qatar Airways Welcomes the Holiday Season On Board and in Premium Lounges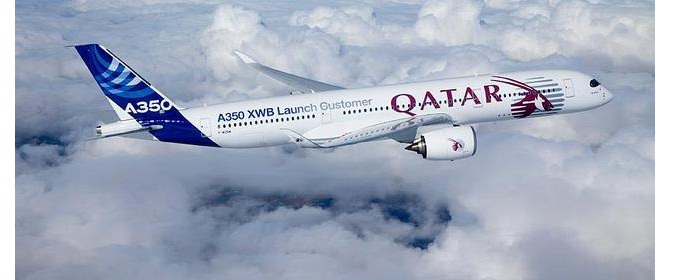 Qatar Airways welcomes the holiday season with a series of festive delights for passengers visiting the Al Safwa First and Al Mourjan Business Class Lounges at Hamad International Airport (HIA) and the airline's Premium Lounge in Beirut, as well as for travellers to and from destinations in the U.S., Europe, Australia, and New Zealand, and select destinations in Asia and Africa. From 19 to 26 December 2021, customers will experience the warmth of the season with a specially-curated holiday theme throughout their journey.
Premium passengers flying with Qatar Airways will be greeted with a seasonal mocktail nicely complimenting a specially designed holiday menu, featuring a range of flavoursome holiday dishes including breast of turkey roasted with chestnut stuffing and a traditional festive pudding.
Economy Class cabins will be adorned with holiday-themed headrest covers. Passengers can select their meal preference from a bespoke digital menu, featuring a range of holiday dishes, guaranteed to add the festive spirit to their journey.
The festive celebration will continue at Al Safwa First and Al Mourjan Business Class Lounges at HIA, and at the airline's Premium Lounge in Beirut, where passengers will be welcomed with celebratory drinks and have the opportunity to embrace the holiday spirit by taking delight in the seasonal décor reflected in the flower arrangements and festive cuisine on offer. The holiday festivities will also extend to young travellers, who will have the opportunity to indulge in homemade gingerbread cookies.
Throughout the entire Qatar Airways' inflight holiday season experience, passengers can stay entertained with Oryx One's Festive Movie Collection.
The national carrier of the State of Qatar continues to rebuild its network, which currently stands at over 140 destinations. With more frequencies being added to key hubs, Qatar Airways offers unrivalled connectivity to passengers, making it easy for them to change their travel dates or destination as required.
Earlier this month, Qatar Airways earned the title of 'World Class' airline and '2022 Five Star Global Airline' at the APEX/IFSA Awards, in addition to securing two additional awards including APEX Passenger Choice Awards® for Best Food & Beverage and Best Seat Comfort. Throughout the pandemic, the airline has been recognised for its continued emphasis on innovation and an unparalleled commitment to creating the most premium passenger experience in the industry.
A multiple award-winning airline, Qatar Airways was announced as the 'Airline of the Year' by the international air transport rating organization, Skytrax, in addition to securing five additional awards including 'World's Best Business Class', 'World's Best Business Class Airline Lounge', 'World's Best Business Class Airline Seat', 'World's Best Business Class Onboard Catering' and 'Best Airline in the Middle East'. The airline continues to stand alone at the top of the industry having won the main prize for an unprecedented sixth time (2011, 2012, 2015, 2017, 2019, and 2021). The airline's hub, Hamad International Airport, was also recently recognized as the 'Best Airport in the World 2021', ranking at number one in the Skytrax World Airport Awards 2021.
In addition to this, Qatar Airways has become the first global airline in the world to achieve the prestigious 5-Star COVID-19 Airline Safety Rating by Skytrax. This follows the success of Hamad International Airport (HIA) as the first airport in the Middle East and Asia to be awarded a Skytrax 5-Star COVID-19 Airport Safety Rating. These awards provide assurance to passengers across the world that the airline's health and safety measures are subject to the highest possible standards of professional, independent scrutiny and assessment. For full details of all the measures that have been implemented onboard and at HIA, please visit qatarairways.com/safety.
Source: Qatar Airways