Qatar Airways Serves Iftar Meals Onboard During the Holy Month of Ramadan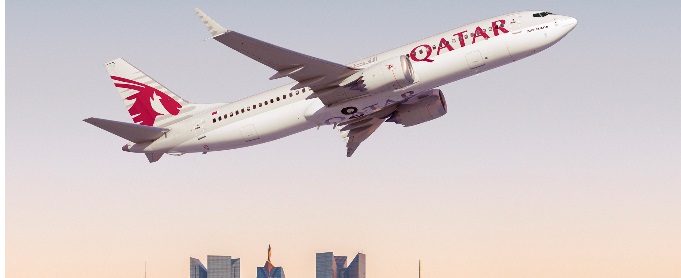 Customers breaking their fast on board will receive Iftar meals on selected routes
Qatar Airways is pleased to continue its tradition of supporting passengers who are fasting during the Holy Month of Ramadan and breaking their fast on board by serving a delicious Iftar meal consisting of traditional Middle Eastern specialities.
The Iftar boxes feature a bespoke inhouse design inspired by Arabian calligraphy and will be offered on selected routes across the Middle East, Algeria, Tunisia, Bangladesh, India and Pakistan. Each box contains a selection of sweet and savoury delicacies. The Iftar boxes are offered in addition to Qatar Airways' traditional meal service for those customers who are not fasting.
Qatar Airways First and Business Class passengers will be offered Iftar boxes containing a selection of crudités, hummus, mini Arabic bread, chicken shawarma, focaccia with mozzarella, olives, dates, banana, fresh laban and water. Passengers travelling in Economy Class can enjoy Iftar boxes filled with focaccia with mozzarella, apple slices, mixed nuts, finger baklava, dates, shortbread, marble cake, fresh laban and water.
Qatar Airways Group Chief Executive, His Excellency Mr. Akbar Al Baker, said: "We are pleased to be able to continue our tradition this year of offering our passengers a delicious and refreshing way to break their fast while travelling. The Holy Month of Ramadan is an important time for a great number of our customers, and we are delighted to provide a service that is tailored to the needs of those who are fasting. We invite all passengers to embrace this special time of the year with this selection of items designed specifically with the fasting passenger in mind. On behalf of Qatar Airways, we extend to all warmest wishes for a Ramadan Kareem."
Travelling between time zones can be challenging for the fasting traveller; thus Qatar Airways cabin crew will make an announcement and serve the Iftar boxes at the appropriate time during the flight, freeing passengers from having to calculate the time.
A multiple-award-winning airline, Qatar Airways was named 'World's Best Business Class' by the 2018 World Airline Awards, managed by international air transport rating organisation Skytrax. It was also named 'Best Business Class Seat', 'Best Airline in the Middle East', and 'World's Best First Class Airline Lounge'.
Qatar Airways currently operates a modern fleet of more than 250 aircraft via its hub, Hamad International Airport (HIA) to more than 160 destinations worldwide. The airline will add a number of new destinations to its extensive route network in 2019, including Izmir, Turkey; Rabat, Morocco; Malta; Davao, Philippines; Lisbon, Portugal; Mogadishu, Somalia and Langkawi, Malaysia.
About Qatar Airways: 
Qatar Airways, the national carrier of the State of Qatar, is celebrating more than 20 years of Going Places Together with travellers across its more than 160 business and leisure destinations on board a modern fleet of more than 250 aircraft. The world's fastest-growing airline will add a number of exciting new destinations to its growing network this year, including Lisbon, Portugal; Malta; Rabat, Morocco; Langkawi, Malaysia; Davao, Philippines; Izmir, Turkey; and Mogadishu, Somalia.
Source: Qatar Airways