Qatar Airways' First Marrakech Flight Touches Down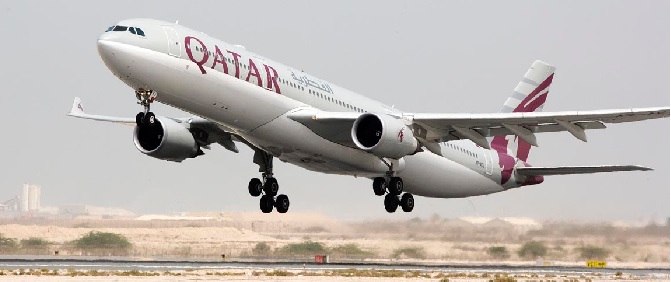 World's best airline expands Moroccan network with three flights a week to Marrakech
Qatar Airways celebrated the addition of tourist favourite Marrakech to its global route map on Friday, with the airline's inaugural flight landing at Marrakech Menara Airport on 1 July and opening up a world of more than 150 destinations to customers travelling from the Moroccan city.
On board flight QR1395 was a Qatar Airways delegation lead by Dr. Hugh Dunleavy, the airline's Chief Commercial Officer, who was greeted by the Marrakech Menara Airport General Manager, Mrs. Nawal Mounir; Morocco's Minister of tourism, Lahcen Haddad; and the Qatari Counselor to Morocco, Mr. Mansour Abdullah Al Sulaiteen. To celebrate the first flight, Qatar Airways hosted an Iftar for VIPs, officials, authorities, trade and media, at La Mamounia hotel in Marrakech.
Qatar Airways Group Chief Executive, His Excellency Mr. Akbar Al Baker, said: "Marrakech is one of Morocco's most popular cities for tourists, and it is our pleasure to offer this vibrant destination to our customers, while also opening up seamless connectivity to more than 150 cities around the world to those travelling from Morocco, through our hub at Hamad International Airport. As one of the country's economic centres there is immense potential in Marrakech, both in terms of tourist and business travel, and we are pleased to offer the services of the world's best airline to passengers travelling for all purposes."
With a population of more than 920,000, Marrakech is the fourth largest city in Morocco and the second city served by Qatar Airways, with flights three times a week from Doha on Wednesday, Friday, and Sunday via Casablanca. The return flight from Marrakech travels directly non-stop to Doha.
Qatar Airways began its Morocco operations in 2002. Today, customers can fly daily on Qatar Airways' Boeing 787 Dreamliner to Casablanca from Doha. Additionaly through a codeshare partnership with Royal Air Maroc, Qatar Airways offers customers the opportunity to seamlessly connect to destinations throughout Morocco, Spain, and north- and west Africa, with the additional benefit of enhanced frequent flyer benefits.
Import and export businesses in Morocco will also benefit from the new service which provides up to 33 tonnes of belly-hold cargo capacity a week.
Within Marrakech visitors can find everything from mosques to extravagant palaces and lush gardens, with medieval city features as old as the Berber Empire, juxtaposed against modern architecture. Local souqs can be found amongst winding alleyways, with vendors selling traditional Moroccan crafts such as pottery, textiles, and jewellery, and there is always food and entertainment to be found in areas such as Djemaa el-Fna. With so many exciting options within one exciting city and even more to be found beyond its borders, Marrakech is Africa's number one destination for tourists, and is one of the world's most-visited destinations.
Flight schedule:
From 1st July Until 8th July
QR 1395 Departs DOH at 07:30, arrives at CMN 12:25 (Wednesday, Friday,Sunday)
QR 1395 Departs CMN at 1350, arrives at RAK 14:40 (Wednesday, Friday,Sunday)
QR 1395 Departs RAK at 15:40. Arrives at DOH 01:55 +1 day (Wednesday, Friday,Sunday)
 Starting 10th  July
QR 1395 Departs DOH at 07:30, arrives at CMN 13:25 (Wednesday, Friday,Sunday)
QR 1395 Departs CMN at 14:50, arrives at RAK 15:40 (Wednesday, Friday,Sunday)
QR 1395 Departs RAK at 16:40. Arrives at DOH 01:55 +1 day (Wednesday, Friday,Sunday)