Qatar Airways Doubles Flights From New York City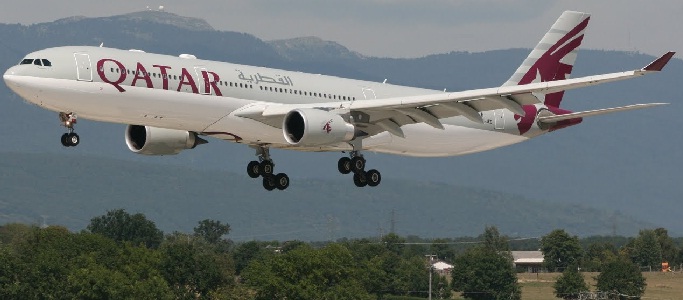 Brings third Airbus A350 to the United States
Adds convenient morning route between JFK and Doha
Qatar Airways has added a second daily, non-stop flight along its popular route between John F. Kennedy Airport (JFK) in New York City and Hamad International Airport (DOH) in Doha. The new route features the acclaimed Airbus A350 and a new morning departure time from JFK, allowing passengers to arrive in Doha the morning of the following day.
The new flight represents the tenth Qatar Airways route between Doha and the United States. The airline, named "2015 Airline of the Year" (Skytrax), has now been operating in the United States for nine years and recently added daily, non-stop service to Boston (BOS) on 16 March, and will commence service to Atlanta (ATL), on 1 June.
"This new route is evidence of our rapid growth in the United States," said Qatar Airways Group Chief Executive His Excellency Mr. Akbar Al Baker. "By offering a second flight from JFK, we provide our leisure and business travellers with convenient connections, via Doha, to top destinations in Africa, the Middle East, South East Asia and the Far East. In particular, business travel between New York City and Singapore on Qatar Airways is now one of our most popular routes, offering business travellers a best-in-class experience featuring the Airbus 350 – the most technologically advanced aircraft in commercial aviation flying today – on every leg of the journey."
Qatar Airways was the global launch partner of the A350 in 2015. The airline currently operates eight of the advanced aircraft on four different continents, including routes to Frankfurt, Munich, Singapore, and from next month, Adelaide. In the United States the A350 currently operates to Philadelphia and Boston, in addition to the second daily flight to New York's JFK International Airport. Qatar Airways has an additional 72 A350s on order, and maintains one of the youngest, most advanced fleets in the skies.
Along with Qatar Airways' award-winning services and amenities, the A350 features an innovative system for the reduction of jet lag. By using a high precision air management system to reduce cabin pressure and optimise humidity, along with a dynamic LED lighting system to manage passenger melatonin levels, the A350 combats the effects of international travel and leaves passengers feeling more refreshed upon arrival.
"The Airbus A350 is an iconic commercial aircraft of the next decade," continued H.E. Mr. Al Baker. "We were proud to be a part of its inception and we look forward to introducing this unparalleled aircraft with business and leisure travellers along our New York – Doha route."
The second daily flight departs JFK from Terminal 7 at 11:15 hrs and arrives at Hamad International Airport at 06:45 hrs local time (Qatar).
The new flight to New York City arrives in JFK's Terminal 7 at 09:15 hrs, providing convenient access to the city and connecting flights across the United States. Terminal 7 is also home to other oneworld members, including British Airways, Cathay Pacific, Iberia, and Qantas. Qatar Airways will continue to operate its evening route, scheduled to depart New York at 23:00 hrs, from Terminal 8, providing an alternative and convenience when visiting Doha or connecting with outbound flights to the airline's global network of more than150 destinations around the world.
Daily, Non-Stop Flights Between Hamad International Airport (DOH) and New York City (JFK)
Flight Route Departure Time Arrival Time JFK Terminal Aircraft
QR Flight 701 Doha – New York 08:15  15:15  Terminal 8 Boeing 777-300ER
QR Flight 702 New York – Doha 22:00 17:35 +1 Terminal 8 Boeing 777-300ER
QR Flight 703 Doha – New York 02:25  09:15 Terminal 7 Airbus A350-900
QR Flight 704 New York – Doha 11:15  06:45 +1 Terminal 7 Airbus A350-900
About Qatar Airways:
Qatar Airways, the national carrier of the State of Qatar, is one of the fastest growing airlines operating one of the youngest fleets in the world. Now in its 19th year of operations, Qatar Airways has a modern fleet of 181 aircraft flying to more than 150 key business and leisure destinations across six continents.