PROTON Launches Sporty New Hatchback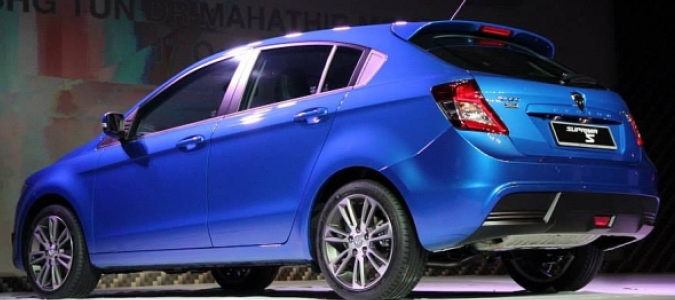 KUALA LUMPUR, 17 August 2013 – National automotive manufacturer PROTON Holdings Berhad (PROTON) today unveiled and welcomed the latest member to its stable of models, the Proton Suprima S.
Held at the MATRADE Exhibition and Convention Centre, the Proton Suprima S was unveiled by the Advisor of the PROTON Group, YABhg Tun Dr Mahathir Mohamad, accompanied by PROTON Executive Chairman YBhg Tan Sri Dato' Sri Haji Mohd Khamil Jamil and PROTON Deputy Chief Executive Officer YBhg Dato' Lukman Ibrahim.
"Fully loaded with built-in value", the Proton Suprima S is available in two variants. The Executive variant is priced from RM76,338.00,
 while the Premium variant is priced from 79,638.00 on-the-road (Peninsular Malaysia). The Proton Suprima S also comes with PROTON's 5 Star Program, which consists of a 5-year or 150,000 km warranty (whichever comes first), PROTON's 5-Year Free Road Assist and a 5-Star ANCAP (Australasian New Car Assessment Program) safety rating.
The name Suprima S is derived from the root word "supreme", and
 reflects superiority in engineering, safety and performance that has been incorporated into the hatchback.
Designed to meet the demanding needs of the modern lifestyle, the Proton Suprima S is a youthful hatchback with a dynamic and sporty shape, a premium interior and superior engine performance. It is PROTON's most well-equipped product to date, with the Premium variant offering a host of features never before seen in a Proton model, such as PROTON Infotainment with Android-based Operating System, rear LED light guides, DRL (Daytime Running Lights), Hill-Hold Assist, and Park Assist with front parking sensors.
The Proton Suprima S is powered by PROTON's 1.6L Turbo engine. Mated with PROTON's 7-speed ProTronic CVT, it delivers power and torque equivalent to a 2.0-litre naturally aspirated engine. The 1.6L power plant produces 140 PS at 5000rpm, and with a maximum torque of 205Nm from 2000 to 4000rpm. And as with all Proton models, its driving dynamics is enhanced with LOTUS Ride and Handling.
The hot new hatchback is well-equipped with high-end safety features – six airbags, anti-trap power windows, ABS (Anti-lock Braking System), and ESC (Electronic Stability Control) with Traction Control. The Premium variant is also equipped with Park Assist with rear parking sensors, and reverse camera.
Added Tan Sri Mohd Khamil, PROTON has focused on improving every aspect of the Proton Suprima S, especially safety. "The Proton Suprima S comes with the highest safety standards PROTON has offered, topped off with a 5-Star ANCAP safety rating. This is the future we envision for all our products and services, and represents the benchmark we set for the standards and quality that PROTON aims to deliver to its customers."
Other highlights of the Proton Suprima S include 7-spoke, 17-inch rims and a 7-inch touchscreen with built-in navigation system. Additional features in the Premium variant include full leather seats, Push Start Button, paddle shifts, and auto cruise, amongst many other features.
"To ensure customer satisfaction, we embarked on pre-production activities such as extensive surveys, not just locally but on an international scale, particularly at the key markets where we will also be launching the Proton Suprima S," said Tan Sri Mohd Khamil. "Additionally, we had our vendors and dealers involved in the development of this car from an early stage – there was comprehensive involvement to guarantee understanding and the utmost level of commitment from everyone."
"Once again, this is proof to all Malaysians of PROTON's commitment in meeting the demands of customers – to produce a variety of products that offer driving enjoyment and satisfaction – and most importantly, products that are safe, of high quality and value-for-money."
The Proton Suprima S can now be test driven at all PROTON authorized showrooms nationwide. Five colour choices are available: Fire Red, Tranquility Black, Solid White, Genetic Silver and a brand new colour, Atlantic Blue.
On-the-Road Prices – Proton Suprima S – See more at: http://corporate.proton.com/en/News-Events/2013/August/PROTON_Launches_Sporty_New_Hatchback.aspx#sthash.7jeafJNV.dpuf