Property Chain Breaks Increase As A Result Of Collapsing Mortgage Market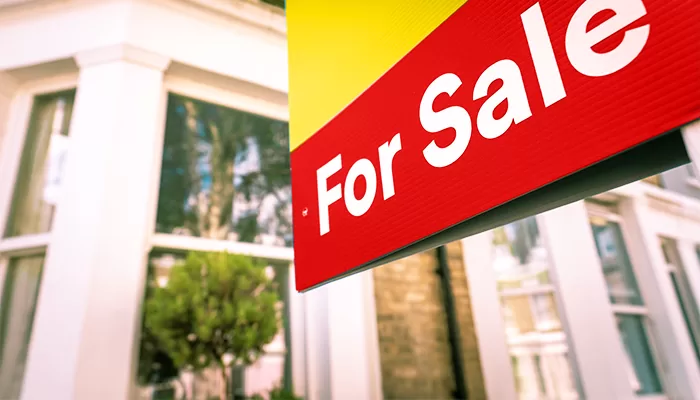 The on-going mortgage market downturn in the UK has accelerated the number of property sale collapses – with a 9% increase over the last 3 months, and around 40% of all sales have collapsed so far this year.
There has been a brief hiatus in the housing market as consumers respond to the government's updated fiscal direction. The resulting impact on the mortgage market was the withdrawal of many mortgage products and by the 3rd of October, the number of products available dropped by 40% according to MoneyFacts.
Finbri, a property bridging loan specialist, explains, "Property chain breaks are on the rise due to the uncertainty of the UK economy and its impact on the mortgage market. Due to the prolonged uncertainty of the market buyers are changing their minds and pulling out of purchases, there's increased difficulty getting mortgages, sellers are pulling out due to delays, so a decline of sales and increase of property chain breaks is to be expected."
Why has the mortgage market collapsed?
The collapse of the mortgage market has accelerated following the "mini-budget" presented by former Chancellor Kwasi Kwarteng, which is now set to be U-turned, on September 23 that reduced the number of taxes, notably the Stamp Duty Land Tax (SDLT) in England and Northern Ireland.
Mortgage rates had been rising all year long prior to the mini-budget. However, because the tax cuts announced in the mini-budget were unexpected, these rates have increased further during the past two weeks.
How these cuts might affect the financial situation in the UK has been the subject of speculation. It's generally accepted that the Bank of England may need to increase interest rates more quickly than anticipated. This has ultimately had an effect on fixed-rate mortgages' underlying expenses, which is also the reason some lenders have raised their prices or removed products altogether.
How has the collapse affected property sales?
The recent mortgage market downturn has had a considerable effect on the number of property sales, with many mortgage products removed for the foreseeable future and around 1,000 mortgage deals pulled from the market in the aftermath.
Buyer enquiries reduced. The Royal Institution of Chartered Surveyors (Rics) said that new buyer enquiries fell for the sixth consecutive month in September, which resulted in a decline in market momentum.
House value declines. Whilst some locations will see house prices change differently to others, house values are expected to continue declining in 2023, according to Savills housing report. Discouraging existing homeowners from selling, and waiting for the value of the property to increase before putting the property on the market. However, this same report points to anticipated price increases throughout the UK in 2024
Increase in chain breaks. Property chain breaks increase as a result of current interest levels, with those looking to purchase will have reduced budgets in comparison to before the market downturn.
High mortgage rates. The current mortgage rate for a five-year fixed-rate mortgage has increased to 6.28% and the two-year fixed-rate reached 6.46% – both reaching the highest levels since 2008. Discouraging those looking to enter the property market.
Why do property chains break?
A housing chain is when a number of buyers and sellers are involved in linked transactions, so that the sale of one property depends on the sale of another, with around 1 in 3 chains breaking. The home purchasing and selling process can be fairly difficult. With chains breaking for a variety of reasons:
Unable to obtain a mortgage. Given the mortgage market collapse, many buyers may struggle to obtain a mortgage or may decide to wait till interest rates drop.
Unforeseen survey problems. Surveys may reveal costly repairs that may need to be made to the property – which may possibly cause buyers to pull out.
Personal circumstances. This can range from the seller changing their mind about selling the property, or a change in circumstances that means they are unable to afford the property.
A few additional instances of what may go wrong include being gazumped (when a seller accepts a greater offer from another buyer) or gazundered (where a buyer reduces their offer at the last minute). According to a survey by Property Rescue, about 20% of homeowners are currently hesitant to list their homes due to the prevalence of gazumping, and a third believe there is an excessive chance of a chain breaking.
However, given the ongoing mortgage market turmoil, those facing a property chain break will most likely be due to the buyer being unable to obtain a mortgage or the seller has decided to hold off on selling until the market stabilises.
What to do if the property chain breaks?
As the number of property breaks is expected to rise, many of those involved may be wondering what to do if they experience a chain break. These options will likely differ based on the chain break experienced with the main options including:
Improved communication. Consulting with both the estate agent and conveyancing attorney on a regular basis will allow you to find out about any potential issues and look to resolve them before further issues arise. Determine if it would be more affordable for you to fix any issues before the sale if the buyer had discovered it through their survey, for instance. This will guarantee the buyer's satisfaction and keep your home's price from dropping.
Bridging loan. If you can't sell your property as a result of a broken chain, to avoid missing out on your new home, you can use a bridging loan to borrow money against your current property. Once your property is sold the bridging loan can be repaid – with no additional monthly payments required.
Final thoughts 
With house prices decreasing, and interest rates remaining at a rate higher than in 2008, it's unsurprising that there is a significant property market downturn. The result of this is a likely increase in chain breaks – impacting both buyers and sellers.
We now have a new Chancellor of the Exchequer, it's likely there will be further uncertainty in the housing market and those involved with broken property chains facing an anxious time. But there are options to help those facing a broken property chain and it's always recommended to speak to specialists for advice and guidance.