Prices of Cryptocurrency Transactions are Falling and Struggling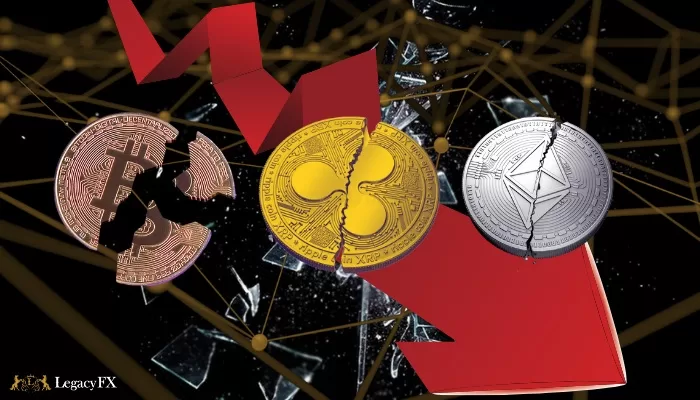 Over the previous 12 months, the number of whale transfers of Bitcoin, Ethereum, and USDT has decreased. This past week, the number of cryptocurrency transactions valued at $100,000 or more fell to its most recent low point since February 2021. As Bitcoin recaptured the $40,000 price level, which had been its highest level since March 10, crypto assets had a brief resurgence on Wednesday. However, the value of the world's most valuable digital asset is still more than 40% below its all-time high, which was reached in November of 2021.
What Exactly are Cryptocurrencies?
A cryptocurrency is a digital or virtual currency that is safeguarded by cryptography, making counterfeiting or double-spending very hard to do. The blockchain technology, which is used by several cryptocurrencies to create decentralized networks, is a distributed ledger that is maintained by a distributed network of computers. In contrast to traditional currencies, digital coins such as Bitcoin and Ethereum are not issued by any central body, which is claimed to safeguard them against government interference or manipulation.
How Much Have Volumes Increased or Decreased in The Fourth Quarter Of 2021?
A drop in whale transfers has been seen because of the downward pressure on cryptocurrency prices. According to Santiment, an on-chain analytics platform, whale transactions in Bitcoin, Ethereum, and USDT have reached an all-time low, surpassing the previous year's total. "With the lowest overall value of $100k+ transactions in a year, whale transactions in Bitcoin, Ethereum, and Tether have plunged to their lowest level in over a year. This is not intrinsically bad, but rather indicates that major participants are expecting more developments in the war and inflation, which is a positive sign "Santiment took note of the situation. While the overall number of transactions in the whale community has declined in comparison to the previous year, outflows from digital exchanges have surged by a substantial amount. Almost 30,000 Bitcoin were moved from Coinbase to unidentified cryptocurrency wallets throughout the course of the week. Because of this, Coinbase's Bitcoin balance has plummeted by an order of magnitude. The Bitcoin (BTC) balance on Coinbase has decreased by more than 36% during the preceding two years.
The Value of Cryptocurrencies
It has been nearly one trillion dollars since November 2021 that the cryptocurrency market's market capitalization has plummeted. Leading digital assets have been unable to recover their losses during the preceding three months, according to data from Bloomberg. Marcus Sotiriou, an analyst at GlobalBlock, provided his thoughts on the current state of the cryptocurrency market and the price of bitcoin, stating: "Bitcoin investors are concerned about the first-day increase in the price of bitcoin because it is the first day on which global markets' liquidity is likely to begin to dwindle. The Economic and Monetary Affairs Committee of the European Parliament (ECON) approved yesterday on a new crypto framework entitled Markets in Crypto Assets, which will be implemented in 2019. (MiCA). In a last-minute revision to the legislation, it was decided to outlaw the use of proof-of-work, which would have been detrimental to Bitcoin. Fortunately, the committee decided against the restriction and in favor of a more reasonable alternative."
CFDs are a subset of cryptocurrency trading that is attracting the attention of several investors. Contract for Difference (CFD) is an abbreviation for Contract for Difference. Currency traders may place bets on the changing prices of financial market investment options using this popular derivative trading approach, which has become more popular.
Traders may make money by speculating on the value of cryptocurrencies, without owning the assets themselves. One is instead betting on whether the value of an asset will rise or fall in the future. Profit margin may be calculated as the difference between the purchase price of an investment and the purchase price after appreciation.
The use of CFDs does not limit traders to a specific asset class; rather, they are free to invest their money in any asset they want, including commodities. LegacyFX provides a variety of popular tradable cryptocurrencies, including the following:
LTC/USD: Litecoin vs. US
XRP/USD: Ripple vs. US
BTC/USD: Bitcoin in relation to the US dollar.
BTC/ETH: Bitcoin vs.
ETH/USD: Ethereum vs. US
Trading crypto CFDs with LegacyFX is a simple procedure that is comprised of the four steps outlined below:
Choose an online trading platform – Through LegacyFX's site, investors and traders may invest in and trade any cryptocurrency, whether it is long or short term. With the multiple tools available on the site, trading on any asset is
Register for and fund a trading account – LegacyFX's trading accounts provide you the chance to trade on a well-organized platform while also providing you with extra access to a variety of market tools and assistance.
Gain a better understanding of how CFDs on cryptocurrencies function – Traders may gain a better understanding of how cryptocurrencies operate within financial markets by using LegacyFX's many educational
Make A Workable Trading Strategy – With the assistance of our specialists, one may devise a trading strategy that is tailored to one's objectives, prior experience, and personal preferences.
Overall, LegacyFX has established itself as a dependable trading platform for traders of different backgrounds and experience levels. It offers such traders with a trading channel via which they may engage in trading while also learning about the world of financial investment. So join them today to see what they can offer you in terms of cryptocurrency trading!