PRADA OPENS IN SUZHOU, CHINA IN THE MATRO MALL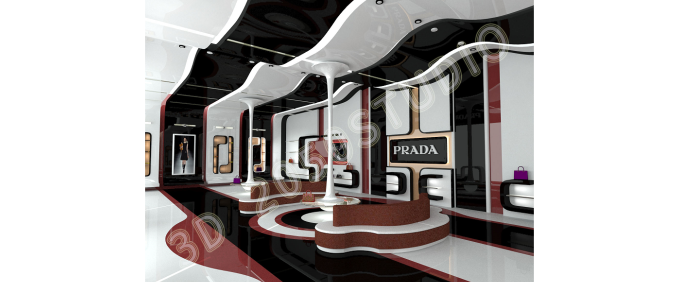 Milan, 3 October 2013 – Prada opens its first store in Suzhou, China, in the prestigious Matro mall.
The new split-level space, designed by architect Roberto Baciocchi, has a total surface of 750 square meters and offers the women's and men's collection of ready-to-wear, leather goods, accessories and footwear.
The impressive external façade is 30 metres long and pays tribute to artist Carlos Cruz-Diez. The lower area of black granite, which includes light boxes and store windows, is surmounted by a structure of bronze and polished-steel panels which create a fascinating kinetic effect both in the daytime and at night.
The interior façades on two floors feature an elegant Marquina black marble cladding in which the large windows, light boxes and two entrances create an interesting sequence of full and empty volumes.
The entrance at the ground floor leads to the area displaying women's bags and accessories. The space is distinguished by its classic black and white marble chequered floor and green-canvas display niches.
The first floor features women's bags and accessories too as well as women's ready-to-wear and footwear. The green canvas wall covering and the beige carpeting together with perspex display cabinets, pale green niches and the green velvet sofas create an elegant setting of soft, cosy lines.
The second entrance at the first floor opens on to the area dedicated to men's collections characterised by ebony finishes, polished-steel furniture and dark brown velvet chairs, which give the room a very masculine touch.
TRIBUTE BY PRADA TO THE ARTISTIC WORK OF CARLOS CRUZ-DIEZ
Prada wishes to express its admiration of Franco-Venezuelan artist Carlos Cruz-Diez, one of the leaders of the kinetic art movement, an innovative form of dynamic expression with strong visual impact. Having always greatly appreciated Carlos Cruz-Diez and his contribution to this artistic genre, Prada intends paying public homage to his artwork which has been the starting point in the development of the façade in the Prada boutique in Suzhou – 245 Guanqian Street, Pingjiang District, Suzhou, China.
For further information:
Prada Press Office
Tel. +39.02.541921
e-mail: ufficio.stampa@prada.com