Plugged in Planeside: 6 Tips for Staying Connected During Business Travel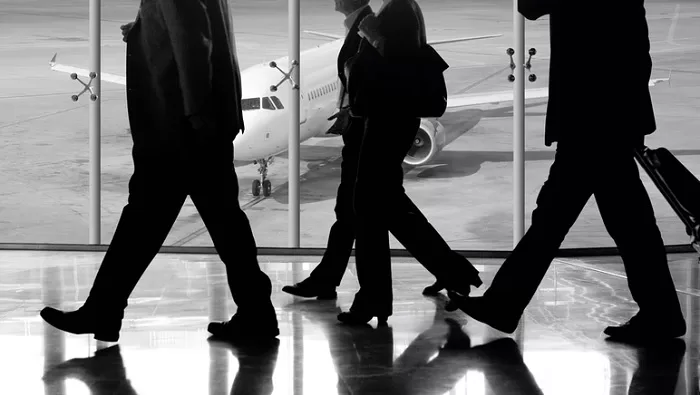 In 2020, the pandemic kept people out of the skies and stuck inside home offices. With the release of the vaccine, air travel is picking up again, with business travel following suit. The pandemic saw professionals more plugged in than ever before, but how do they take that connectivity with them into the air?
If your landing gear can't come down fast enough, you're not alone. Here are six tips for staying connected during business travel.
Utilize virtual office
Leaving brick-and-mortar behind for the clouds might seem intimidating, but not so in the modern world. If you're worried about leaving your office operations in the air while you're in the skies, you can subscribe to a virtual office service. Virtual offices are locations that intercept mail, faxes, and phone calls on your behalf. A virtual office also comes with an address, so you can even use it to establish yourself in new markets. You can access all of your business materials straight from the airplane seat using an app on your phone.
Think of the virtual office as a receptionist that you can carry around in your pocket. Using this tech tool, you'll never miss a beat, even at 38,000 feet.
Bring your own Wi-Fi hotspot
While airports and coffee shops typically offer free wifi, these aren't the most secure or reliable options for your sensitive commercial information. That's why you should seriously consider a mobile hotspot solution for your next trip.
Bringing a mobile hotspot can be as simple as enabling the hotspot feature on your phone. If you use your smartphone, be sure to set up a secure password with letters, numbers, and special characters. You can also purchase small handheld WiFi hotspots that allow more devices to connect at once.
Be sure to check with your carrier before turning on your hotspot, as it may incur additional charges on your next phone bill.
Work offline as often as possible
Computer in airplane mode? No problem. Just work offline. Download any documents you need while you're in the airport, and you'll have untethered access to them in the air. This method rules out any cloud-based services, but you can still save your progress directly to your computer.
If you listen to music or podcasts for productivity, you can download them as well. Depending on the platform, you can also download training modules and presentations, so you can sharpen the saw without leaving your seat.
Not all work is possible offline, but by downloading what you can to work on later, you'll capitalize on those airplane mode miles and save your hotspot data for when you need it.
Stay charged with pocket power
While most airports have added outlets to help travelers keep their devices charged, you don't want to fight a whole family of vacationers for them. Bringing along a portable battery ensures that you're never caught off guard by insufficient outlets at the airport or on the plane.
Before you hit the road, charge your power bank and only use it when necessary.
Save money on expensive data charges
Even if your phone provider offers unlimited data, it isn't truly unlimited. Most providers slow down service once users reach a preset threshold. If you have a personal hotspot, it most likely has a data limit. Travelers often exhaust their Wi-Fi minutes rather quickly, resulting in costly charges from their phone providers.
The easiest way to prevent outrageous charges from data overages is to work offline as much as possible. Download documents, web pages, songs, and videos when connected to a free and secure service. Working offline lets business travelers save their precious data minutes for when they need it. You should also review your carrier's "roaming" policy to ensure you won't be charged extra for traveling from your usual stomping grounds.
There are also options for the business traveler needing to make calls on the road. Travelers can use free services through Google Phone and Apple's FaceTime, as those services come with smartphone apps. Skype is still a viable option, as are Zoom and Google Meet – but you might need to connect to the internet for the best service.
Manage international restrictions
International business travelers may need to bypass restrictions to access their email and social media accounts, primarily if they work in China or Russia. Before heading off to your destination, make yourself comfortable using a Virtual Private Network (VPN). This service encrypts your work and sends it through a middleman server, obscuring your identity and location from hackers.
If you often travel to Russia or China, talk to your employer about installing a VPN to bypass these firewalls.
Before you go
There are plenty of ways to stay connected on the go. Don't neglect your tech tools, save up work to complete offline, and take some portable hardware with you on your journey. These tips will help you keep your feet on the ground even while your head's in the clouds.