Plant Me Now Launches Exclusive New Winter Bedding Plant Range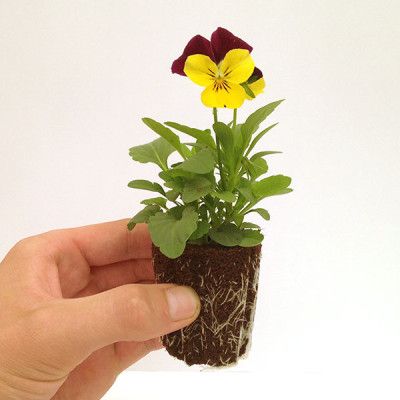 LONDON, August 30, 2013 /PRNewswire/ —
Online nursery, Plant Me Now, is proud to announce the launch of its winter bedding range, available now exclusively athttp://www.plantmenow.co.uk. The range includes five brand new varieties of popular plants, guaranteed to keep your garden looking fantastic all year round:
Cool Wave Pansies – the best trailing pansies, with exceptional overwintering performance and the first pansy to blossom again in spring

Sugar Rush Wallflowers – new colours this autumn include Primrose, Purple Bicolour and Yellow. Sugar Rush are the first dual purpose, hardy, scented Wallflower to flower in the autumn, during winter and then blossom in abundance the following spring

Viola Teardrops – very floriferous, these violas fill more space than standard violas and produce beautiful cascading hanging baskets. They are equally stunning around the edge of containers

Polyanthus Stella – a hardy, multiflora Polyanthus with an exceptionally long flowering period (from late January)

Viola Sorbet XP – brand new colours available this winter include  Denim Jump Up, Lemon Ice Blotch, Marina and Yellow Frost
Now is also the best time to start planning your winter garden. While winter still seems a while off, planting your winter bedding plants in September and October while the soil is still warm will give the roots time to establish before the cold weather sets in. It also gives your plants time to get used to the cold weather slowly rather than planting them when it is already cold. Plant Me Now's gardening consultant, Tim Milward, gives his top tips for planning your winter garden:
1. The late summer this year has encouraged summer bedding plants to flower much longer, which delays gardeners from planting their autumn and winter bedding plants. If the warm weather continues into the autumn, take advantage of it and plant your winter bedding plants into larger pots, so they've had time to spread before planting them into containers, baskets or flower beds.
2. Have a colour scheme in mind before choosing your plants. Grouping colours together, like autumnal colours (bronzes, yellows and oranges), bright cheerful pops of colour (bright reds or pinks) or wintery colours (blues, whites, light greens) look striking and really lift the mood of your garden. Choosing taller plants such as Wallflowers in the middle of a display and Pansies around the edge gives shape and interest – their slightly different flowering times also extends the flowering period of your display.
3. Most of the Plant Me Now range is hardy enough to survive a light frost unprotected. However, protecting your plants from frost throughout the winter months will help prolong flowering times, especially with more sensitive flowers like Pansies and Violas. You can cover them with a plant protection fleece or other lightweight fabric at night if frost has been forecast, or alternatively plants pots can be moved into a garage, greenhouse or indoors.
4. There's very little care needed for any of our winter bedding plants, making them a great low-maintenance choice to keep your garden looking beautiful all year round. For example, Pansies and Violas are great as they flower from late autumn up until the very cold weather starts, then blossom again the following spring. Planting Primrose Bonneli, Charisma and Husky, which all have different flowering times, gives you a show of colour from October all the way through to April.
Tim continues: "At Plant Me Now, all our winter bedding plants are grown to the right size for planting before we sell them to you, so you can be assured that your plants will have the best possible start in your garden. Most of the winter bedding varieties grown at Plant Me Now have been specially bred to produce beautifully shaped plants with extended flowering periods without the need for special attention, to ensure your get the most out of your garden with minimum effort."
View the Plant Me Now winter bedding plants here and to browse the perennials click here.
If you need advice on what to choose for your garden, Plant Me Now's team of horticultural experts can help you find the right plants by phone, email, Facebook or Twitter – please visit the website for more information.
SOURCE Plant Me Now
http://www.prnewswire.com/news-releases/plant-me-now-launches-exclusive-new-winter-bedding-plant-range-221780641.html