Perrier-Jouet unveils 'The Enchanting Tree' by Tord Boontje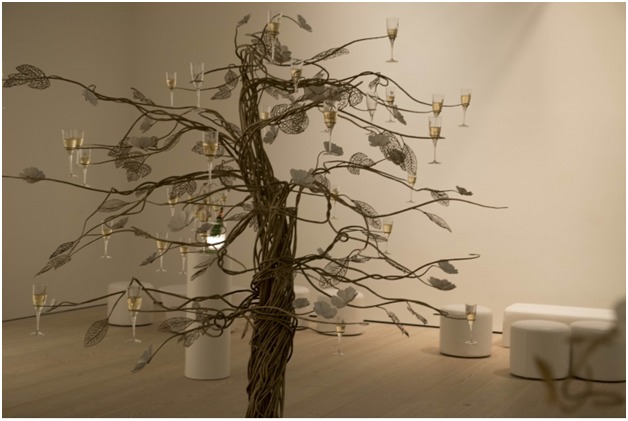 London, March 22, 2013 – In celebration of the first days of Spring,
Perrier-Jouët is proud to unveil The Enchanting Tree, an unusually elegant
champagne experience created by Dutch designer Tord Boontje*.
The Enchanting Tree by Perrier-Jouët brings elements of theatre and poetry
to the gesture of tasting Perrier-Jouët's Belle Epoque cuvee**, continuing
Perrier-Jouët's tradition of supporting and collaborating with artists and
designers as part of its artistic heritage.
The reveal of The Enchanting Tree debuted on Friday 22 March, 2013 at the
prestigious Saatchi Gallery in London, in a dedicated space transformed and
designed by Tord Boontje into a magical world of seasonal delight. Whilst
Perrier-Jouet unveils 'The Enchanting Tree'
by Tord Boontje
Press release – March 2013enjoying seasonal foods beautifully paired with the Belle Epoque cuvee,
guests moved from a wintery scene through to a fairytale of springtime and
mingled in front of a remarkable large scale version of The Enchanting Tree,
especially hand-made as the perfect illustration of Perrier-Jouët craftsmanship. It will return to Epernay to be part of the house's private collection
of 200 original Art Nouveau pieces of Art.
An Unusual Champagne Experience
Combining both aesthetics and practicality, The Enchanting Tree by PerrierJouët reinvents the gesture of champagne in which each participant plucks
a flute from the tree. Wreathed in anemones this unique champagne service
is made of suspended golden branches that can be used to hang the six
Perrier-Jouët flutes, blossoming at the base of an ice bucket to preserve the
champagne's coolness.
The iconic flutes of Perrier-Jouët can then be filled whilst in the tree,
elegantly lifted out and served. This elegant service accessory showcases the
champagne moment as a memorable experience.
A Shared Appreciation of Nature & Craftsmanship
The Perrier-Jouët and Tord Boontje collaboration is rooted in a shared vision
and appreciation of Nature, Art Nouveau & craftsmanship. Using Nature as
an inexhaustible source of inspiration, the designer has reinterpreted nature
light-heartedly to create a fairytale in honour of Spring, with floral forms
flowing through a golden tree.Faithful to the Art Nouveau philosophy, The Enchanting Tree applies
a contemporary approach to the materials used, while employing the
craftsmanship that is so dear to the House: the metal branches are hand-worked,
the leaves are individually soldered and the anemones lacquered in white.
"Tord Boontje's creation captured both the legacy of Perrier-Jouët and its
brand experience of infusing art into everyday life, redefining the art of
tasting as a memorable experience" says Charles-Armand de Belenet,
International Marketing Director for Martell Mumm-Perrier-Jouët.
Describing his work, Tord Boontje explains: "I wanted to create a functional
object that evokes emotions and dreams. Here, utility is beautiful and beauty
has utility".About Tord Boontje
Born in 1968 in Holland, Tord Boontje studied industrial design at Eindhoven
Design Academy (1986–1991) and London Royal College of Art (1992–1994).
He then founded his own design studio in London in 1996. "My ideas come from
my walks in the forest and from observing the interaction between light and nature,"
explains the designer, who ceaselessly explores the relationship between nature and
technology. Tord Boontje has worked with a range of international companies such
as Shiseido, Alexander McQueen, Swarovski and his collections are being exhibited
at the Victoria and Albert Museum, MoMA and Copper-Hewitt museum in New
York, the Design Museum and Tate Modern in London. For further information,
visit http://tordboontje.com/About Perrier-Jouët Belle Epoque
Perrier-Jouët Belle Epoque prestige cuvee is the perfect expression of the House's style
of floral aromas and elegance. On the nose it reveals a bouquet of white flowers
punctuated with notes of pear, fresh ginger and pineapple, and then develops
perfumes of white and yellow fruit on the palate. This sensation of light and silky
freshness unfolds around a mineral base, before offering a subtly persistent finish.
For press inquiries : Stéphanie Mingam – Perrier-Jouët Communications Department
Stephanie. Mingam@pernod-ricard.com