P2B BATTERY POWERED PORTABLE LED PROJECTOR FROM ASUS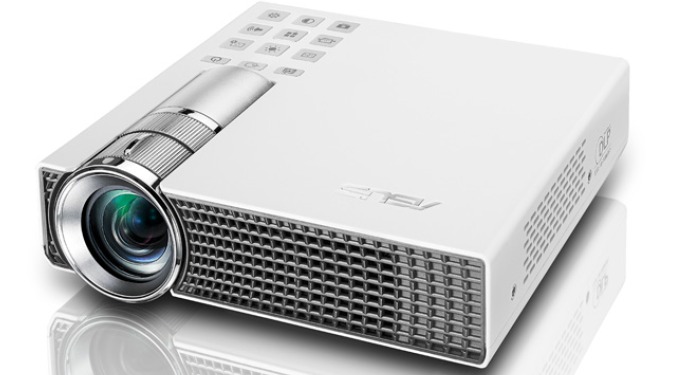 The compact design, light weight and superior short throw ratio gives bright and vibrant images form energy efficient LED light source
ASUS announced the release of the P2B Portable LED projector – a battery powered short throw projector with a compact design and light weight that makes it easy to carry around. The bright 350 lumens Eco-LED light source and low operating temperatures along with a long life span reduce the total cost of ownership for the P2B.
Long lasting LED light source
The P2B features a mercury free Eco-LED light source offers a lifespan of over 30,000 hours which help to cut down the bulb replacement and maintenance costs. With a high brightness rating of about 350 lumens and latest projection technology, the P2b projects bright and vibrant images with 100% color saturation at 1280 X 800 resolution.
The superior quality 1.1:1 short throw lens ensures that the P2B projects images with a diagonal of 42 inches in just a meter away from the projection surface. This makes it the ideal choice for projections in confined meeting rooms and small spaces.
The Eco-LED light source also indicate that the P2B has a short warm up and cool down time, enabling the projector to be running in as little as five seconds and switched off instantly. The flip-down adjustable feet are quicker to set up as compared to the screw-type feet and the auto-keystone correction automatically adjusts the images to give a rectangular shape.
Higher battery life
The ultra compact and portable P2B projector is battery powered for overall mobile flexibility. Measuring 142.5 x 130 x 34.6 mm, it weighs 656 g and has a desktop footprint which is the size of audio CD jewel case.
Flexible video inputs
The P2B has VGA and HDMI video inputs for increased flexibility. While the Mobile High-Definition Link input also charges connected tablets and smartphones while projecting, the micro SD card slot and built in 2GB storage device supports storage of videos, images and documents for display. It also has a built in speaker and comes with a remote control that has a laser pointer function which facilitate easy control of presentations.