Orient Commercial Bank's Impressive Digital Payment Products and Services for Businesses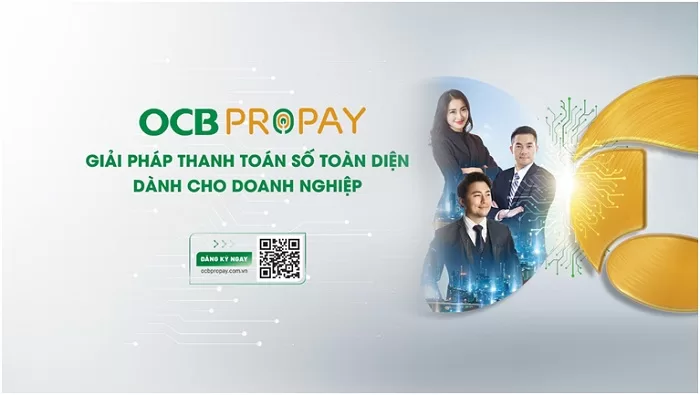 More than 3000 businesses successfully integrated the OCB ProPay digital payment solution package; short accounts and nice number accounts gained extensive market recognition… are just a few of OCB's accomplishments in 2022. Orient Commercial Bank (OCB) had a great year in 2022 in its attempts to deliver digital payment services to commercial customers.
Launched at the end of 2021, OCB ProPay is developed with the purpose to become one of the leverage products, creating a digital transformation platform, helping businesses to breakthrough and confidently develop in the "new normal" state following the impact of the covid pandemic.
OCB ProPay is a digital transformation application solution for transactions and financial administration, with three levels to accommodate enterprises of all sizes and types. Specifically, the basic OCB ProPay enables clients to make transactions quickly and conveniently on the OMNI multi-channel digital platform, reducing time spent on over-the-counter transactions, simplifying paperwork, making transactions anytime, anywhere. The Advanced OCB ProPay package saves up to 80% of accounting time thanks to the identity account tool that supports automatic reconciliation of receivables and payment service for accounts payable right on businesses' management platform. The specialized OCB ProPay package is intended for enterprises with high transaction volumes. The application of modern Open API technology enables OCB ProPay to link all individual management software of businesses, including OCB OMNI digital bank, allowing them to be synchronized on a single platform, enhancing information process speed and maintaining high accuracy of information on staff, partners, finance…
The top three benefits businesses experience when using ProPay's payment solution for financial management are faster processing, automation of many accounting tasks, and high accuracy. Due to the convenience and instant efficiency at an optimal cost, the number of consumers using the basic ProPay package at OCB climbed by 203% in 2022, while the number of customers using the advanced and specialized packages increased by 170%. Propay  is considered one of the most outstanding digital payment solutions on the market now.
2022 is also the first year OCB has launched short- numbered accounts and nice – numbered accounts from only five numbers for corporate customers. Users can especially choose any character in the account number sequence. These products were launched by OCB when it understood the needs of businesses, such as using hotlines or switchboard numbers for bank account number, making it easy and convenient for customers to remember, place orders, pay, as well as when they need support. Alternatively, many organizations use the same account number as the tax code, emphasizing their distinct qualities. Account numbers are also sometimes registered depending on the date of establishment or significant milestones in the company's development. Furthermore, some firms seek a good feng shui account number in the hopes of attracting a lot of luck to their business, and so on. As a result, OCB has advised and assisted thousands of businesses in improving their brand value, expressing their personality, and leaving a lasting impression on partners and customers.
In 2022, OCB not only promoted digital services but also encouraged the development of many specialized financial solutions for businesses in the fast-moving consumer goods (FMCG) industry, construction, textile,… Furthermore, the bank pays special attention to green credit projects, aiming for sustainable development. The Bank has received support and funding from two major financial institutions, ADB and IFC. ADB granted a net borrowing of $25 million and a net trade finance of $100 million, while IFC granted a net borrowing of USD 100 million and a net trade finance of USD 60 million. This demonstrates international financial institutions' high regard for OCB's green financing scheme. Furthermore, due to the attractiveness and effectiveness of green financing programs for corporate customers, OCB was honored to be given the Climate Financing Leadership award by the IFC in numerous categories in the Asia-Pacific region in 2022.
In 2023, the bank is expected to implement a number of programs for speedy loan approval, preferential pricing policies, and unique interest rates to each category of target consumers in order to continue marketing banking services aimed at the small and medium-sized firm segment. In particular, the bank will launch more digital products to help businesses manage their finances as well as bring optimal satisfaction to customers.