NUS Graduates Achieve Stronger Employment Outcomes and Earn Higher Starting Salaries amid A Recovering Global Economy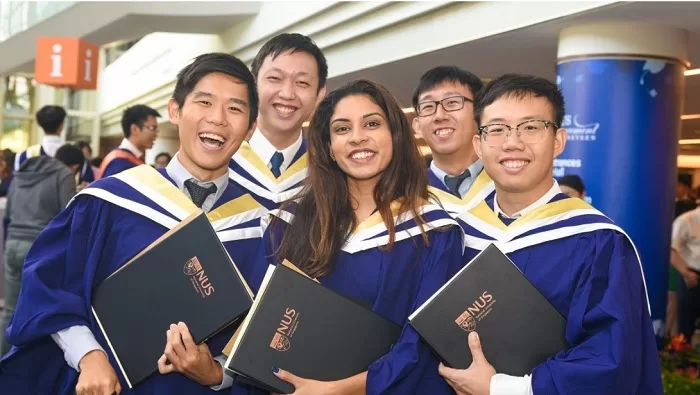 Higher starting salaries[1] for graduates from 25 courses
100% employment for graduates from Accountancy, Information Security, Business Analytics, Dentistry, Computational Biology); >99% employment for Computer Science graduates
More than nine in 10 graduates from courses in Arts and Social Sciences, Business, Computing, Design & Environment, Engineering, Nursing, and Science employed within six months of completing their final exams
More than nine in 10 Architecture, Law, and Pharmacy graduates were employed after completing practical training, practical law course, and pupillage
Graduates of the National University of Singapore (NUS) continued to achieve high employment rates and earned higher starting salaries in 2021, according to the Joint Autonomous Universities Graduate Employment Survey (JAUGES) 2021.
The JAUGES 2021 was jointly conducted by NUS and the other Autonomous Universities.
Professor Ho Teck Hua, NUS Senior Deputy President and Provost, said, "NUS places a strong focus on equipping our students to harness knowledge and skill sets, and develop the adaptability and innovativeness to excel in a complex and unpredictable world. We are heartened to learn that our students have remained highly employable in the uncertain global economy, and continue to command high starting salaries. This shows that our interdisciplinary and integrative university education continues to enable our students to remain competitive and deliver value in their careers."
"NUS is committed to augmenting the future readiness of NUS students and graduates while preparing them for the fast-changing workplaces of tomorrow. In January this year, we launched two new digital platforms, the Internship-As-A-Service and conNectUS, where they can seize exciting new opportunities in building their career journeys by tapping on the gig economy to market their talents to industry, while building global networks and opportunities with NUS alumni in Singapore and across the world," he added.
More than nine in 10 NUS fresh graduates secured employment within 6 months after final exams
Among NUS fresh graduates in the labour force, 94.1 per cent were employed within 6 months of completing their final exams, compared to 93.9 per cent in the 2020 survey. Another 2.8 per cent of NUS fresh graduates in the labour force have either accepted a job offer and are pending commencement of duty, or are actively starting a business venture.
Fresh graduates from Accountancy, Information Security, Business Analytics, Dentistry and Computational Biology achieved 100% employment while 99.1% of Computer Science majors landed jobs. More than nine in 10 fresh graduates in the labour force from courses in Arts and Social Sciences[2], Business, Computing, Design & Environment, Engineering[3], Nursing and Science were employed within six months of completing their final exams.
5,144 out of a total of 6,897 full-time fresh NUS graduates from the Class of 2021, and 576 out of 830 follow-up NUS graduates participated in the joint survey.
More than nine in 10 follow-up graduates from Architecture, Law and Pharmacy were employed after completing their practical training, practical law course, and pupillage.
NUS graduates in full-time permanent employment continue to draw high starting salaries
The survey also revealed a 4.3 per cent increase in the mean gross monthly salary of NUS fresh graduates in full-time permanent employment[4], which rose to S$4,258 in 2021 from S$4,082 in 2020.
The median gross monthly salary of fresh graduates from NUS in full-time permanent employment also increased to S$3,850 in 2021, from S$3,800 in 2020.
Graduates from 25 courses in Arts and Social Sciences, Business, Computing, Design and Environment, Engineering, Law, Nursing, Science, as well as the Bachelor of Arts with Honours course offered by Yale-NUS College, achieved improvement in starting salaries.
Please refer to the Annex for the list of courses in which graduates have achieved higher starting salaries compared to 2020.
Equipping NUS graduates in a world of constant change
Mr Rafid Zuhayer Amin, fresh graduate from the Department of Mechanical Engineering which is under the College of Design and Engineering, joined global healthcare company GSK's talent development programme within four months of looking for a job. In his current role as a Maintenance Engineer, Rafid is involved in planning maintenance, troubleshooting and overseeing asset care to ensure that the plant operates efficiently.
At NUS, Rafid specialised in Robotics, a new specialisation for Mechanical Engineering, and was also part of the Innovation and Design Programme (iDP). The iDP encourages students like Rafid to develop innovative solutions to real-life engineering problems, honing their adaptability and critical thinking skills, which have proven indispensable in his current role. Rafid also took on internships, including the NUS Overseas Colleges programme in Munich, where he worked in a start-up that was developing Smart AI Checkout solutions for supermarkets. He also tapped on various portals and avenues available at NUS, such as NUS TalentConnect and courses conducted by the Centre for Future-ready Graduates, to keep abreast of job trends and available opportunities during his job search.
"Not only did my course of study build a strong engineering foundation for me, I was also able to put my knowledge to good use and build a strong network around me. This allowed me to grow not just as an engineer, but as a global citizen and give back to the society," said Rafid.
Ms Ang Shao Qing, who graduated with a Bachelor of Arts with Honours in Philosophy, works as a Business Analyst at A.T. Kearney Pte. Ltd. The fresh graduate from the Faculty of Arts and Social Sciences shared that the engaging and thought-provoking pedagogy at the Department of Philosophy nurtured a keen sense of astuteness, as well as the ability to think critically.
Outside of class, Shao Qing actively sought opportunities that would provide her with more direct work experiences where she was deeply appreciative of the guidance from her NUS career counsellors. Interested in the consulting field, she took on multiple consulting internships such as with Kantar Consulting and PwC, during her time in NUS to get a better sense of a right career fit for herself. She was also able to earn academic credits while working for a company under an Internship module in her final year.
Remembering the words of wisdom from her parents and professors that the purpose of a university education is to acquire useful skillsets, Shao Qing approached her university education with the positive attitude of learning and imbibing as much knowledge as possible through her choice of subjects.
"I owe a debt of gratitude to my philosophy education for teaching me to think critically and creatively. The ability to ask the right questions was very helpful during job tests and interviews, and it is a skillset I continue to hone at my job. I am also fortunate to be working for a firm that prioritises growth and learning – every day is different (trite but true!), and I have had the privilege of being exposed to a variety of topics and industries," said Shao Qing.
---
[1] Starting salary here refers to graduates' median gross monthly salary.
[2] Launched in December 2020, the College of Humanities and Sciences is an enhanced undergraduate experience for students of the Faculty of Arts & Social Sciences and the Faculty of Science.
[3] In November 2021, the College of Design and Engineering was established, bringing together the Faculty of Engineering and School of Design and Environment.
[4] Full-time permanent employment refers to the number of graduates working on a full-time permanent basis, as a proportion of graduates in the labour force (i.e. those who were working, or not working but actively looking and available for a job).