NTU sets up New Research Centre to develop food security solutions ​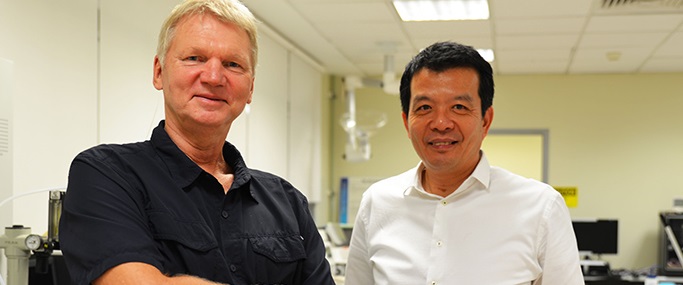 With food security an ongoing global problem, Nanyang Technological University, Singapore (NTU Singapore) announced it is setting up a new research centre to develop science-based solutions in food technology for a more efficient, safer and sustainable way to produce food. 
The NTU Food Technology Centre (NAFTEC) aims to build up expertise in South-east Asia in providing risk, benefit and sustainability assessment to support industry and regulatory agencies in ensuring safe and good quality food.
To come up with innovative solutions, the Centre will conduct research in key areas, including the interdisciplinary investigation of antimicrobial resistance in microorganisms in food and patients in Singapore and the region.
It also aims to study the health effects of microorganisms in the human gut and how to improve their composition, and assess the sustainability of food production systems.
Growing populations, climate change, pollution and declining natural resources are among the biggest reasons why food security is a major problem for millions globally.
NTU Provost Professor Freddy Boey announced the setting up of NAFTEC in his address today at a four-day international conference organised by NTU, the World Health Organization and the Food and Agricultural Organization (FAO) of the United Nations.
Professor Boey said, "This new centre comes at a very interesting juncture in the development of international food technology and food science. We are starting to understand the importance of the different relevant entities in our food, such as microorganisms and active biochemical ingredients, and how these entities interact with our bodies. NTU will join forces with national and international researchers to grow this new understanding and support novel food technology solutions for better food and a healthier population in Singapore and the region. We have great expectations of what this Centre can do."
The Centre aims to develop and integrate innovative solutions that support science-based improvements for food technology optimisation in Singapore and the region, which is home to more than 640 million people.
Such integration has several benefits in the quest for food security and safety, such as helping in the implementation of "Farm-to-Table", a practice where food control is linked all the way back to the producer and its origin.
The setting up of NAFTEC is timely as new technological tools can now deliver scientific breakthroughs that could improve food production systems significantly. For example, the use of new technologies based on big data exchange across borders is useful in the creation and implementation of new international DNA sequencing databases.
Professor Jorgen Schlundt (above, left) and Professor William Chen (above, right), both from NTU's School of Chemical and Biomedical Engineering, will helm NAFTEC as its director and deputy director respectively.
Professor Schlundt said, "NTU already has world-class research capability in a number of areas that can be applied in food science and technology. This includes state-of-the-art methodology to investigate chemicals and microorganisms in food and evaluate their health effects. This means we can start our food-related research right away and be internationally recognised. The hosting of the NTU-WHO/FAO meeting in Singapore is a reflection of this."
The food technology centre, which is part of NTU's College of Engineering, will have more than 20 full-time researchers and scientists working on present and future projects within its first year.
It has started working with several Singapore agencies, including the Ministry of Health, the Agency for Science Technology and Research, Tan Tock Seng Hospital, the Agri-Veterinary and Food Authority and the National Environment Agency.
Internationally, it has started collaborations with the World Health Organization, United Nations Food and Agricultural Organization, the United States Food and Drug Administration,  the University of New South Wales, and Universities in Europe and USA.
The new centre has been designated  Asia-Pacific Economic Cooperation (APEC) Centre for Sustainable Development in Agriculture & Fishery Sectors and will  conduct research on sustainable solutions and scientific evaluations of food production systems in support of APEC's 21 member countries.
The NTU centre builds on the university's partnership with the Netherlands' Wageningen University, a leading institution in food science and technology, to meet growing demand in the food industry for highly-trained expertise.
About Nanyang Technological University
A research-intensive public university, Nanyang Technological University, Singapore (NTU Singapore) has 33,500 undergraduate and postgraduate students in the colleges of Engineering, Business, Science, Humanities, Arts, & Social Sciences, and its Interdisciplinary Graduate School. It has a new medical school, the Lee Kong Chian School of Medicine, set up jointly with Imperial College London.
NTU is also home to world-class autonomous institutes – the National Institute of Education, S Rajaratnam School of International Studies, Earth Observatory of Singapore, and Singapore Centre for Environmental Life Sciences Engineering – and various leading research centres such as the Nanyang Environment & Water Research Institute (NEWRI), Energy Research Institute @ NTU (ERI@N) and the Institute on Asian Consumer Insight (ACI).
Ranked 13th in the world, NTU has also been ranked the world's top young university for the last two years running. The University's main campus has been named one of the Top 15 Most Beautiful in the World. NTU also has a campus in Novena, Singapore's medical district.
For more information, visit www.ntu.edu.sg