New POWERADE ZERO™ DROPSTurns H20 into a Zero Calorie Sports Drink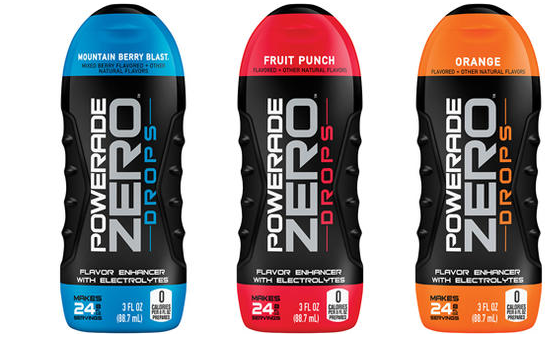 ATLANTA, June 7, 2013 – Whether playing pick-up basketball, flashing football skills on the 50-yard line or squeezing in one last set at the gym before class, POWERADE® and POWERADE ZERO provide great-tasting hydration solutions to people everywhere. Now, POWERADE ZERO is putting the zero-calorie hydration solution, with ION4 Advanced Electrolyte System, into the hands of athletes with the introduction of POWERADE ZERO DROPS.
POWERADE ZERO is the first ready-to-drink sports drink brand to launch an on-the-go product that allows people to turn water into a zero-calorie sports drink. A sports bottle, a water fountain and a quick squeeze of POWERADE ZERO DROPS are all anyone needs to help replenish some of the electrolytes lost in sweat –like calcium, magnesium, potassium and sodium. It's the perfect hydration solution for any busy athlete, especially those who need to pack in practice and workouts between classes. Now, more than ever before, POWERADE and POWERADE ZERO are offering people #ZeroExcuses to #POWERTHROUGH it all.
"Convenience is key," said Ilan Sobel, senior vice president, glacéau. "Between class, practice, errands and work, our lives are becoming busier and busier by the day.  With POWERADE ZERO DROPS, we're providing athletes with even more options to help hydrate with sports drinks. And, we're doing it without sacrificing any of the great-taste or zero-calorie, electrolyte-enhanced refreshment that people have come to expect from us."
POWERADE ZERO DROPS is offered in three delicious flavors – Mountain Berry Blast®, Fruit Punch and Orange. Each variety of POWERADE ZERO DROPS is available in a 3-fluid ounce squeezable bottle and makes approximately twenty-four 8-fluid ounce servings.  With a suggested retail of price of $3.99, it offers 33 percent more servings versus the primary competitive flavor enhancer with electrolytes. POWERADE ZERO DROPS is offered in the drink mix aisle at retailers nationwide.
About The Coca-Cola Company:
The Coca-Cola Company (NYSE: KO) is the world's largest beverage company, refreshing consumers with more than 500 sparkling and still brands. Led by Coca-Cola, the world's most valuable brand, our Company's portfolio features 16 billion-dollar brands including Diet Coke,Fanta, Sprite, Coca-Cola Zero, vitaminwater, Powerade, Minute Maid, Simply, Georgia and Del Valle. Globally, we are the No. 1 provider of sparkling beverages, ready-to-drink coffees, and juices and juice drinks. Through the world's largest beverage distribution system, consumers in more than 200 countries enjoy our beverages at a rate of more than 1.8 billion servings a day. With an enduring commitment to building sustainable communities, our Company is focused on initiatives that reduce our environmental footprint, support active, healthy living, create a safe, inclusive work environment for our associates, and enhance the economic development of the communities where we operate. Together with our bottling partners, we rank among the world's top 10 private employers with more than 700,000 system associates. For more information, visit Coca-Cola Journey at www.coca-colacompany.com, follow us on Twitter attwitter.com/CocaColaCo or visit our blog, Coca-Cola Unbottled, at www.coca-colablog.com.