New GT Models from AMG Available to order now: Three New Members of the AMG GT Family go on Sale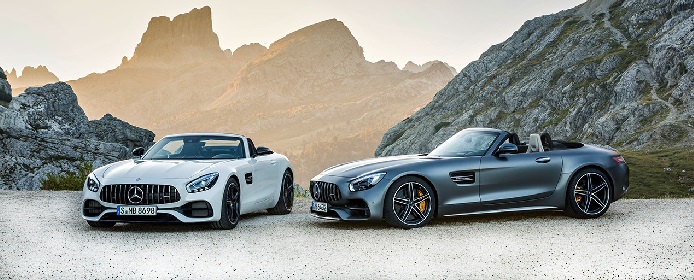 Stuttgart/Affalterbach. Three new members of the AMG GT family are available to order now. The AMG GT* and GT C* Roadsters as well as the extremely sporty AMG GT R** will be launched on the market in spring 2017.
AMG is extending its in-house developed family of sports cars outwards and upwards with the addition of three new members. Boasting motor racing technology for the road and cutting-edge features, the AMG GT R is an elite athlete that delivers a breathtaking driving experience. The front-mid-engine concept with transaxle, the V8 biturbo engine rated at 430 kW (585 hp), the extensively modified suspension, the new aerodynamics and the intelligent lightweight construction lay the foundations for the exceptional driving dynamics.
The new Roadsters make hallmark AMG driving performance an even more intensive experience. In the entry-level model, the AMG GT Roadster, the AMG 4.0‑litre V8 biturbo unit produces an output of 350 kW (476 hp). Boasting an even more striking and dynamic appearance, the AMG GT C Roadster with its output of 410 kW (557 hp) and peak torque of 680 Nm is a brand new model variant that slots in between the AMG GT S and R.
The prices for the three new sports cars at a glance (in Germany incl. 19 % VAT):
Mercedes-AMG GT Roadster:     129,180.45 EUR
Mercedes-AMG GT C Roadster:  160,650.00 EUR
Mercedes-AMG GT R:                 165,410.00 EUR
The AMG GT C Roadster especially employs some of the sophisticated technical features of the AMG GT R, including the active rear axle steering and the electronically controlled rear axle limited-slip differential. And from the Panamericana Grille through to the broader tail end, the AMG GT R genes are instantly plain to see, too. The GT C Roadster furthermore comes complete with a highly exclusive specification, with standard equipment including a nappa leather interior, the AMG performance steering wheel in nappa leather/DINAMICA microfibre and the additional drive program RACE. For the first time, the AMG performance seats are also optionally available with AIRSCARF neck-level heating and seat ventilation – for undiluted open-air driving pleasure the whole year round. The soft top opens and closes in approx. eleven seconds on both AMG GT Roadster variants, even when on the move at speeds up to 50 km/h.
* Fuel consumption for AMG GT Roadster combined: 11.4 –9.4 l/100 km; CO2 emissions combined: 259 – 219 g/km
** Fuel consumption for AMG GT R combined: 11.4 l/100 km; CO2 emissions combined: 259 g/km