Honda Announces Rebel 300 and Rebel 500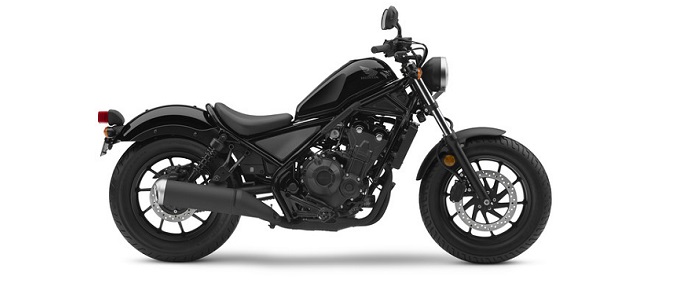 Honda introduced a pair of progressive customs that fuse tradition with groundbreaking new ideas and perspectives while providing ample scope for owner customization. Offering a fresh take on custom cool, the Rebel 500 and Rebel 300 mix old- and new-school style and are engaging and fun to ride, with an outlook geared toward firing the imagination of a younger generation of riders.
Development for the Rebel 500 and Rebel 300 began in the U.S., with the objective of referencing a timeless look while also introducing a forward-thinking, contemporary style all their own. Accessible, fun to ride and easy to live with, the models go their own way but are also blank canvases, ready for whatever their owners' imaginations have in store.
"For many riders who have grown up through the digital age, motorcycles represent a lifestyle and an attitude, a means of expressing their individuality," said Lee Edmunds, Manager of Motorcycle Marketing Communications at American Honda. "The machines that speak to these riders need to reflect this, to fit with their life while also offering the potential for further individualization. The Rebel 500 and Rebel 300 are simple and raw, offering cutting-edge style and a radical image while minimizing the barriers to riding. There's literally nothing else out there like them, and we're confident that both models will appeal to young riders who want to stand out and are open to new experiences."
Rebel 500 / Rebel 300
Simple and raw, Honda's new Rebel models are exercises in straightforward, minimalist design where every detail matters. Low, lean silhouettes are crowned by iconic fuel tanks, aggressively raked front ends and fat tires on large-diameter wheels, along with a stamped-steel rear fender and narrow frame body, resulting in stripped forms that express offbeat individuality from every angle. The evocative round, glass headlight sits up high in a die-cast aluminum mount, the speedometer is a compact dial with negative LCD display and blue backlight, and the ignition is housed below the left side of the fuel tank. Everything that can be is blacked out.
With a 471cc parallel twin, the Rebel 500 has strong bottom-end torque and a smooth, linear power delivery, while the Rebel 300 is powered by a peppy 286cc single cylinder engine. In both cases, the bikes' riding positions are relaxed and neutral, with arms gently outstretched and feet dropping straight down to the mid-mounted pegs. The versatile Rebels are fun to ride slow and fast, great for day trips, jaunts to the coffee shops or even sporty sessions on winding roads; low weights, slim frames and short seat heights equal agility at lower speeds, whereas good ground clearances allow surprisingly sporty lean angles. Both the Rebel 500 and Rebel 300 are available in standard and ABS versions.
Colors

Rebel 500: Matte Silver, Bright Yellow, Black, Red
Rebel 500 ABS: Black
Rebel 300: Matte Silver, Matte Pearl White, Black, Red
Rebel 300 ABS: Black

*Rebel 300 Tentative Price: $4,399 (MSRP Announcement Dec. 2016)
*Rebel 500 Tentative Price: $5,999 (MSRP Announcement Dec. 2016)
Availability: April 2017
Honda also welcomes back a number of popular models for the 2017 model year, some with new graphics and colors:
CBR600RR
American Honda is pleased to bring back the CBR600RR, which American PJ Jacobsen took to four podium finishes during the 2016 World Supersport Championship. Powerful, compact and responsive, the CBR600RR is offered in a new Red/Black color scheme for 2017. It's available in standard and ABS versions.
Colors: Red/Black
Price:

CBR600RR: $11,799
CBR600RR ABS: $12,799

Availability: March 2017
CBR500R
Offered in standard and ABS versions, the CBR500R boasts a sport-tuned chassis and a versatile DOHC parallel-twin engine with a good spread of power across the rev range. It's an affordable, do-it-all street bike that's great for new or experienced riders.
Color: Red, Black/Candy Orange
Price:
Availability: January 2017
CBR300R
Whether customers choose the standard version or opt for available ABS, the CBR300R delivers huge fun in a small package. The single-cylinder powerplant sips fuel but has plenty of torque, while the low seat height and narrow cross section make it easy to put feet on the ground at stops.
Colors: Red/Black
Price:

CBR300R: $4,499
CBR300R ABS: $4,999

Availability: March 2017
CB500F
Featuring minimal bodywork, a classic riding position and a 30.9 inch seat height, the twin-cylinder CB500F is a great middleweight motorcycle with a versatile powerband that appeals to broad array of riders. Available in standard and ABS versions, the CB500F has an LED headlight and digital instrumentation.
Color: Red
Price:
Availability: March 2017
CB300F
Anyone looking for the ideal model for an introduction to motorcycling would be hard-pressed to beat the CB300F, a fun naked bike that's light, maneuverable and exhilarating to ride. With an efficient single-cylinder engine and a minimalist style, this bike proves that sometimes less really is more.
Color

CB300F ABS: Matte Silver
CB300F: Red

Price: $4,149
Availability: March 2017
Africa Twin
Since its introduction earlier this year, the CRF1000L has taken the industry by storm, earning accolades and winning magazine shootouts thanks to a "True Adventure" design philosophy that makes it equally adept at handling long-haul highway trips and dirt roads or trails. Based on consumer demand, Honda is now offering the White/Red/Blue Tricolor with gold wheels, as well as a new Candy Red option. Available in a standard version and one with Honda's highly advanced automatic DCT gearbox, the Africa Twin is ready to wander as far as the imagination allows.
Color

Africa Twin: Red/Black/White, White/Red/Blue
Africa Twin DCT: Candy Red, Red/Black/White, White/Red Blue

Price: TBA
Availability: March 2017
VFR1200X
An excellent machine for reeling off highway miles, the adventure-ready VFR1200X is loaded with features, including a powerful V4 engine, ABS, comfortable rider compartment and available automatic DCT gearbox. The VFR1200X comes with shaft drive and a one-hand-adjustable windscreen, and there's a long list of available accessories.
Color: Candy Red
Price:
Availability: February 2017
NC700X
With a liquid-cooled parallel-twin engine, integrated storage compartment and available ABS and automatic DCT gearbox, the revolutionary NC700X is an awesome commuter and an incredible explorer. Last model year, the NC700X got a larger windscreen, updated bodywork, a new front brake and a different muffler, and now it's back in a striking new Candy Red color.
Color: Candy Red
Price:
Availability: April 2017
CB500X
The middleweight CB500X is an adventure-style motorcycle that's a favorite with riders, thanks to its versatile capability, comfortable ride and can-do attitude. The 471cc parallel-twin DOHC powerplant offers plenty of torque, and the model is offered with available ABS.
Color: Candy Rose Red
Price: $6,099
Availability: May 2017
Gold Wing F6B Deluxe
A truly original bagger that uses technology gathered from Honda's Gold Wing, the F6B is lighter, trimmer and leaner than that legendary touring machine. With an amazing horizontally opposed six-cylinder engine and a throaty exhaust note, the Gold Wing F6B Deluxe leaves other cruisers in its dust.
Color: Matte Pearl White
Price: $22,149
Availability: March 2017
Fury
Guaranteed to turn heads wherever it goes, Honda's long, lean and mean Fury has a distinctive look and lends itself to customization. Powered by a 1,312cc V-twin and available in standard and ABS iterations, the Fury is offered in two new colors for 2017.
Color

Fury: Matte Black Metallic
Fury ABS: Candy Red

Price:
Availability: March 2017
CTX700 DCT
For those who think that riding a cruiser should be an exercise in expressing one's individuality, the CTX700 DCT does the job. Though it has laid-back seating, forward-set pegs and a torque-rich twin-cylinder engine, its unique bodywork and automatic DCT gearbox mean it's unlike any other cruiser on the market.
Color: Candy Red
Price: $8,299
Availability: April 2017
Ruckus
Rarely does a powersports product singlehandedly create its own subculture, but with a rugged, minimalist look that struck a chord with a disparate range of customers, that's exactly what the Ruckus has done. Unique, fun and begging to be customized, the Ruckus features a fuel-sipping 49cc engine and Honda's V-matic® automatic transmission.
Color: Black, White/Red
Price: $2,699
Availability: February 2017
Metropolitan
Simultaneously cool and approachable, the stylish, smart Metropolitan features round lines and fun colors, but it also boasts practical touches like a 22 liter under-seat storage area, no-shift automatic transmission and a 49cc liquid-cooled four-stroke engine.
Color: Pearl White, Pearl Blue, Red
Price: $2,449
Availability: February 2017
ABOUT AMERICAN HONDA
American Honda Motor Co., Inc., is the sole distributor of Honda motorcycles, scooters, ATVs and Side-by-Sides in the U.S. American Honda's Motorcycle Division conducts the sales, marketing and operational activities for these products through independent authorized Honda retail dealers. For more information on Honda products, go to powersports.honda.com.