New Gold Bond® No Mess Powder Spray Introduced by Sanofi's Chattem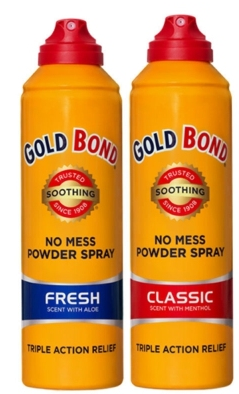 CHATTANOOGA, Tenn., May 6, 2013 /PRNewswire/ — Gold Bond® has been the gold standard for beating the heat and staying cool and dry for generations. Now, Chattem, Inc., the Consumer Healthcare Division of Sanofi US is introducing the same trusted brand in a new, no mess powder spray that delivers the odor and wetness protection of Gold Bond Powder in a convenient, easy-to-use spray.
The continuous spray delivers right where you want it – with a targeted stream different from the traditional powder. So whether you're looking to stay cool and dry for peak performance, or you just want to relieve and protect against odor, you can count on Gold Bond's triple action formula. Afterall, it's provided relief since 1908.
"The new Gold Bond No Mess Powder Spray is the same formula as Gold Bond Powder, and the new product packaging — an easy-to-hold spray can with a 360 degree continuous spray top — allows people to use it in an even more effective way," saidJohn Stroud, Executive Vice President, Chattem.
The product is now available in drug, grocery and mass merchandise stores nationwide.
Gold Bond No Mess Powder Spray Fast Facts:
Product benefits: Delivers the odor and wetness relief of Gold Bond Powder in a convenient, easy-to-use spray. The product provides triple action relief, cools on contact, absorbs moisture and soothes skin.
When/How to Use: After shower, bath or exercise or whenever you want to stay cool and dry, simply use Gold Bond No Mess Powder Spray for lasting deodorant protection and that cool, refreshing feeling.
Who Uses: People who want to stay comfortable while being active and people engaging in outdoor activities: sports, work, hiking, music festivals, summer sports camps, military, etc.
Product ingredients: Talc, starch, zinc oxide, fragrance, cooling and soothing agents, and botanicals.
Available in Two Formulas:
Classic: Captures the feel, relief and scent of the original, classic medicated powder.
Fresh: An update on the classic. Same feel and relief, but with a light, fresh fragrance.
Size: 7 oz, 360 degree spray
Suggested Retail Price/Availability: $7.99; on shelves next to Gold Bond Powder at major retailers including Wal-Mart, Target and Walgreens.
About Gold Bond
Powerful, hard-working and trusted since 1908, Gold Bond is now in its second century of healing. Gold Bond offers a broad line of products, including some of the fastest growing hand and body lotions, as well as the top selling medicated body powder, foot powder, foot cream, and foot pain cream in America. For more information, visit Gold Bond on Facebook andTwitter.
About Sanofi
Sanofi, a global and diversified healthcare leader, discovers, develops and distributes therapeutic solutions focused on patients' needs. Sanofi has core strengths in the field of healthcare with seven growth platforms: diabetes solutions, human vaccines, innovative drugs, rare diseases, consumer healthcare, emerging markets and animal health. Sanofi is listed in Paris(EURONEXT: SAN) and in New York (NYSE: SNY).
Sanofi is the holding company of a consolidated group of subsidiaries and operates in the United States as Sanofi US, also referred to as sanofi-aventis U.S. LLC. For more information on Sanofi US, please visit http://www.sanofi.us  or call 1-800-981-2491.
About Chattem
In March 2010, Chattem, Inc. became a wholly-owned subsidiary of the sanofi-aventis Group as the consumer healthcare division of Sanofi US. Chattem is more than 130 years old and is a leading manufacturer and marketer of branded consumer healthcare products, toiletries and dietary supplements across niche market segments in the United States. For more information, please visit Chattem's website at www.chattem.com.
Contacts:
Media Relations
Rachel Ferrand
Tel.: 908 981 6673
Rachel.ferrand@sanofi.com
SOURCE Gold Bond