New C-Class Estate and new generation CLS-Class: Intense driving pleasure and modern luxury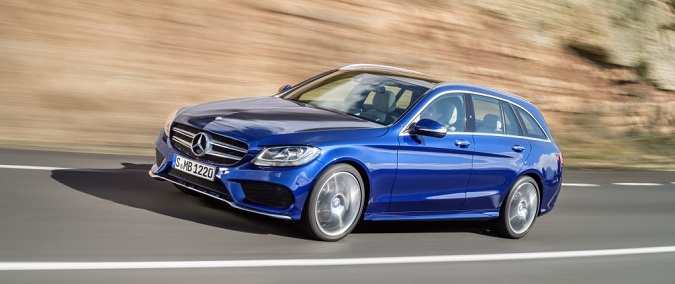 The new C-Class Estate and the new generation CLS-Class see Mercedes-Benz extending its portfolio of exclusive lifestyle vehicles from September 2014.
What these new models have in common is a clear yet emotional and sporty design along with innovative engineering. Technical features include efficient, new engines and new, high-performance MULTIBEAM LED headlamps in the CLS-Class, which take the lighting system into a new dimension. With their high-quality, refined interiors both the Estate and the CLS-Class foster a tangible feeling of modern luxury. The four-door CLS 63 AMG Coupé and the Shooting Brake look more dominant and athletic than before.
Equipment for the CLS 63 AMG, which produces up to 430 kW (585 hp), is now more exclusive and boasts higher quality thanks to the model's revision. The AMG SPEEDSHIFT MCT 7-speed sports transmission responds even faster. These new models share many new assistance systems and state-of-the-art multimedia equipment.
The C-Class Estate and CLS Shooting Brake also shine due to their large cargo volume and high level of variability. Celebrating a world première is a package of services known as Mercedes connect me, which make it possible to connect with the vehicle online and find out how full the tank is, for example. Orders can be placed now for both the new C-Class Estate and the new generation CLS Coupé and CLS Shooting Brake.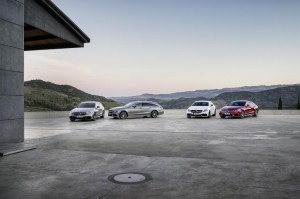 The dimensions of the new C-Class Estate have grown considerably. With an 80-millimetre increase in the wheelbase (2840 millimetres) compared with the previous model, the vehicle is 96 millimetres longer and 40 millimetres wider. A resulting 45-millimetre increase in legroom primarily benefits the rear-seat passengers. There is also more interior width and headroom than before.
The growth spurt also involves the load compartment. The sporty rear of the new C-Class Estate provides a maximum load capacity of 1510 litres (according to ISO 3832), which is ten litres more than the previous model. The load compartment volume behind the rear seats has increased by five litres to 490 litres.
Dynamic and of high value
The new C-Class is a visual treat with its modern, dynamic design that at the same time exudes sensual purity, arouses emotions and, to top it all off, presents high-tech in perfect fashion. Customers can choose from two fronts – with the sports grille or – reserved solely for the EXCLUSIVE Line – the luxury grille with the Mercedes star on the bonnet.
Unusual for a vehicle with a focus on a high level of functionality is the Estate's high-value interior, which was adopted from the Saloon. With straightforward sportiness, thrilling flowing lines and high-grade materials on the level of a luxury vehicle, the ambience is modern, luxurious and at the same time sporty. In addition to the base model, there are also three distinct design and equipment lines each for the exterior and interior.
Another new feature is the touchpad in the new C-Class Estate developed by Mercedes-Benz. As on a smartphone, all the head unit functions can be operated using finger gestures. There is also a head-up display which puts important information directly in the driver's field of vision.
Less weight, more comfort
Thanks to innovative solutions the bodyshell of the new C-Class Estate weighs less. Its exceptional rigidity provides the basis for outstanding vehicle handling and best noise and vibration comfort, as well as a high level of crash safety. With an aluminium content of 49 percent and a gross vehicle weight that is now up to 65 kilograms less, the Estate is the lightweight construction leader in its segment.
Efficient and lively engines
The powerful and efficient petrol and diesel engines with ECO start/stop function comply with Euro 6 emissions standards and ensure sporty performance and driving pleasure. Compared with the predecessor, in some cases they consume up to 20 percent less fuel.
Estate customers will have a choice of two versions of the standard-specification steel suspension, which also includes a sporty set-up. As an alternative, for the first time Mercedes-Benz offers an air suspension in this segment. The AIRMATIC air suspension manages to bridge the gap between a high level of ride comfort and dynamic, agile handling.
More incisive looks: the CLS Coupé and CLS Shooting Brake
The CLS-Class's exciting design was subtly adapted to high-tech demands and now looks even more dynamic. How so? Examples include an expressive new diamond radiator grille, a pronounced front bumper with large air intakes and new, darkened rear tail lights with multi-level functionality.
Sporty interior featuring modern luxury
As before ample space, simple, sporty elegance, hand-crafted perfection, and premium materials are hallmarks of the CLS family's interior. The new generation certainly places greater emphasis on sportiness, exclusivity and functionality.
A new, free-standing colour display in the head unit with a 20.3 cm screen diagonal (8″) plays a part in the contemporary styling. Also new are the redesigned three-spoke sports steering wheel and many refined details, which contribute to the interior's high quality look and feel.
Fulfilling your wish list
The new AMG Line Plus supplements the existing Exterior Sports package and AMG Line design and equipment lines and, as the expression of exclusive sportiness and dynamism, increases the potential for individualisation. By the end of the year a special Night package is set to extend the selection further. Stylish new designo interior packages are also available.
Taking the lighting system into a new dimension
The new generation CLS-Class is now equipped with LED High Performance headlamps as standard. For the first time Mercedes-Benz is making the new technology of MULTIBEAM LED headlamps available here as an option. High-resolution, precision LED headlamp modules, each with 24 individually controlled high-performance LEDs, automatically illuminate the road with a hitherto unsurpassed, precision-controlled distribution of exceptionally bright light – without dazzling other road users. A camera positioned behind the windscreen delivers the information which four control units use to adjust the ideal light pattern 100 times per second. The anticipatory, camera-based active light function on bends and the new cornering light function for roundabouts are also unique.
Efficient, sporty engines
The five engines available for the new generation CLS-Class are dynamic and efficient. All are compliant with the Euro 6 standard. New to the class is the CLS 220 BlueTEC with a four-cylinder diesel engine featuring fourth-generation common rail direct injection, two-stage turbocharging and BlueTEC technology. It generates 125 kW (170 hp) and delivers maximum torque of 400 Nm. Equally new is the V6 petrol engine with exhaust gas turbocharging in the CLS 400. Endowed with a biturbo drive system, it has a 3.5-litre displacement. It generates 245 kW (333 hp) and torque of 480 Nm in the wide engine speed range from 1200 to 4000 rpm. As a result, this engine sets new benchmarks in its segment. In future, four models (rather than the previous two) will be offered with permanent all-wheel drive. The newcomers are the CLS 250 BlueTEC 4MATIC and the CLS 400 4MATIC.
New automatic transmission with nine gears
Other leading-edge technology includes the world's first nine-speed automatic transmission with hydrodynamic torque converter in the premium segment: 9G-TRONIC is deployed in the CLS 220 BlueTEC, CLS 250 BlueTEC, CLS 350 BlueTEC and CLS 500. With nine forward gears 9G-TRONIC lowers fuel consumption whilst simultaneously boosting ease of shifting and agility.
Maximum performance and efficiency: the drive system of the CLS 63 AMG
410 kW (557 hp) to 430 kW (585 hp) and 720 to 800 Nm – the AMG 5.5-litre V8 biturbo engine ranks among the world's most efficient series-production eight-cylinder engines when it comes to peak output, torque and fuel consumption. The CLS 63 AMG with 410 kW(557 hp) and rear-wheel drive consumes 9.9 litres per 100 kilometres (NEDC combined; 231 grams CO2 per kilometre). The variant with 410 kW and performance-oriented AMG 4MATIC all-wheel drive and the S-Model with 430 kW (585 hp) come in only slightly above at 10.4 to 10.6 litres per 100 km (243 grams to 248 grams CO2/km). All CLS 63 AMG models already meet the second stage of the Euro 6 emissions standard. The S-Models come as standard with performance-oriented AMG 4MATIC all-wheel drive; 4MATIC is available as an option for the other variants. The AMG SPEEDSHIFT MCT 7-speed sports transmission now offers even faster response times: a manual up- or downshift – initiated by the driver on the steering-wheel gearshift paddle – is completed more immediately than ever before.
The usual high Mercedes standard of safety
Top-class safety is a feature of the C-Class Estate, CLS Coupé and CLS Shooting Brake alike. Among other systems, COLLISION PREVENTION ASSIST PLUS is already part of the standard equipment. It can help to avoid rear-end collisions – by way of autonomous brake application if necessary.
The latest assistance systems from the S-Class and E-Class are also available as optional extras. These include DISTRONIC PLUS with Steering Assist and Stop&Go Pilot, BAS PLUS with Cross-Traffic Assist, PRE-SAFE® Brake with pedestrian detection, PRE-SAFE® PLUS, Active Blind Spot Assist, Active Lane Keeping Assist, Traffic Sign Assist and Active Parking Assist with PARKTRONIC including parking in end-on spaces.
Ideally networked
In future, a completely new multimedia generation will offer intuitive operation in the C-Class Estate, CLS Coupé and CLS Shooting Brake, featuring elaborate animations and visual effects which present all functions in a clear and attractive manner.
A Bluetooth®-compatible mobile phone with data option is all it takes to make the Audio 20 system or optional COMAND ONLINE system internet-capable. This enables the internet to be surfed without restrictions when the vehicle is stationary. External audio devices such as an iPod® or iPhone® may be connected via the standard and integral Media Interface.
Vehicle online with Mercedes connect me
Mercedes-Benz is introducing a new package of services in Europe with the new C-Class Estate, CLS Coupé and CLS Shooting Brake under the name "Mercedes connect me". Mercedes connect me" services can be used via a COM module integrated into the vehicle. The available services include accident, maintenance and breakdown management, among others. Via "connect.mercedes.me" customers also have the option of being able to connect with their vehicle anytime and anywhere to find out how full the tank is, for example.
Orders can be placed for the C-Class Estate as well as the new generation CLS Coupé and CLS Shooting Brake from 30 June 2014. The entry-level price for the new C-Class Estate is 35,224.00 euros including VAT for the C 180. For the CLS Coupé prices start from 54,085.50 euros including VAT for the CLS 220 BlueTEC, whilst the CLS Shooting Brake costs from 55,989.50 euros including VAT.
Prices* for the C-Class Estate:
| | |
| --- | --- |
| C 220 BlueTEC | €40,341.00 |
| C 250 BlueTEC | €45,696.00 |
| C 180 | €35,224.00 |
| C 200 | €38,080.00 |
| C 250 | €42,602.00 |
*Prices apply to Germany and include 19% VAT
Prices* for the CLS-Class:
| | | |
| --- | --- | --- |
| | CLS Coupé | CLS Shooting Brake |
| CLS 220 BlueTEC | €54,085.50 | €55,989.50 |
| CLS 250 BlueTEC | €56,465.50 | €58,369.50 |
| CLS 250 BlueTEC 4MATIC | €59,202.50 | €61,106.50 |
| CLS 350 BlueTEC | €61,463.50 | €63,367.50 |
| CLS 350 BlueTEC 4MATIC | €64,200.50 | €66,104.50 |
| CLS 400 | €62,713.00 | €64,617.00 |
| CLS 400 4MATIC | €65,450.00 | €67,354.00 |
| CLS 500 | €81,336.50 | €82,645.50 |
| CLS 500 4MATIC | €84,073.50 | €85,382.50 |
| CLS 63 AMG | €116,203.50 | |
| CLS 63 AMG 4MATIC | €120,130.50 | €122,034.50 |
| CLS 63 AMG S 4MATIC | €131,078.50 | €132,982.50 |
*Prices apply to Germany and include 19% VAT
Mercedes-Benz Bank offers private, business and fleet customers attractive leasing and financing terms on new models. The bank's private and business leasing mobility packages provide financial flexibility and insurance cover for a fixed monthly instalment. Insurance premiums remain the same even in the event of damage. At the end of the term customers have the choice of either acquiring their vehicle at a guaranteed purchase price or returning it to their dealer.