National Bank of Bahrain (NBB),wins 9th edition of Global Brand Awards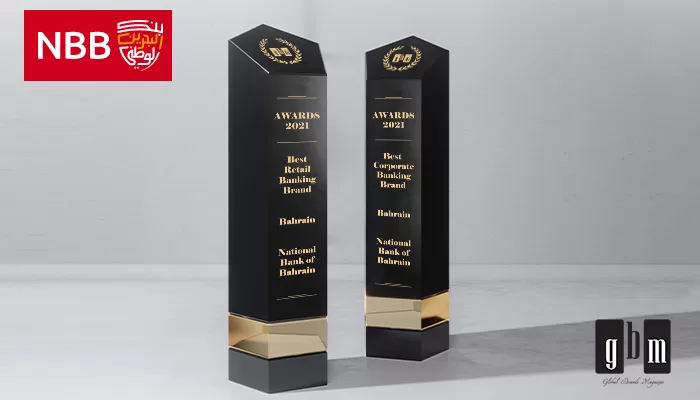 NBB has won the "Best Corporate Banking Brand" and "Best Retail Banking Brand" in Bahrain for the year 2021. The felicitation ceremony will be held in Dubai.
The Global Brand Awards is an annual event held by Global Brands Magazine, an international publication in the UK. The award recognises brands performances. NBB was evaluated based on customer service and strategic relationships.
Commenting on NBB winning, Jay Reddy (Head of Branding) of GBM said, "The National Bank of Bahrain has continued to excel not only as a traditional consumer bank, but also as a modern pioneer, diversifying its focus to include its people, business and brand as it encompasses different aspects of the banking sector. We're impressed with NBB's dynamic ability to evolve its retail and corporate customers, meeting local and regional needs."
Commenting on winning the awards, Hisham Al Kurdi (Group Chief Executive of Corporate & Institutional Investment Banking) said, "On our transformational journey, we have adopted a 'client first' approach; we have developed our coverage model, products capabilities and digital channels all with our corporate clients' requirements at the center of our efforts. Today, NBB lives by its motto and is closer than ever to its clients. We are the bank of choice for our corporate clients, possessing the necessary products, skills and resources to assist them with large strategic projects as well as the day to day operation of their businesses. Over the past few years, NBB has significantly improved its offering on all fronts, from large public mandates and strategic projects, to digital channels to working capital and treasury solutions. As a result, NBB is now viewed as a solid banking partner capable of adding value to regional corporates and GREs."
About NBB
NBB has a consistent drive to deliver against its brand promise, pushing the bank to make more investments in humanising its customer interactions and bringing the voice of its customers into the organisation. These investments have ensured the bank remains solid, agile and susceptible to adapting to changes in the market dynamics while also mitigating any risks.