Nanyang Technological University Launches New Research Lab To Develop Greener Maritime Energy Solutions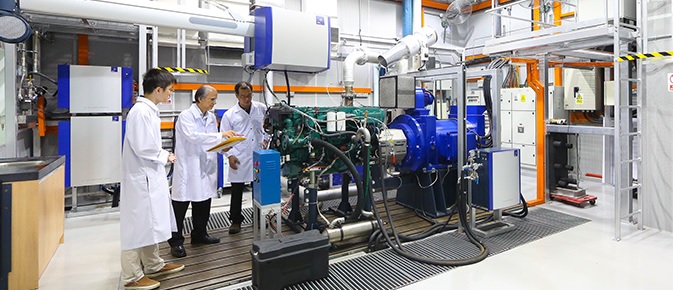 Nanyang Technological University, Singapore (NTU Singapore) launched a new marine research laboratory to develop innovative eco-friendly technologies for Singapore's maritime and offshore industry.  
The Sembcorp Marine Lab at NTU, named in appreciation of a $10 million endowment fund set up by Sembcorp Marine, aims to develop ground-breaking solutions in fuel emission management, energy efficiency, and green shipping.
It is equipped with the region's first dual-fuel marine engine, which is funded as part of the Naval Architecture and Marine Engineering postgraduate programme at NTU – supported by the Singapore Economic Development Board (EDB).
NTU researchers will study ways to retrofit ships to operate using two fuel types simultaneously – one of it being clean fuel – in a bid to reduce harmful emissions while keeping costs low.
Such solutions are also aimed at delivering competitive advantages, and help shipping companies better prepare for the stringent emission regulations that will come into effect in 2020.
NTU Provost Professor Freddy Boey, said, "A global university with recognised strengths in sustainability research, NTU can play an important role in developing innovative eco-friendly technologies for Singapore's marine and offshore industry.
"Our partnership with SembCorp Marine and the Singapore Economic Development Board combines our strengths and creates fresh synergies, allowing the lab to carry out cutting-edge research in fuel emission management, energy efficiency, and green shipping."
Mr Tan Kong Hwee, Director for Transport Engineering at the EDB said, "NTU's focus on developing greener marine technologies is testament to the increasing interest in sustainable solutions for the marine and offshore engineering (M&OE) sector. The lab will also demonstrate Singapore's capabilities in industry-relevant M&OE research."
The lab was officially opened this morning by Mr Wong Weng Sun, President & Chief Executive Officer, Sembcorp Marine.
"With the opening of the Sembcorp Marine Lab @ NTU, the offshore and marine sector now has a new research venue for investigating eco-friendly energy solutions, including clean and renewable fuels for marine engines, and emission control technologies," Mr Wong said.
"I am excited about the lab's potential and look forward to a close collaboration between Sembcorp Marine and NTU to drive the R&D activities forward."
Easier to go green
Overhauling ships to operate entirely on alternative or clean fuels is a costly endeavour as it requires a complete overhaul of the engine systems.
To keep costs low, the Sembcorp Marine Lab at NTU will find ways to retrofit and modify ship systems to operate using both diesel and a clean fuel such as liquefied natural gas (LNG).
Researchers will also study the emission levels of various clean fuels and the viability of using biofuels such as biodiesel in ship engines.
These solutions will provide simpler and cheaper options for ship companies to go green and ensure that ships' emission levels comply with international standards.
Professor Lua Aik Chong, Acting Executive Director of Maritime Institute @ NTU and professor-in-charge of the new lab, said, "This lab comes at an important time amid rising energy demands and environmental concerns about carbon emissions and global warming. With international bodies already taking action, the lab will help the industry prepare for the changes, by providing viable and cost effective solutions."
The new lab will also serve as a testbed, and work with various industry partners and government agencies such as the Maritime and Port Authority of Singapore (MPA) on maritime-related research projects.