Mitsubishi Fuso Launches the Shogun 510 in Australia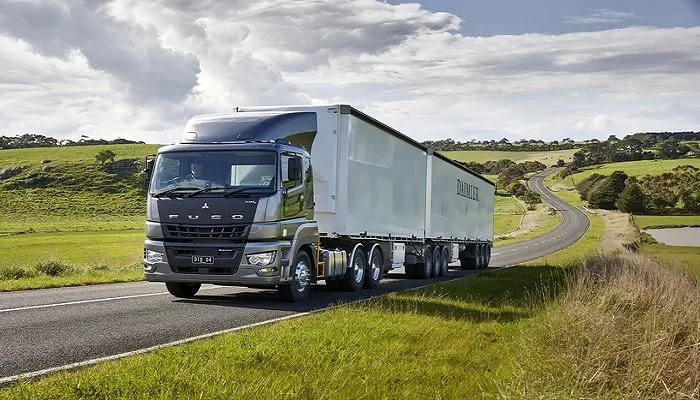 The Shogun 510 delivers the highest horsepower in the Australian FUSO range.
With a 12.8 liter engine and a 63-ton GCW rating, the new heavy-duty model can also haul double trailers on intra-state journeys. 
Mitsubishi Fuso Truck and Bus Corporation (MFTBC), one of Asia's leading commercial vehicle manufacturers, has announced a new addition to the heavy-duty Shogun line-up in Australia, the Shogun 510. The new Shogun model, which was officially launched on November 9th, delivers the highest horsepower in the Australian FUSO range.
The new Shogun model is available in Australia as a 6×4 prime mover or rigid truck for intra-hub transportation needs. With a gross combination mass (GCM) of 63 tons, 510hp, and 2500Nm of maximum torque, the truck is capable of hauling a single or double trailer. The performance of the truck makes it the most powerful Euro VI-compliant heavy-duty truck delivered to the Australian market from a Japanese brand. The Shogun 510's powerful drive is supported by the 12.8 liter Daimler OM471 six-cylinder engine, illustrating the competitive benefits of Daimler Truck's global platform strategy.
Advanced safety features such as the Lane Departure Warning System (LDWS), and Electronic Stability Program (ESP) are included in the standard offering. Furthermore, both the prime mover and rigid models of the Shogun 510 come with the Active Brake Assist 5 (ABA®) collision mitigation system, while rigid models are additionally equipped with Sideguard Assist, which warns drivers of pedestrians or objects in the left blind spot. A three-stage engine braking system, as well as daytime, LED running lamps, provide additional confidence, while a 7-inch high-resolution touch-screen display in the dashboard as well as a premium leather-wrap steering wheel support driver ergonomics and comfort on long hauls.
MFTBC implemented extensive testing for the Shogun 510 during the development phase in order to ensure compatibility with local needs. The vehicle underwent outdoor testing in the Australian outback at the prototype stage, climate testing in South Africa, and another round pre-production testing both in Australia and New Zealand, where the model is also being launched. With the introduction of this new Shogun, the FUSO brand will become an even stronger presence in the heavy-duty segment of these key international markets.
The Shogun, as well as other vehicles in the Australian lineup, such as the Fighter, Canter and Rosa, are shipped as BU vehicles from MFTBC and distributed by Daimler Truck and Bus Australia (DTBA; headquarters: Victoria, Australia; President and CEO: Daniel Whitehead). Furthermore, the inclusion of advanced safety features in the latest FUSO products comes as the Australian government outlines its commitment to "Vision Zero," the multinational goal of reducing road fatalities and serious injuries to zero by the year 2050. By providing reliable trucks and buses with the latest driving assistance technology, MFTBC will continue to support safety on the road in Australia and all regions of the world.
FUSO at a Glance
FUSO is a Daimler Truck brand, offering a range of commercial vehicles from light, medium, and heavy-duty trucks and buses, to industrial engines and connectivity solutions for over 170 markets worldwide. A long-standing landmark in Japan's commercial vehicle landscape, the brand has leveraged Japanese quality and craftsmanship to set benchmarks in efficiency, safety, and comfort for over 85 years. FUSO is particularly renowned for its offerings in the light-duty segment. The Canter light-duty truck claims the top market share in various markets around the world. In 2017 the eCanter became the first series-produced all-electric light-duty truck in Japan, establishing FUSO as a pioneer in eMobility. FUSO promises customers a "Future Together," a bold claim that continues to drive the brand's contributions to safe and sustainable transport.
MFTBC at a Glance
Based in Kawasaki, Japan, Mitsubishi Fuso Truck and Bus Corporation (MFTBC) is one of Asia's leading commercial vehicle manufacturers, with 89.29% of its shares owned by Daimler Truck AG and 10.71% by various Mitsubishi group companies. An icon in the Japanese commercial vehicle industry with a longstanding history of more than 85 years with its FUSO brand, MFTBC manufactures a range of commercial vehicles including light, medium, and heavy-duty trucks and buses, and industrial engines for over 170 markets worldwide. In 2017, MFTBC introduced the eCanter all-electric light-duty truck as a series-production model and in 2019, the Super Great – Japan's first heavy-duty truck fitted with Level 2 Automated Driving Support Technology, a benchmark in the Japanese commercial vehicle market. MFTBC operates under the umbrella of Daimler Trucks Asia, together with its partner organization Daimler India Commercial Vehicles (DICV) in India. This strategic unit allows the entities to collaborate on areas such as product development, parts sourcing, and production to provide the best value to customers.
Daimler Trucks Asia at a Glance
Daimler Trucks Asia (DTA), under Daimler Truck AG, is an organizational unit that jointly operates Mitsubishi Fuso Truck and Bus Corporation (MFTBC) – an icon in the Japanese commercial vehicle industry with more than 85 years of history with its Fuso brand – and Daimler India Commercial Vehicles (DICV), an up and rising challenger in the Indian market. DTA adopts a strategic business model that allows its group entities to collaborate on product development, production, exports, sourcing, and research activity to provide innovative, cutting-edge, and best-value products to customers. DTA's vision is "to develop mobility solutions to embrace a better life for people and the planet," and is aligned with Daimler Truck's purpose "For all who keep the world moving."
Source: Daimler