Metro Bank Pledges £1billion to Support UK Businesses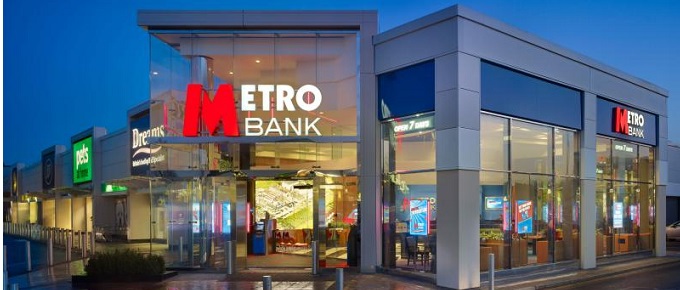 Metro Bank, the entrepreneur's bank, has today signalled that it is open for business with £1billion of funds ring-fenced for 2017 to lend to both new and existing business and commercial customers. 
The bank has a clear track record in supporting businesses, lending over £544m to its business and commercial customers in 2015, as well as £551m in the first three quarters of 2016 alone.
Mark Stokes, Managing Director Commercial Banking at Metro Bank said: "Businesses are the very bedrock of the UK economy and it's absolutely vital that lenders do what they can to support their growth. Despite the immediate uncertainty following the EU referendum, our customers remain confident about the future and we remain committed to supporting them as they go from strength to strength."
Ian Walters, Managing Director Business Banking at Metro Bank continued: "By focussing on traditional relationship banking supported by state-of-the-art technology, we're able to be a true banking partner for our customers. Our common sense approach to lending has enabled some really great companies to prosper, and we hope that today's announcement will provide even more customers with the helping hand that they need to grow and succeed in 2017."
Avoiding the 'computer says no approach', Metro Bank takes a case-by-case approach to lending, getting to know more than just a customer's balance sheet, but the people and plans behind the organisation. Each business customer benefits from their own local business manager, who has the ability to make local lending decisions, and larger businesses also enjoy support from dedicated specialist sector teams who provide expert guidance.
Craig Hayward, Owner Sweeney & Todd restaurant said: "For us, it's incredibly important that our bank really takes the time to understand our business, our model and our plans, with Metro Bank they've been a real banking partner in the truest sense of the word. When we required lending, not only was it a straightforward, quick and smooth process, but they spoke to us, keeping us informed the whole way through. It's the little things like that that make the biggest difference."
Sophie Gregorios, Managing Director at Red Lion Leisure commented:"At Metro Bank we have a sector specialist relationship manager who understands our business needs. He's on hand whenever we need him and he takes a real interest in understanding us as a company and areas for growth. Their approach to lending enabled us to purchase a new site and gain planning to build a new 120 bed hotel – a real milestone for Red Lion Leisure."