Metro Bank Launches New 90% LTV Range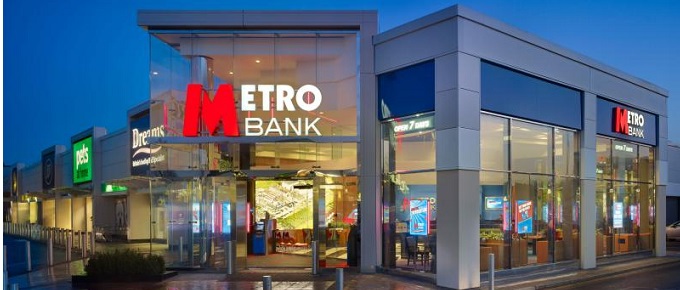 Metro Bank, the revolution in British banking, has unveiled its new 90% LTV range, available to first-time buyers, movers and remortgage customers, for loans up to £500,000.
Available nationwide through brokers and direct through its growing network of stores, the new product will particularly look to support first-time buyers with smaller deposits.
The new 90% LTV rates include:
2-year fixed available from 2.39%
3-year fixed available from 2.39%
5-year fixed available from 2.74%
Charles Morley, Director of Mortgage Distribution at Metro Bank commented: "Today's announcement will especially appeal to those customers looking to take that all important first step on the housing ladder and buy their own home. By extending our range into the 90% LTV market, as well as offering this LTV on our joint borrower sole proprietor range, we hope to support the increasingly large number of first-time buyers, as well as those looking for a competitive remortgage deal.
"By providing superior levels of service alongside fast turn-around times and attractive rates, we're becoming the mortgage provider of choice for a growing number of customers and brokers up and down the country, and look forward to further growing our business over the next few years."
Andrew Montlake, Director at Coreco, a leading London mortgage brokerage said: "This is another welcome shot in the arm for many borrowers who need that little bit of extra help to get onto the property ladder. Given how tough it can be to save up for a larger deposit – especially with the current high levels of rent in many areas – we are delighted to see Metro Bank move into this market.
"Coupled with their high levels of service and excellent customer proposition, this 90% LTV gives borrowers much more choice at higher loan-to-values."
Metro Bank is committed to offering the best in service and convenience to its customers. The bank underwrites mortgage applications on an individual basis to ensure that customers' personal circumstances are taken into account. Customers benefit from a single, dedicated underwriter and brokers have the ability to submit applications through the bank's online mortgage portal that pays proc fees. What's more, Metro Bank does not sell bank assurance or insurance, allowing it to focus entirely on fulfilling customers' mortgage needs.
Core Range
(Purchase and Remortgage)
LTV
Rate
Fee
2 Year Fixed
90%
2.39%
£999
3 Year Fixed
90%
2.39%
£999
5 Year Fixed
90%
2.74%
£999
| Remortgage Only Range | LTV | Rate | Fee |
| --- | --- | --- | --- |
| 2 Year Fixed | 90% | 2.49% | £999 |
| 3 Year Fixed | 90% | 2.49% | £999 |
| 5 Year Fixed | 90% | 2.74% | £999 |
Remortgage Only Range
(fee free)
LTV
Rate
Fee
2 Year Fixed
90%
2.64%
£0
3 Year Fixed
90%
2.64%
£0
5 Year Fixed
90%
2.69%
£0