Metro Bank Joins London Stock Exchange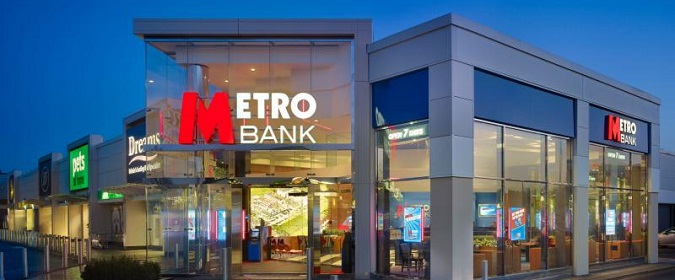 £6bn growth retailer in 5 years
Market Valuation £1.6B
2,000 jobs created – thousands more planned
The revolution in British banking enters a new era  with the listing of Metro Bank (MTRO) shares on the Main Market of the London Stock Exchange. The successful flotation of Metro Bank PLC follows a private capital raising that saw investors commit £400m of new funding in support of the Company's growth plans.
Commenting on the flotation, Vernon W. Hill II, Chairman and Founder of Metro Bank said: "The Revolution in British banking continues with our listing on the Premium London Stock Exchange. Many thanks to our team members, investors and FANS."
Craig Donaldson, CEO added: "Building the bank from the ground up has given us some great advantages. We have connected with local communities and driven our customer numbers and deposits by placing attractive stores in the right locations. We have also been able to create a new bank with the right values, superior service levels and state-of-the art IT infrastructure. The funds we have raised will power the next phase in Metro Bank's growth across our multi-channel offering."
Vernon Hill and Craig Donaldson opened the market at a ceremony this morning at the London Stock Exchange, accompanied by two new apprentices Olivia Giuri and Raheem Zwane.
The revolution in British banking began with the launch of Metro Bank on 29 July 2010. We introduced an entirely new model to the UK, designed to create FANS through the provision of unparalleled service and convenience, and an end to stupid bank rules.
In 2015, we welcomed over 200,000 new customers, up 46% year-on-year, taking our customer accounts to 700,000. We also more than doubled our lending to £3.5bn, up 123%, and grew our deposits to over £5bn, an increase of 78%. We ended the year with Fairer Finance named our bank account the best in Britain, Microsoft called us the most innovative bank in Europe, and Retail Banker International said we had the "Best Branch Strategy" in the world.
Our business banking has grown dramatically. As the bank for entrepreneurs, business customers remain a key focus for Metro Bank. At the end of Q4, deposits from business customers represented 53% of total deposits, and lending to businesses made up 36% of total lending. Last week the Bank of England revealed that Metro Bank had become the second biggest lender to UK small and medium size enterprises (SMEs) – an incredible achievement for a bank founded only five years ago.
But this is just the beginning.
Our retail network now includes 40 stores in commuter London with further nine planned to open in 2016, in areas such as Bexleyheath, Wimbledon and the Kings Road, Chelsea. Our stores are open seven days a week, 362 days a year, early morning until late; supports 24/7 telephony, digital and mobile banking; and offers straight-forward, transparent products and fair pricing.
Metro Bank's unique offering drives high levels of customer satisfaction and momentum in our business. Our emphasis on the customer experience enabled us to achieve an average Net Promoter Score – the recognised benchmark for gauging customer loyalty – of 80% in 2015. This is supported by a scalable and flexible end-to-end technology infrastructure that enables innovation. For example, the speed at which Metro Bank opens accounts is industry leading, with more than 77% of new accounts for new customers in its retail segment opened within 15 minutes.
From a vision in 2010 to a £6bn growth retailer, Metro Bank has become the revolution in British banking. We have the capital, the foundation and the tools at our disposal to continue driving growth in Britain's dynamic market, where customers continue to demand better service.