Metlife to form strategic partnership with Malaysia's AMMB and to purchase interests in AMMB's Life Insurance and family takaful companies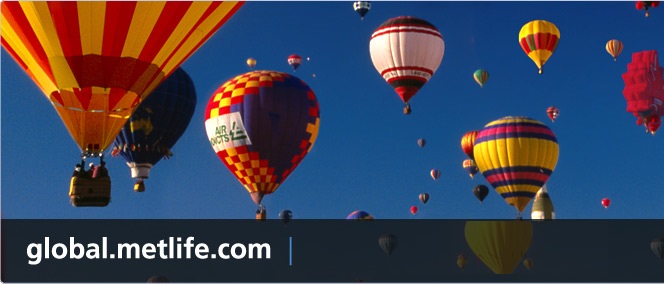 Proposed Partnership Includes Twenty-Year Bank Distribution Agreements;
Signals MetLife's Ambition to Become a Leading Player in the Malaysian Insurance Market
Kuala Lumpur & New York, Dec. 19, 2013 – MetLife, Inc. (NYSE: MET) announced today it has reached an agreement with Malaysia's AMMB Holdings Bhd ("AMMB") to seek regulatory approval of a proposed strategic partnership involving AmLife Insurance Berhad ("AmLife") and AmFamily Takaful Berhad ("AmTakaful").
Upon receipt of regulatory approvals and satisfaction of certain other conditions, the proposed transaction will result in MetLife owning a fifty percent plus one share in AmLife with the remaining shares to be owned by AMMB, and AMMB owning a fifty percent plus one share in AmTakaful with the remaining shares to be owned by MetLife. In addition, the proposed transaction will result in AmLife and AmTakaful entering into exclusive twenty-year bancassurance and bancatakaful agreements for the distribution of life insurance and family takaful products through the distribution network of AMMB's banking subsidiaries, AmBank (M) Berhad and AmIslamic Bank Berhad, in Malaysia. The total consideration for the proposed transaction payable by MetLife is RM 812 million (equivalent to USD 249 million) upon completion, subject to customary adjustments.
AMMB is the holding company of the fifth largest banking group ("AmBank Group") in Malaysia (based on market capitalization), with RM 129 billion of assets, 187 branches, and over 4 million retail customers. AmLife is an established life insurance business that has been operating since 1973 that distributes protection, savings and investment-linked products through agency, bank, and group channels. AmTakaful started operations in January 2012 and distributes Shariah-compliant products.
In accordance with local regulatory requirements and upon the receipt of Malaysian regulatory approvals, MetLife and AMMB will execute definitive agreements, after which the proposed transaction will close upon the satisfaction of certain other conditions.
"Our proposed transaction advances MetLife's strategy to capitalize on growth opportunities in emerging markets, and further expands our footprint into fast growing and profitable South East Asia insurance markets," said Christopher Townsend, MetLife's Asia President. "It is a great testament to our strengths in bancassurance, direct marketing and agency management," he added. "AmBank Group has a distinguished track-record and brand, and we look forward to partnering with them to build top-tier life insurance and takaful businesses in Malaysia," he concluded.
Commenting on the proposed transaction, Dato' Dr. Nirmala Menon, MetLife's Head of Designated Markets and Health Asia said, "Malaysia is a very attractive market, with low insurance penetration and a rapidly expanding middle class. Partnering with AMMB will leverage the strengths of two exceptional companies to meet the increasing demand for insurance in Malaysia; AMMB's customers will benefit from access to MetLife's global expertise, financial strength and innovative products and services, while MetLife will benefit from AMMB's distribution network, and brand strength in the market place." She concluded by saying, "Malaysia is a fast developing and important center of Islamic finance and this partnership will advance our Takaful product capabilities, providing us with an opportunity to export these across our other Muslim markets."
The proposed transaction follows recent announcements from MetLife of the formation of a joint venture with Bank for Investment and Development of Vietnam and opening of a Representative Office in Myanmar.
About MetLife
MetLife, Inc. is a leading global provider of insurance, annuities and employee benefit programs, serving 90 million customers. Through its subsidiaries and affiliates, MetLife holds leading market positions in the United States, Japan, Latin America, Asia, Europe and the Middle East. For more information, visitwww.metlife.com.
About AmBank Group
Established in August 1975, AmBank Group is one of the largest banking groups in Malaysia and comprises AMMB Holdings Berhad (a public listed company on the Main Market of Bursa Malaysia Securities Berhad), and its core subsidiaries – AmBank (M) Berhad, AmIslamic Bank Berhad, AmInvestment Bank Berhad, AmInvestment Group Berhad, AmGeneral Insurance Berhad, AmLife Insurance Berhad and AmFamily Takaful Berhad.
The Group provides a wide range of both conventional and Islamic financing and related financial services, including retail banking, business banking, transaction banking, corporate and institutional banking, investment banking, funds management, markets, as well as underwriting of general insurance, life insurance and family takaful.
AmBank Group's core philosophy incorporates a deep-seated commitment to the satisfaction of its wide range of customers, with numerous customer-focused initiatives at the heart of communication and interaction with all customer groups. The Group is committed to providing new and innovative products and services to its customers, leveraging the synergy of its strategic partnership with the Australia and New Zealand Banking Group (ANZ), one of Australia's leading banks.
For more information, please visit www.ambankgroup.com.
Contact:
 MetLife