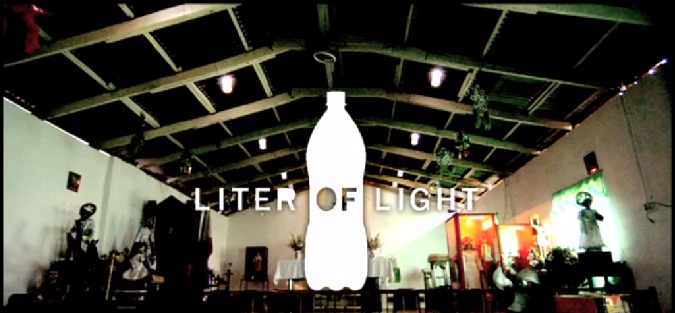 PepsiCo's support for the Liter of Light program is helping provide inexpensive and environmentally friendly bottle lights to light needy households. 
In 2011 PepsiCo Philippines partnered with MyShelter Foundation to install simple, inexpensive and environmentally friendly bottle lights to light homes and streets in impoverished communities across the Philippines.
According to Illac Diaz, the executive director of MyShelter Foundation, millions of Filipinos live in "energy poverty" without access to electricity.
Liter of Light Program
Using plastic soft drink bottles, water, bleach and small pieces of corrugated metal, one can make a bottle light that refracts natural sunlight and produces up to 55 watts of clear light across a 40 square meter room. The bottle lights, which require no electricity, are inserted through the roofs of houses and sealed to prevent leaks. (Watch the videos to learn more about how bottle lights are made and installed.)
Many homes in impoverished communities are poorly constructed and lack adequate light to perform basic household activities such as preparing meals and doing homework, even during daylight hours
The bottle lights, which cost $2 to make, are easily constructed and can be installed in about 30 minutes by community volunteers with minimal training
Last year the Foundation expanded the program to include the installation of solar-charged, battery-powered LED lights for both internal and external use. By attaching a solar panel to LED lights in bottles, the bottle lights can serve as street lamps or portable torches that can provide up to 10 hours of light.
Liter of Light: Philippines
"This is an important program that is having a dramatic impact in the lives of families across the Philippines," said Maricelle Narciso, general manager of PepsiCo Philippines.  "It is improving living standards and safety, and in many cases, easing the financial burden of poor families who use less electricity during daylight hours.  Solar-powered lamps are the next evolution of Liter of Light and giving the gift of light to many families."
With the support of PepsiCo Philippines, solar street lamps have been installed in a number of towns, devastated by Typhoon Haiyan, with limited or no access to electricity.
Since 2011, PepsiCo Philippines has supported a number of activities designed to increase awareness and support for the Liter of Light program, including the establishment of a volunteer training center and the "Give the Gift of Light" e-card campaign, which facilitated individual contributions directly to the Foundation.
"Pepsi Philippines has gone the extra step in focusing on rebuilding these communities which are often forgotten after the media has died down," said Diaz. "By focusing funds on skills development, livelihood and donations of solar lighting to help tent cities and bunkhouses, thousands have been helped to start bringing basic lighting in most areas that will be disconnected from electricity for months if not years.
"For less than an hour of work, a solar light is built, a woman earns extra income, a man gets paid to install light in a dark room, and that would light up a home for more than three years," he said.  "And lives find a brighter start ahead."
Spreading the Light
With the success of the Liter of Light program in the Philippines, PepsiCo is helping spread the program to other countries.
In Colombia, Pepsi sponsors Liter of Light in alliance with A Liter of Light Foundation Colombia, the government and PepsiCo's local bottler. To date, approximately 1,500 volunteers have installed bottled lights in more than 1,000 houses benefitting more than 5,200 people.
"Our work with Pepsi is a clear reflection of how we can move forward by combining efforts to improve living conditions of the most vulnerable communities," said Camilo Herrera, director of the A Liter of Light Foundation Colombia. "In addition to providing savings in electricity costs, the program will benefit the environment through the reduction of 200 kilos per year of CO2 emissions and also may help reduce levels of crime in these neighborhoods through a better lit community".
Currently PepsiCo, the Foundation and the Colombian government are discussing ways to broaden the scope of the program.