Let's welcome New Year 2022 with LiteFinance!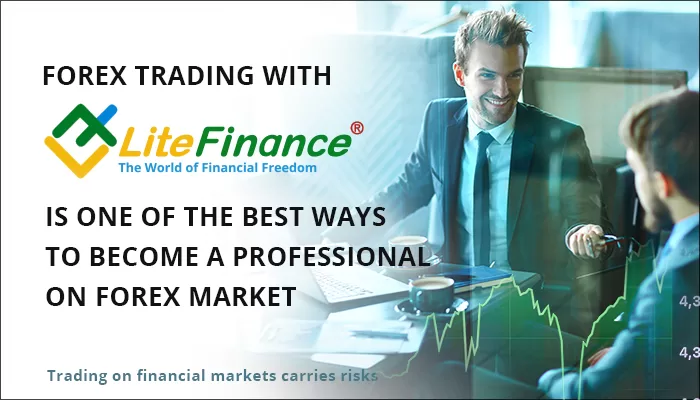 2021 comes to an end and LiteFinance team wants to celebrate the coming of the new year together with their clients and partners! That's why they launch their traditional winter promo — the New Year Promo 2022. Once again the market will choose the lucky traders that will get the following prizes:
iPhone 13 Pro Max 512 GB
MacBook Max Pro
iPad Pro
100 cash prizes that would be transferred to trading accounts of LiteFinance clients.
All LiteFinance clients that deposit 1,000 USD to their trading accounts during the promotion period (from December 1, 2021 to January 31, 2022) participate in it.
The gifts will be distributed in 5 stages. Winners of each stage will be determined using a transparent algorithm that forms a lucky number.
The lucky number of a winner is formed on the basis of BID prices for four currency pairs on the LiteFinance-ECN.com server.
Learn more about the terms and conditions on the page of LiteFinance New Year Promo 2022.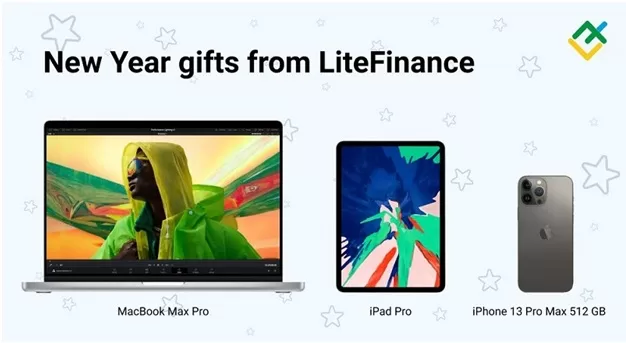 LiteFinance started yearly contests for partners from Nigeria and Ghana as well.
LiteFinance launching a one-year contest for partners from Nigeria in which you have a chance to win some of the fabulous prizes worth $145,000!
Prizes:
Hyundai Tucson as the main prize;
3 travel packages worth $5000 for you to visit the company's main office;
7 MacBooks Pro;
3 extra money prizes each month. Get up to $3000 every month!
What are the conditions?
The contest will take place from 01.12.2021 to 30.11.2022;
There are 11 prize-winning places with prizes worth $85,000;
There are 3 prize-winning places worth $60,000 that you compete for every month.
Score the most points and win the competition!
How to win?
Register as a partner of LiteFinance if you haven't done that yet. All IBs from Nigeria automatically enter the contest.
Bring in active clients and deposits, scoring the most contest points.
Remain active throughout the year and don't let anybody outrun you.
Go to the contest page to learn more about it.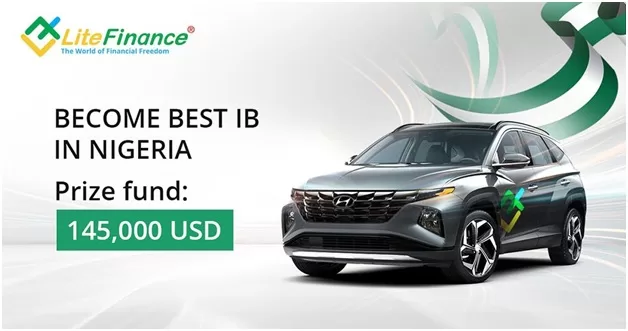 The Best IB Ghana contest for LiteFinance's partners from Ghana has started as well! The competition is held for the first time, and its prize fund amounts to $78,000!
Attract new clients from 1 December 2021 to 30 November 2022, score points, and win precious prizes! A brand new Hyundai Tucson is among them!
Also, we will raffle additional prizes for the partners with the best monthly results:
1st place: $750
2nd place: $500
3d place: $250
How to win?
Just enroll in LiteFinance's affiliate program and attract as many active referrals as you can. Every attracted referral will bring you 20 points and one additional point per traded lot. The more new clients you bring in, the more points you collect and the higher you rank in the contest.
At the end of the contest, we will determine the best eleven participants. The winner will get a brand new Hyundai Tucson! Other winners will be awarded MacBooks Pro.
All the partners of LiteFinance from Ghana participate in Best IB Ghana automatically. No special registration is required.
Learn more about the contest here.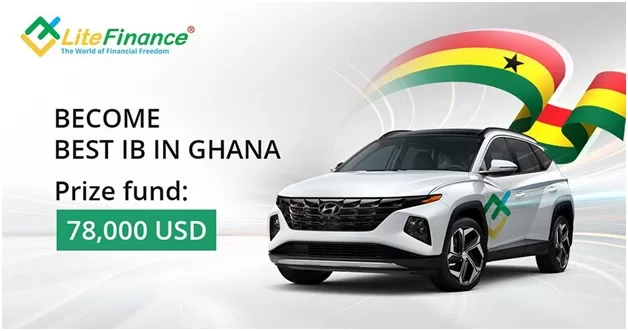 LiteFinance wishes everyone good luck in new 2022 year!