Lenovo Yoga Slim 7 14 Laptop Review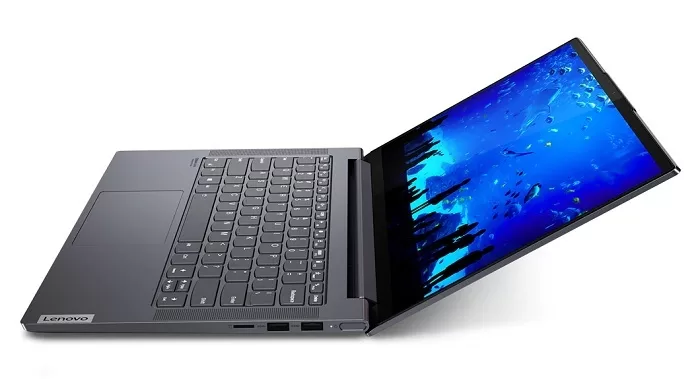 It's a beautiful, thin, sleek and powerful laptop for those who don't want a bulky gaming laptop. Today we'll be reviewing the Lenovo Yoga Slim 7 Laptop powered by 8-core Ryzen 7 4800U CPU and AMD Radeon RX Vega 8 GPU.
This laptop is from Lenovo's Yoga Series which means it can be flipped to lay flat at 180 degrees and also like i said before, this laptop is very sleek, compact and portable too. If you're a hardcore gamer or video editor, then I would suggest you to look somewhere else as this laptop is an elegant little pony and not a workhorse.
The laptop is priced at $1,272.92.
Design: Aesthetics wise, this laptop which is powered by the latest Ryzen 7 chipset comes in just one single colour, however if you want more colours, you can go with the slightly under-powered Ryzen 5 version.
Apart from colours, this laptop features a full aluminium alloy construction with a matte finish that's smooth and feels nice to touch.
On the center front near the opening of the laptop, you can find the logo of a brand that's finely engraved on the cover. It's a small and subtle detail but leaves a strong impression.
Some other notable details also include two Lenovo logos on the edges like a bookmark
The design concept is pretty minimalistic with little accents or colours. It is pretty homogeneous for an ultrabook to look this way though clean, simple, and functional
At the bottom of the laptop, there are some linear shaped cutouts that serve as vents. These vents help in cooling the laptop and of course ventilation.
The build quality overall, is pretty good and feels premium, especially with the hinge. You can also open up this laptop with one finger.
The keyboard and screen have a tiny bit of flex, thanks to the full metal build, but still that's reasonable for everyday use.
One minor complaint that some people might have with this laptop is with the edges along the inner side of the laptop which may bother you if you use the laptop over a prolonged time on a desk.
In terms of size it is 320.6mm long, 208mm wide and 14.9mm thick. As for weight, it lies at 1.4kg. Now, this laptop, for sure, isn't going to be breaking any records for being the thinnest or the lightest laptop on earth.
Display: The laptop features a 14" Full HD 1080p IPS panel with a refresh rate of 60Hz and max brightness of 400 nits. It is also FreeSync capable. The glossy surface of the laptop coupled with the 180 degrees hinge might make some of you mistake this for a touchscreen panel, but it is unfortunately not.
It also features a 99% sRGB as well as 63% Adobe RGB which makes this laptop good for most productivity tasks as well as content consumption.
But of course, it is less than optimal for extreme levels of color-crucial work like color grading or photo editing.
The response time as per most non-gaming laptops was not stated and we could not find it anywhere. Sorry about that. It definitely does not feel as snappy as a gaming display but hey, you're probably not going to use this for serious gaming anyways.
Keyboard: Basically, the keyboard is quite basic. it has a white backlight which is adjustable to two different tones of brightness. The keyboard though makes a lot of noise while typing. The keyboard offers a tactile response. Key travel is good too and you can safely use it for typing long essays. The power on and off button is located on the right side of the device and it also houses an optional fingerprint reader which is quite handy to have.
Webcam: Lenovo gave this laptop a default 720p HD Web Camera with IR tech. The cool thing about IR (Infrared technology) is that the depth maps of persons and objects are built with this, stuff like facial recognition are going to be made much more accurate and simpler.
In case someone who looks exactly like you happens to pop by and tries to unlock your laptop with their face, you can be rest assured, no impostors can unlock it because this laptop's Microsoft Hello function will probably be able to detect it.
Webcam quality is decent and usable.
Battery and charging: For the power brick Lenovo has bundled a 65W USB Type-C charger that supports rapid charging. The power brick can apparently charge up this laptop to fullI in less than 2 hours. As for battery consumption, It is 60.7 WHr, which equates to a full day battery with about 16 hours of life. Lenovo claims it can last an entire flight journey from London to Singapore. What's even better is that it can get charged up by half If plugged in for 30 minutes. An hour's charge will juice up 80% of the laptop's battery. If you bring this laptop out for a day you won't need to even bring a charger with you.
Audio: The speakers are front-facing and are placed right by the sides of the keyboard. Sound output is pretty loud on this laptop. Speakers offer good bass and there is good clarity.
Performance: As for the processor, we have the AMD Ryzen 7 4800U with 8 Cores and 16 threads. It has a Base Clock of 1.8GHz and a Max Boost Clock of 4.2GHz. The laptop has a 25 Watt TDP.
And as for graphics, there is an integrated AMD Radeon Vega 8 GPU. The laptop gets 16GB DDR4 4266MHz RAM Which is pretty impressive.
For storage, it has a 512GB NVMe M.2 SSD, but it also comes with a secondary M.2 2242 slot which has space for another SSD.
For Networking, we have Intel Wi-Fi 6 AX201 (2×2) and Bluetooth 5, which is pretty much standard these days.
I/O ports: On the left side we have one USB Type-C (Power Delivery only) port, one HDMI 2.0 port, one USB 3.2 Gen 2 Type-C with DisplayPort 1.4. There's a 3.5mm headphone jack as well. On the right side, we have two USB 3.2 Gen 1 Type-A ports as well as one Micro SD card reader.
Pros and Cons
Pros:
Loud speakers with good bass
IR enabled webcam for accurate extra secure face unlock
Build quality
Excellent battery life with fast charging capability
Powerful Performance; Packs punch above its weight
Value for money
Cons:
Lack of Ethernet port
Screen flexes a bit
Verdict
The build quality, battery life, specs and performance of this laptop are impressive, given its price. If you're a student or working adult and are not into super heavy workloads, play some casual games then this laptop is for you.
But if you're into heavy gaming, then you should probably be prioritizing thermals and performance over portability.