KTM And Brabus Continue Collaboration with The Launch of a Brand-New Luxury Naked Bike -The Brabus 1300 R Edition 23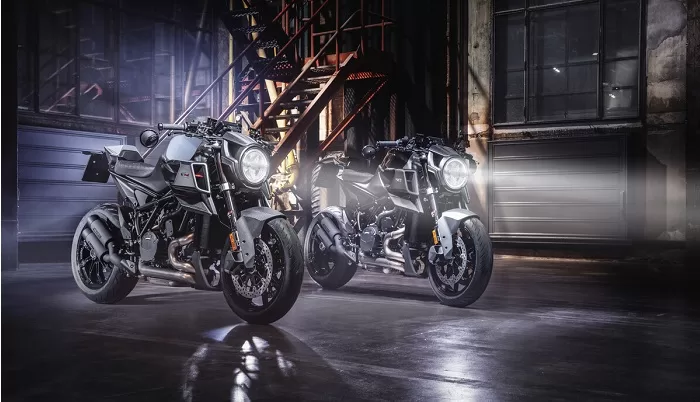 The first-ever BRABUS 1-Second-Wow effect on two wheels is going dark with the world premiere of the next chapter in the collaboration between leading European motorcycle manufacturer KTM and world-renowned German luxury mobility brand BRABUS.
Following the luxury mobility brand's initial entry into the world of exclusive modern motorcycling, this highly limited special edition is the follow-up to the exclusive BRABUS 1300 R released in 2022. A direct evolution of its predecessor, characterized by the best of both brands, new signature features and an entirely unique identity of its own. Production will be limited to 290 units, available in selected markets, opening the door to an elite range of BRABUS Night Riders. Bold. Luxurious. Badass. The BRABUS 1300 R Edition 23.
The BRABUS 1300 R Edition 23 is luxurious design, BRABUS typical attention to detail and ultra-limited exclusivity. Conceptualized to make a statement and merge pure, luxury infused energy with undaunted Naked bike precision. The new Edition 23 represents the very best of both brands in its aggressively elegant looks, functionality and power.
Returning and enhanced highlight ingredients of the BRABUS design DNA – including two legacy paint schemes, forged BRABUS Monoblock Z wheels, high-end carbon body elements and a stylish bespoke seat, treated with expert attention to detail by the BRABUS interior specialists in Bottrop, Germany – define the motorbike's exceedingly unique and sporty character while ensuring an instant 1-Second-Wow factor.
The platform of the BRABUS 1300 R Edition 23 remains the KTM 1290 SUPER DUKE R EVO. As KTM's evolution in performance-built motorbikes, this model offers the best in cutting-edge riding experiences, uncompromising ergonomics and the bike's beating heart: an exceptional LC8 V-Twin engine producing 180 hp at 9,500 rpm and 140 Nm of torque at 8,000 rpm out of its 1,301 cc. The BRABUS dual-pipe slip-on exhaust underscores its unmistakable character as well as its massive sound.
The BRABUS 1300 R Edition 23 maintains and expands its 'Black and Bold' identity with a collection of new features. A distinctive headlight mask, complete with exposed-carbon side fairing, power domes as well as BRABUS Signature Stripes in the air scoop accentuate the Edition 23's unique face. Redesigned side panels and air-ducts serve as a further homage to decades of experience in processing prepreg carbon fiber.
In keeping with the design's sporty, aggressive flair, the ultra-lightweight carbon fiber one-piece undertray now features an all-new pillion seat cover. Adopting the design cues of the ignition cover and matching the body color, this upgrade gives the BRABUS 1300 R Edition 23 a more compact and powerful silhouette. The seat has been reupholstered to feature the BRABUS "Crest" stitching pattern. Finally, all-new handlebar end mirrors were purpose-built to round off the motorbike's one-of-a-kind appearance while allowing for precise adjustments.
Inspired by the design of the brand's fleet of exclusive 1-Second-Wow supercars, the BRABUS 1300 R Edition 23 is also equipped with BRABUS Monoblock Z forged wheels. State-of-the-art manufacturing processes and a brand-new finish in "Platinum Black" ensure a hallmark BRABUS look as well as maximum strength.
To add an extra touch of unique individuality, the BRABUS 1300 R Edition 23 is offered in two definitive color schemes – "Superblack" and "Stealth Gray". Production will be limited to 145 units for both variants, available in selected markets.
From a technical standpoint, the BRABUS 1300 R Edition 23 utilizes the latest WP APEX semi-active suspension technology. This allows riders to select between six dedicated damping modes – COMFORT, STREET, SPORT, TRACK, ADVANCED – at leisure or in AUTO mode, which automatically adapts to road as well as riding conditions.
Highlight features and bespoke parts include:
// BRABUS Sign of excellence with limited-edition number
// BRABUS Monoblock Z lightweight 9-spoke "Platinum Black" forged wheels
// BRABUS slip-on double-pipe exhaust • BRABUS custom-made heated seat
// BRABUS start-up animation
// BRABUS color scheme for the dashboard
// UNIQUE black frame
// BRABUS carbon fiber air ducts
// BRABUS carbon fiber headlight mask
// BRABUS carbon fiber belly pan
// BRABUS CNC-machined triple clamp
// BRABUS CNC-machined adjustable front brake and clutch lever
// BRABUS CNC-machined adjustable foot pegs
// BRABUS CNC-machined reservoirs and oil tank caps
// BRABUS pillion seat cover
// BRABUS handlebar end mirrors
// Carbon fiber undertray with short license plate holder
// LED turn indicators with integrated brake lights
// WP APEX semi-active suspension
// WP PRO COMPONENTS (WP APEX PRO 7117) steering damper
// 5 riding modes (STREET – SPORT – RAIN – PERFORMANCE – TRACK)
// Quick turn throttle twist grip
// Heated grips
// Lightweight Li-Ion battery
// Various carbon fiber parts
Beyond offering an extraordinary riding experience, the BRABUS 1300 R Edition 23 makes an undeniable statement of luxury, exclusivity, and BRABUS heritage styling. The BRABUS 1300 R Edition 23 will be available exclusively through the official KTM.com pre-order web page.
Source: KTM