Klamr Launches First Messaging App To Combine Social Planning And Location Search With Chat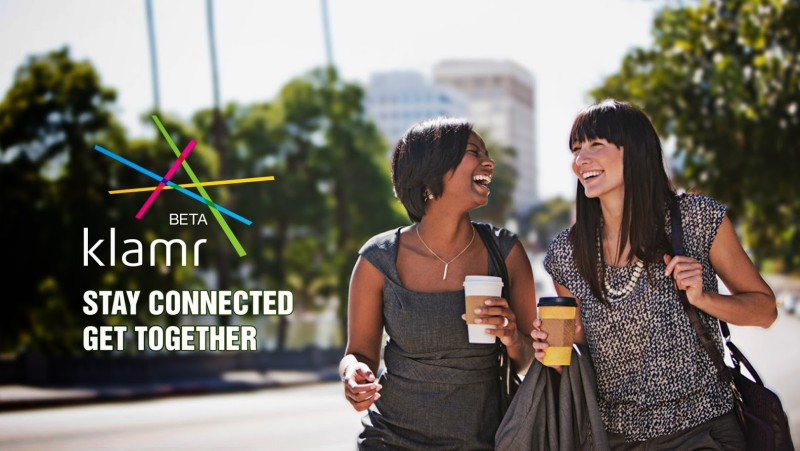 Mobile Messaging Becomes More Social: a single app where friends can chat, find venues and reviews, plan and share get-togethers
SAN FRANCISCO, Aug. 30, 2013 /PRNewswire/ — Today Klamr, a social messaging platform developer, announced the launch of the first mobile messaging app that brings together social planning, location-based search and chat. Klamr connects to reviews from Yelp, Foursquare and Facebook, provides suggestions of venues from a specially curated location database, and enables photo sharing all within a chat interface, making it easier than ever to turn messaging into meeting.
Klamr aims to provide the most social and actionable messaging service available. Klamr is private, so messages and plans can only be accessed by your close friends or family. Chatting, planning, researching, notifying and sharing photos with your network all happens in a chat interface, within the app; and non-Klamr users are alerted via SMS making social communication and planning frictionless.
"Klamr reduces the effort of organizing get-togethers with my friends down to a few taps. Before Klamr, we'd text, email, Facebook message and go back-and-forth until we all reached agreement on when; then we'd have to figure out where.  Now, there's no hassle involved whatsoever," said Rei Biermann, Klamr's Head of Marketing.
In four simple steps, Klamr turns a conversation into a get-together:
Send a Message: and chat about ideas for your next get-together;
Create Ideas: decide where to go and what time to meet;
Plan It: when everyone likes the idea, invite your friends on Klamr or via SMS;
Share It:  share photos while you're enjoying yourselves!
Klamr is available for free for both iOS and Android. Klamr can be downloaded today via Google Play and in the App Store.
About Klamr
Klamr was founded in 2012 by CEO Bryan Pelz, a serial international technology entrepreneur and former co-founder and CEO of VinaGame, the largest online company in Vietnam with 60% of market share of the online gaming market and 12.5 million users. Previously, Bryan was co-founder and CTO of Nomade, one of the first Internet startups to go public in France.  Klamr is headquartered in San Francisco with development offices in Saigon, Vietnam.  For more information: visit www.Klamr.it, follow Klamr on Twitter @KlamrIt, or on Facebook at www.facebook.com/Klamr.
Media Inquiries
April Mayrath
Consort Partners
+1 (210) 323-7018
SOURCE Klamr
RELATED LINKS
http://www.klamr.it