iOS 17 Now Available: Elevate Your iPhone Experience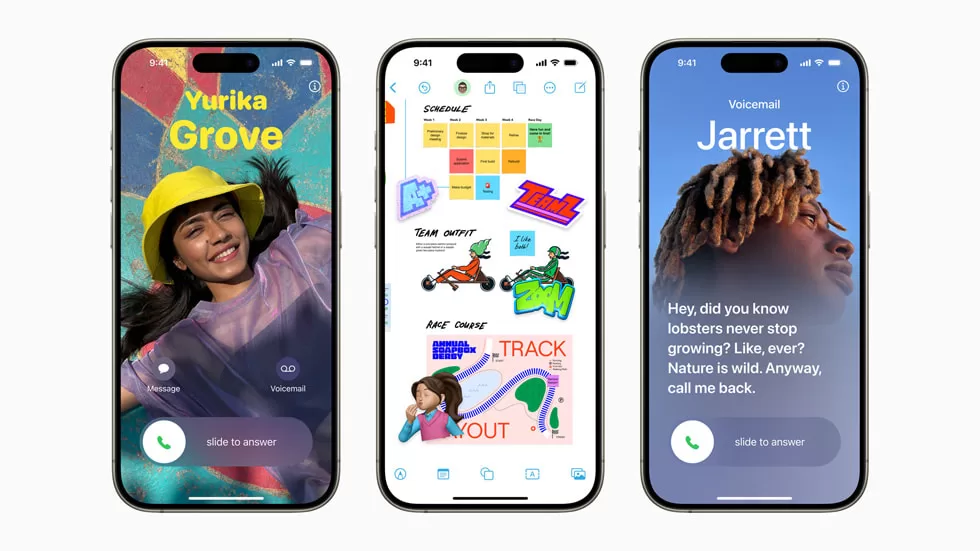 Apple's iOS 17 brings a wave of exciting updates, enhancing the personalization and communication experience on your iPhone. This free software update introduces significant improvements to communication apps, introduces StandBy for a novel charging experience, facilitates easier sharing with AirDrop, and enhances typing with more intelligent input, boosting speed and accuracy. iOS 17 is available today, offering a host of innovative features to users.
Revolutionized Incoming Calls
The Phone app, a cornerstone of the iPhone experience, receives a substantial upgrade, amplifying the importance of meaningful calls. Personalized Contact Posters introduce an innovative means for users to convey their identity when contacting familiar associates, even within third-party calling applications. These posters can be tailored with captivating enhancements like photos, Memoji, and striking typography and font selections, adding a distinctive touch to incoming calls.
Enhanced Contact Posters
Expressive Personalization for Calls
Live Voicemail Transcription
Live Voicemail takes voicemail to the next level by offering real-time transcriptions as callers leave messages. This feature empowers users to intercept calls while the message is being recorded. Leveraging the Neural Engine's computational prowess, Live Voicemail ensures on-device transcription, safeguarding privacy. With the Silence Unknown Callers feature activated, unidentified numbers seamlessly divert to Live Voicemail, while spam calls flagged by carriers are promptly rejected.
Elevated FaceTime Experience
Users can now record video or audio messages on FaceTime, ensuring they convey exactly what they intend when the recipient is unavailable. FaceTime interactions become more dynamic with the addition of Reactions, including hearts, balloons, fireworks, and laser beams, activated through simple gestures. This feature is also compatible with supported third-party video conferencing applications like Zoom and Webex by Cisco.
Enhanced FaceTime Messaging
Expressive Reactions for Dynamic Calls
Now, FaceTime enables users to send video and audio messages, allowing them to share special moments or messages for later enjoyment when the recipient is unavailable [Source: Apple]
Seamless FaceTime Integration with Apple TV 4K
FaceTime now offers a remarkable integration with Apple TV 4K, allowing users to view their friends and family on the big screen. This can be achieved through Continuity Camera, enabling users to initiate a FaceTime call on their iPhone and seamlessly transition it to Apple TV. With Center Stage, users remain perfectly framed even as they move around the room, ensuring an engaging and immersive experience.
Enhanced Messaging Experience
Messages introduces a host of new features aimed at making communication more convenient and enjoyable with those who matter most. The search function receives a significant upgrade, becoming more potent and precise with the inclusion of search filters. Additionally, audio messages are now automatically transcribed, providing users with the option to either read them in real-time or listen at their convenience. Replying inline is streamlined with a simple swipe on a text bubble, while the new expandable menu grants easy access to all iMessage apps, resulting in a sleeker appearance for Messages.
Immersive Sticker Experience
Creating Live Stickers from Photos
The revamped sticker feature introduces Live Stickers, allowing users to extract subjects from photos and animate them with creative effects[Source: Apple]
Check In for Added Safety
A vital feature integrated into Messages, Check In, allows users to promptly inform a family member or friend once they've safely arrived at their destination. Upon initiating a Check In, the selected contact receives an automatic notification of the user's arrival. In cases where progress towards the destination is stalled, valuable information such as the device's location, battery status, and cell service status is securely and temporarily shared with the designated contact.
Elevated Charging Experience with StandBy
Introducing StandBy, a cutting-edge full-screen interface tailored to be easily viewed from a distance while your iPhone is positioned sideways during charging. Ideal for placement on desks, nightstands, or kitchen counters, StandBy offers a personalized experience. Users can select from a variety of clock styles, showcase favourite photos, or display widgets, including Smart Stacks that intuitively present the most relevant widgets.
StandBy provides a comprehensive display, including full-screen Live Activities, Siri results, incoming call notifications, and enlarged alerts. With the Always-On display feature, StandBy remains active, presenting valuable information at a glance. Additionally, in low light environments, StandBy effortlessly transitions into Night Mode, casting a captivating red hue over clocks, photos, and widgets. When paired with a MagSafe charger, StandBy remembers the user's preferred view for that specific MagSafe charging dock.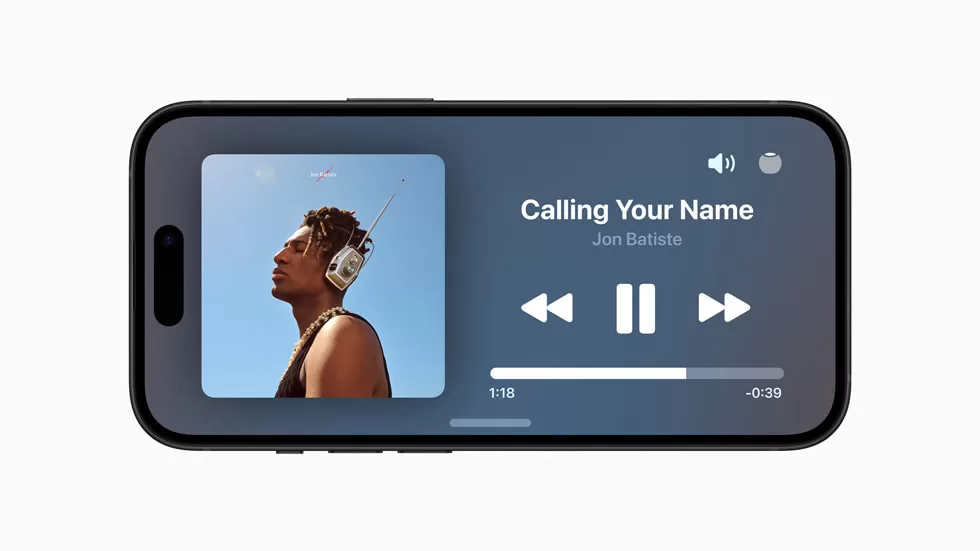 StandBy provides users with a full-screen interface displaying easily viewable information from a distance while the iPhone is placed on its side and charging [Source: Apple]
Seamless Sharing with AirDrop and NameDrop
AirDrop streamlines the process of sharing content with friends, family, and colleagues, making it more convenient than ever. With the introduction of NameDrop, a novel AirDrop feature, users can effortlessly exchange contact information, including their personalized Contact Poster, by merely bringing their iPhone devices into proximity. This intuitive gesture also enables users to instantly share various types of content or initiate a SharePlay session for collaborative experiences like listening to music, watching a movie, or playing a game—all within close range. In the near future, AirDrop will further enhance its capabilities by allowing transfers to continue seamlessly over the internet when a user moves out of the immediate AirDrop range.
NameDrop facilitates the exchange of contact information by seamlessly bringing together iPhone devices [Source: Apple]
Enhanced Autocorrect and Dictation Capabilities
The Autocorrect feature undergoes a significant enhancement, incorporating a cutting-edge transformer language model. This on-device machine learning language model revolutionizes word prediction, resulting in an improved typing experience with heightened accuracy for users. Moreover, the update enables sentence-level autocorrections to rectify a wider range of grammatical errors. The refreshed design introduces a temporary underline for corrected words, facilitating easy reversion with a simple tap. Additionally, the inclusion of inline predictive text expedites the process of completing sentences. Furthermore, Dictation benefits from a new speech recognition model, elevating its accuracy and overall performance.
Capturing Life's Moments with Journal
Introducing Journal, a brand-new iPhone application designed to facilitate reflection on everyday experiences and special occasions. This innovative tool offers personalized prompts derived from recent activities such as photos, interactions with people, visited places, workouts, and more, aimed at inspiring meaningful journal entries. Users can also set scheduled reminders to cultivate a consistent journaling practice.
With advanced security features including on-device processing, end-to-end encryption, and app lock capability, Journal prioritizes user privacy, ensuring that entries remain inaccessible to anyone, even Apple. Additionally, the forthcoming Journaling Suggestions API will empower developers to integrate similar journaling prompts into their own applications. Stay tuned for the release of the Journal app and Journaling Suggestions API in an upcoming software update later this year.
Additional Features in iOS 17
Enhancements in Safari Profiles: Keep your browsing experience organized and tailored. Safari now allows you to separate browsing history, cookies, extensions, Tab Groups, and Favorites for different topics, such as work and personal matters. Additionally, Private Browsing automatically locks when inactive, providing enhanced protection against trackers and unauthorized access.
Secure Password and Passkey Sharing: Sharing passwords with trusted contacts has never been easier or more secure. Utilizing iCloud Keychain, this feature ensures end-to-end encryption for seamless and safe password exchange.
Mental Health Features in Health App: iOS 17 introduces valuable mental health tools in the Health app. Users can now track their daily moods and momentary emotions, gain insights into potential contributors to their mental state, and conveniently access depression and anxiety assessments commonly used in clinics. Additionally, a feature called Screen Distance in Screen Time uses the TrueDepth camera to encourage users to maintain a safe viewing distance, benefiting both children and adults.
Apple Music Enhancements: In the car, everyone can now take control of the music through their own devices, even without an Apple Music subscription. Enjoy smooth transitions between songs with Crossfade, and look forward to collaborative playlist creation, set to release later this year.
AirPlay Upgrades: iOS 17 leverages on-device intelligence to learn user preferences, providing an even more personalized AirPlay experience. Additionally, support for televisions in hotels will be introduced, allowing users to easily enjoy their favorite content on the TV while traveling.
Revamped AirPods Features: Experience a new level of personal audio with powerful additions to AirPods, including Adaptive Audio, Personalized Volume, and Conversation Awareness. Automatic Switching and call controls have also been improved for a seamless user experience.
Home App Innovations: The Home app now offers the capability to view up to 30 days of activity history across various devices such as door locks, garage doors, alarm systems, and contact sensors. Additionally, popular HomeKit lock features like tap to unlock and PIN codes will become available for Matter-compatible locks, expanding connectivity options.
Maps Enhancements: Access offline maps for specific areas, providing turn-by-turn navigation, estimated time of arrival, and more even without an internet connection. Discover thousands of trails in U.S. parks and receive real-time charging availability information for electric vehicle drivers.
Enhanced AirTag Functionality: Share your AirTag with up to five individuals, allowing friends and family to track items through Find My. Precision Finding aids in pinpointing the location of a shared AirTag when nearby.
Reminders Simplification: Grocery lists in Reminders now automatically categorize added items, streamlining the shopping experience. Users have the flexibility to customize how items are grouped.
Visual Look-Up in Video Frames: Users can now extract subjects from paused video frames and identify objects like food, storefronts, signs, and symbols.
Siri Activation: Activate Siri with a simple voice command, enabling users to issue multiple commands in succession without reactivation.
Improved Photos Recognition: On-device machine learning now enables Photos to recognize individual cats and dogs, treating them like friends or family members.
Privacy Enhancements: Communication Safety measures expand beyond Messages, extending protection to content shared via AirDrop, Contact Posters, FaceTime messages, and when selecting content in the Photos picker. The new Sensitive Content Warning feature helps adult users avoid unwanted explicit content. Importantly, all processing for this feature remains on-device, ensuring user privacy.
App Store's Today Tab Update: The Today tab in the App Store now offers a more dynamic and personalized app discovery experience. Tailored recommendations and original stories based on user interests and preferences make it easier to discover great apps, games, and in-app events.
Accessibility Improvements: iOS 17 introduces Assistive Access, an adaptable interface to assist users with cognitive disabilities in utilizing the iPhone more independently. Live Speech empowers non-speaking users to type and have their words spoken, both in person and during phone and FaceTime calls. Personal Voice allows users at risk of speech loss to create a voice that mirrors their own. Point and Speak aids blind or low vision users in reading text on physical objects by pointing.
Availability
iOS 17, a complimentary software update, is now accessible for iPhone Xs and later models, beginning today. For additional details, please visit apple.com/ios/ios-17. Keep in mind that certain features may vary in availability based on regions, languages, or specific iPhone models. For more comprehensive information regarding availability, kindly refer to apple.com/ios/feature-availability.
iOS 17 is a monumental update that redefines the way you interact with your iPhone. With Contact Posters, enhanced FaceTime, and improved messaging features, communication has never been more engaging. StandBy mode, Journal, and a plethora of other updates make your iPhone even more personal and intuitive. Upgrade to iOS 17 today and unlock a new level of interaction with your device.
Sourse:apple.com