Inventors honored for bringing life-saving health solutions to the developing world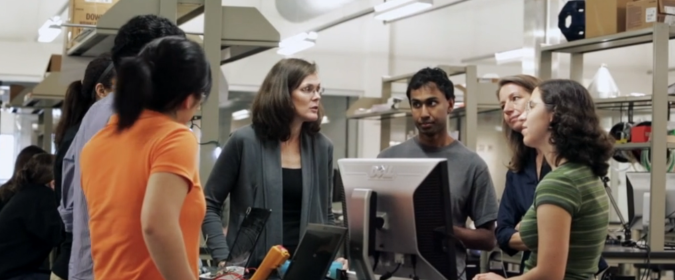 Drs. Rebecca Richards-Kortum and Maria Oden Win $100,000 Lemelson-MIT Award for Global Innovation for Inventions Developed in Collaboration with University Students
CAMBRIDGE, Mass. – Rebecca Richards-Kortum and Maria Oden established the Beyond Traditional Borders (BTB) engineering design initiative at Rice University in 2006 with the goals of developing and improving access to health innovations for the world's poorest communities. The professors of bioengineering have guided more than 3,000 students through the program's invention process, resulting in 58 health technologies that are helping 45,000 people in 24 countries. In recognition of their revolutionary program, through which they are creating life-saving technologies with the next generation of inventors, the Lemelson-MIT Program today announced Rebecca Richards-Kortum and Maria Oden as the joint recipients of the 2013 $100,000 Lemelson-MIT Award for Global Innovation.
Fostering a Corps of Global Problem Solvers
Richards-Kortum and Oden's multidisciplinary educational program is changing the way low-cost health solutions are delivered to the developing world by providing undergraduate students with a roadmap to become inventors and innovators of life-saving technologies. Through BTB, Richards-Kortum and Oden work with their students and clinical partners around the world – like those at the Queen Elizabeth Central Hospital in Blantyre, Malawi – to identify health challenges and design solutions. After building and testing prototypes, they team with the private and public sectors to put their inventions to use. BTB is supported by the Howard Hughes Medical Institute.
A fundamental component of BTB is an eight-week international implementation internship program in Africa and Latin America. Through their experiences in the field, BTB students are able to overcome unanticipated challenges and adapt their inventions accordingly under the guidance of trained clinicians and on-site mentors. On a broader scale, the internships improve undergraduate students' understanding of global health challenges and help inspire new ideas for health innovations for resource-poor communities. Ninety percent of BTB summer interns incorporate global health activities into their careers.
"Rebecca Richards-Kortum and Maria Oden provide an ideal example of how our impact can be multiplied when we invest the time to excite and empower our youth to invent," said Joshua Schuler, executive director of the Lemelson-MIT Program. "Their students are committed to taking technologies created in the classroom and putting them into the hands of those in need to make significant and sustainable impact, demonstrating how invention can improve lives."
Delivering Innovative Health Devices to the World's Underserved
BTB students, led by Richards-Kortum and Oden, and mentored by physicians in Malawi and Houston, developed a rugged bubble Continuous Positive Airway Pressure (bCPAP) system to combat a leading cause of global child mortality – acute respiratory infection. Studies show that BTB's bCPAP model delivers identical oxygen therapy to the therapeutic delivery systems used in leading US hospitals, but at a fraction of the cost. The program's small-batch production unit can be sold for an estimated $400 compared to $6,000 for existing commercial bCPAP devices. The team recently received a grant from the Saving Lives at Birth partners, which include the U.S. Agency for International Development, the Government of Norway, the Bill & Melinda Gates Foundation, Grand Challenges Canada, and the U.K.'s Department for International Development, to develop a commercial prototype, and is working with stakeholders in Malawi as well as private industry partners to test, refine and scale the low-cost system to rural hospitals throughout the African country. It is estimated that nearly 178,000 babies could be saved each year if the bCPAP device is distributed throughout Africa.
Richards-Kortum and Oden will donate all of the prize money from the Lemelson-MIT Award for Global Innovation to the Day One Project, which will renovate the neonatal ward at their partner hospital in Malawi, creating an innovation site where a suite of appropriate technologies that reduce neonatal mortality in low-resource district hospitals can be developed, refined, tested and scaled.
Other BTB invention projects headed by Richards-Kortum and Oden include DoseRight dosing clips, designed to provide accurate dosing of liquid oral medication in response to the common mis-dosing of medicine in children; and the Global Focus Microscope, a microscope using battery-operated LED lighting to achieve fluorescent microscopy, which can quickly and easily diagnose diseases like tuberculosis and malaria. In comparison to fluorescent microscopes sold in the developing world for upwards of $40,000, the Global Focus Microscope can be manufactured for $240. Patent applications for all three inventions have been filed by Richards-Kortum and Oden, and their students.
"Through Beyond Traditional Borders I learned about health issues faced by the poorest areas of the world and used my engineering skills to help solve some of those problems," said Jocelyn Brown, a former BTB student. "With the guidance of Professors Richards-Kortum and Oden, I have been able to improve the standard of care for infants halfway around the globe. The experience has inspired me to continue inventing and innovating for the developing world."
Moving Today's Youth to Become Tomorrow's Leaders
"It's exciting for us to see how Drs. Richards-Kortum and Oden are changing the landscape of invention education through their courses. BTB offers an inventive model that helps students understand that technical knowledge isn't the only thing needed to create great inventions and technologies. Through their experiences, the students see it's just as important to understand user-needs and how their invention might have a commercial application." said Carol Dahl, executive director of The Lemelson Foundation, which sponsors the Lemelson-MIT Program.
Mentorship is at the core of the approach Professors Richards-Kortum and Oden take for innovation. Their shared belief that it doesn't take advanced degrees to impact the world has led them to tailor BTB's collegiate curriculum for both high school and middle school students. BTB offers a year-long high school global health competition during which students are given a technology problem to solve while they are mentored by BTB's undergraduates and program associates. Past technologies that have resulted from the competition include a portable hand washing system and a low-cost incubator.
Professors Richards-Kortum and Oden have been recognized with more than 30 honors and awards between them for their own work to bring health solutions to developing countries, and their efforts to inspire others to do the same.
ABOUT THE LEMELSON-MIT PROGRAM
Celebrating innovation, inspiring youth
The Lemelson-MIT Program celebrates outstanding innovators and inspires young people to pursue creative lives and careers through invention.
Jerome H. Lemelson, one of U.S. history's most prolific inventors, and his wife Dorothy founded the Lemelson-MIT Program at the Massachusetts Institute of Technology in 1994. It is funded by The Lemelson Foundation and administered by the School of Engineering. The Lemelson Foundation uses the power of invention to improve lives, by inspiring and enabling the next generation of inventors and invention based enterprises to promote economic growth in the US and social and economic progress for the poor in developing countries. http://web.mit.edu/invent/