Introducing Fire HD Kids Edition—The Kids Tablet That Has it All, Including the First-Ever 2-Year Worry-Free Guarantee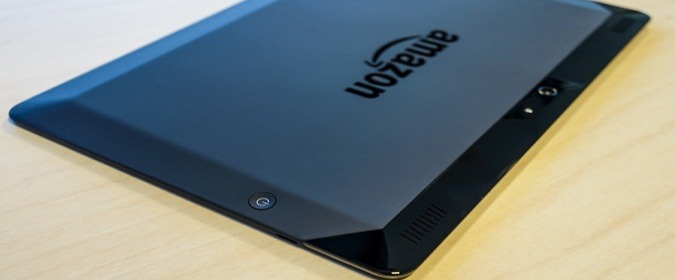 Amazon today introduced Fire HD Kids Edition, the first tablet built from the ground up for kids (and their parents). Fire HD Kids Edition is built around three ideas.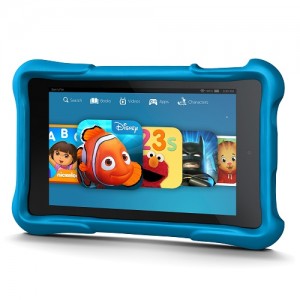 1. Despite best intentions, kids break things—Fire HD Kids Edition has an unprecedented 2-year worry-free guarantee—if they break it, we'll replace it. No questions asked.
2. Parents don't want to worry about the bill—the Kids Edition includes a year of Amazon FreeTime Unlimited so kids get unlimited access to 5,000 books, movies, TV shows, educational apps, and games—at no additional cost.
3. Kids want a real tablet, not a toy—the Kids Edition features a quad-core processor, a vivid HD display, front- and rear-facing cameras, Dolby Digital audio, and access to Amazon's unmatched content ecosystem of over 33 million movies, TV shows, songs, books, and Android apps and games.
Fire HD Kids Edition is $149 for a 6" tablet and $189 for a 7", and is available for pre-order today at www.amazon.com/kids-edition-tablet.
"Fire HD Kids Edition is a real tablet, not a toy," said Peter Larsen, Vice President, Amazon Devices. "Kids break things, so we added a 2-year, no-questions-asked, worry-free guarantee. Plus, you'll never be surprised by a bill—it comes with a year of FreeTime Unlimited, which includes over 5,000 books, movies, TV episodes, educational apps, and games at no additional cost."
Fire HD Kids Edition comes with Amazon FreeTime, which offers innovative parental controls that encourage learning before play and that help manage screen time. With FreeTime, you select all of the content your kids can see, and you can limit your kids' screen time by content type—for example, you may choose to limit videos and games, but make reading time unlimited. FreeTime blocks stores and in-app payments, so you don't have to worry about additional expenses.
Fire HD Kids Edition includes a year of Amazon FreeTime Unlimited, the first-ever all-in-one subscription that brings together all the content that kids and parents love—books, movies, TV shows, educational apps, and games. FreeTime Unlimited has the content kids want, including characters like Harry Potter, Lightning McQueen, Dora the Explorer, Thomas the Tank Engine, and Curious George. FreeTime Unlimited is included with Fire HD Kids Edition at no additional cost—a value of up to $120.
Stephen Balkam, Founder and CEO of the Family Online Safety Institute, the leading not-for-profit for guiding parents on how to use technology in their families, said: "We are thrilled to see this product come to market. The hardware, software, and content have all been designed with kids and safety in mind. Amazon's FreeTime is a breakthrough set of parental controls from a team who gets that kids need to balance screen time with reading and going outside to play."
Millions of parents and kids are already using Amazon FreeTime and FreeTime Unlimited—here's what parents are saying:
"FreeTime is AWESOME. Age appropriate for each kid and the parental controls are priceless. My son has to read books for 30 min each day before it unlocks videos and games." – Valerie
"Combined with a gummy-type case and Kindle FreeTime unlimited the kiddos get access to a ton of age-appropriate content. If you set up separate profiles for each child, Kindle will even recommend books that are likely to appeal to them. We also really appreciate the granular controls in FreeTime; I prefer allocating unlimited time to reading and then less time to apps and video usage." – Brian
"Buying the 'Kindle Fire HD 7' has been by far the best decision I've made this year. I wish I could give another 5 stars for the rating due to an app that Kindle also offers in this tablet called 'Kindle Freetime Unlimited' especially for children, best app ever and no other tablet can even offer anything close to that." – Amazon Customer
"I had almost decided on an IPad when I read about FreeTime Unlimited for kids offered on the Kindle Fire. I knew then what I wanted to buy. I could not be more pleased with this great tablet and the content available on Freetime Unlimited is amazing amassing hundreds of books, videos and apps. I downloaded a bunch of kid's books to my 5 year old son's account and we were flipping through the home page that shows all of his books and he looked at me and said 'A library Mama!'." – Amazon Customer
"I use Kindle FreeTime & it is PERFECT!!!! I can use the apps that FreeTime has, but also add other apps like Angry Birds, Temple Run, etc. PERFECT!" – Whitney
Here's what reviewers are saying:
"Amazon seems to know that a tablet is a device for the whole family, and has done a better job than anyone of making its devices work for everyone." – The Verge
"FreeTime is a must have." – PC Magazine
"Amazon took a big step forward in improving things for families with Kindle FreeTime." – CNet
"Apple's iOS doesn't get anywhere near what Amazon offers in terms of time of day restrictions, time limits or now goal setting, as with FreeTime." –TechCrunch
"Amazon has absolutely nailed its family target audience with its more robust parental controls…" – Laptop Magazine
"[FreeTime] eliminates the 'just one more level, Dad' nightly debate." – Wired
"…the best tablet for young kids, in my opinion." – Babble
Fire HD Kids Edition is just $149 for a 6" tablet and $189 for a 7", and is available for pre-order today at www.amazon.com/kids-edition-tablet. It will start shipping in October.
About Amazon
Amazon.com opened on the World Wide Web in July 1995. The company is guided by four principles: customer obsession rather than competitor focus, passion for invention, commitment to operational excellence, and long-term thinking. Customer reviews, 1-Click shopping, personalized recommendations, Prime, Fulfillment by Amazon, AWS, Kindle Direct Publishing, Kindle, Fire phone, Fire tablets, and Amazon Fire TV are some of the products and services pioneered by Amazon.