Interview with Mr. Richard Limpkin, Chief Product Officer of Immedis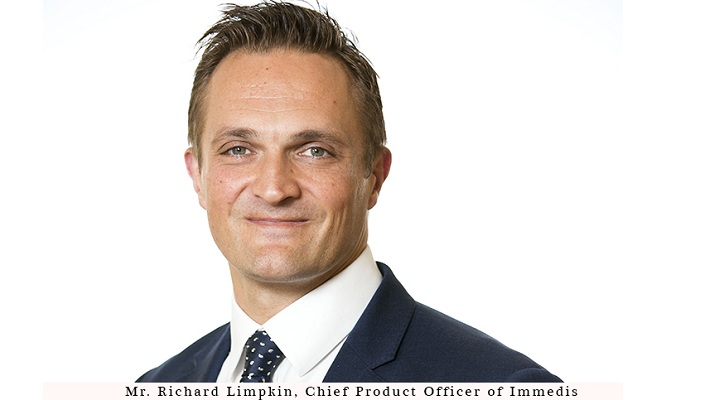 Immedis is the global leader in consolidated global payroll solutions, processing payroll in over 150 countries. Immedis' deep integration capabilities with HCM and finance providers, dramatically simplifies multi-country payroll obligations. We interviewed Mr. Richard Limpkin, Chief Product Officer of Immedis to find out more!
1. What were the events in your career that led you to becoming the CPO of Immedis?
I think it's easier to back into my response to this question, so I'll start with the present. I'm chief product officer (CPO) in my current role at Immedis, the global leader in consolidated global payroll solutions. I'm responsible for everything that goes into making the Immedis Platform a winning payroll solution for our customers. This includes leading the product development strategy, guiding technical and product roadmaps, determining platform and service components, and driving integration across human capital management, financial systems, and time and attendance solutions, to name just a few of the technologies that intersect with global payroll. All of us at Immedis are focused on our mission to accelerate the delivery of timely, accurate and compliant global payroll by simplifying and streamlining payroll processes every step of the way.
This sounds very technical and process oriented, which it is to a certain extent, but the key factor that attracted me to Immedis is the human element at the center of everything we do. Ultimately, the Immedis Platform is about ensuring everyone in an organization receives the right pay, at the right time, every time. Providing such a result has the potential to support employee financial wellbeing, which can also positively impact mental and physical health by relieving the stress associated with inaccurate or delayed payroll delivery.
Finding that human element in turning profoundly complex problems into simple and elegant solutions that have a positive impact on people's lives has been a consistent motivating factor throughout my career. I've followed this motivating principle to my current role at Immedis and in previous roles in solution architecture, people operations, professional services and program leadership – I truly love the intersection of people and technology, and what better place to do that than in the touchpoints of HR and payroll.
Key turning points along the journey are things that I remember fondly; a love for science and maths that led to a Masters in Physics, a final year dissertation programming a Formula 1 simulator to optimize downforce and gearing using Fortran which moved me from science to a love for technology, working in major multinational HCM and supply chain implementations as a management consultant, bringing in a love of international complexity and then finally a career in HR and Payroll technology and change which led me to Immedis.  These were all key things, but ultimately the underlying thing in all of the major decisions has been the people that I would be working with, which has never been more true than in Immedis.
2. How do payroll platforms in 2021 differ from those in 2011?
That's a good question, and I think if you look at the Immedis origin story, you'll get a clear understanding of how payroll platforms have evolved over the past ten years.
So many incredible things that are achieved come down to perfect alignment of opportunity and capability. Malcolm Gladwell, one of my favorite authors, talks about this very elegantly in "The Tipping Point".
For Immedis, this is also true in that the consolidation that has been driven in the HCM market globally, combined with the deep global payroll and tax knowledge & experience within our organizational DNA, then combined with expertise in technology innovation & data architecture is really what has brought Immedis to this pole position as a leader in global payroll.
Immedis is part of the Clune Technology Group (formerly the Taxback Group), a collection of global companies that deliver focus driven, digitized solutions to simplify the complexity of global business. Ruairi Kelleher joined the wider Clune Group in 2012 and along with Terry Clune and Mark Graham launched Immedis in 2016 to reimagine how global payroll is delivered, utilising the best-in-class modern technology capability combined with a deep expertise in global taxation.
With over 20 years in Global Tax Mobility from its origins in the Taxback Group, Immedis has a deep understanding of the most challenging aspects of global payroll. Based on that knowledge and expertise the Immedis team created a global-first payroll platform that's purpose built for the digital age. Immedis' technology and platform infrastructure are built for the cloud and with the adaptability to integrate seamlessly with multiple systems in the HR technology stack, including Human Capital Management (HCM) and finance systems.
By integrating with the leading and most widely used HCM solutions in the world, Immedis can dramatically simplify multi-country payroll and tax obligations, provide efficiency, cost savings, compliance and actionable analytics for our customers. Immedis also integrates with financial, Time & Attendance and Benefits software, enabling organizations to improve efficiency, operate profitably, and continuously scale.
Born in the cloud and for the cloud with the technology adaptability to integrate and scale to customer needs are a few of the key characteristics of the Immedis platform that demonstrate how payroll platforms have evolved as well as what differentiates our solution from legacy providers.
3. What are the most difficult challenges faced by payroll platform providers and their clients?
Immedis is focused on what we believe is the biggest challenge faced by the global payroll industry – the desire for simplicity in a world of complexity. The challenge is how to unravel that twisted knot of complexity and with our vision of touchless payroll simplify and streamline payroll processes to flow swiftly and without interruption to deliver an accurate, timely and compliant payroll cycle every time.
Global payroll management is multifaceted and rife with challenges, including continually changing employment legislation and complex legal and tax regulations to name just a few. When an organization operates in numerous countries, it is critical to maintain holistic control and visibility. However, working with multiple providers in each country makes this a difficult task. Immedis eliminates this obstacle by providing a single source of truth, allowing customers to benefit from a single vendor relationship with the global coverage needed to support businesses today and as they expand. With the Immedis Platform, organizations have a consolidated repository of payroll data at their fingertips, one that has been validated and checked by our in-country experts. All of this is within a simplified global operating model that separates and protects the user from the underlying complexity.
4. How would you persuade C-suite members to adopt Immedis? Give us your elevator pitch.
A founding principle of the Immedis Platform is to reimagine how global payroll is managed, executed and delivered by introducing automation across a significant percentage of the payroll inputs, validating this data as it is entered pre-processing, and then automating the downstream delivery – we think fundamentally differently to legacy payroll providers. This eliminates the need for time-consuming manual uploads and file exchanges, accelerating the pay cycle, increasing accuracy and ensuring compliance. The result is a single source of truth, allowing customers to benefit from a single vendor relationship with the global coverage needed to support business today and to scale as organizations expand. Only Immedis can provide these time and cost savings combined with data and analytics insights that Chief Human Resource Officers (CHROs), CFOs, CTOs and CIOs can leverage not just in payroll operations but also across multiple business functions such as HR, finance and IT.
5. For the benefit of those who are unfamiliar with payroll platforms, how do you differentiate Immedis from its competitors?
Immedis' primary differentiator stems from our mission to deliver secure, compliant, accurate and touchless global payroll. I'm fairly certain that our competitors will also claim they deliver secure, compliant and accurate payroll, but only Immedis can claim "touchless."  What we mean by touchless ties in with the founding principle of the Immedis platform that I mentioned earlier – to reimagine how global payroll is managed, executed and delivered by introducing automation across a significant percentage of the payroll inputs, validating this data as it is entered pre-processing, and then automating the downstream delivery. In short, Immedis is laser focused on keeping it simple. The massive amount of data and data management requirements needed to deliver accurate and timely payroll can be daunting. More than any other global payroll provider, Immedis takes on the complexity, so organizations and payroll teams don't have to.
Immedis Perpetual Validation, an industry-first innovation, is a perfect example of touchless payroll in action. As the name suggests, it continuously checks and subsequently validates the quality and completeness of HR and payroll data sourced from HCM and finance systems and contained within the Immedis Platform. It surfaces data management from AI techniques in a way that is intuitive to non-technical users, removing the challenges of different integrations and systems.
Onscreen graphical notifications alert users to gaps in their global payroll data, for any country, in real-time. This provides payroll teams the opportunity to identify and resolve data issues that may negatively impact the payroll cycle completion so they can ensure accurate and timely payroll delivery to employees.
6. How has the pandemic affected Immedis and other payroll platforms? Has it affected each provider equally?
So much has happened over the past year, including adjusting to the long-term impacts of Covid. As a global phenomenon, the pandemic has affected nearly every industry, organization and individual in the world. I can't speak for other companies, but at Immedis we never blinked and maintained an unwavering focus on supporting our customers and helping them achieve their business objectives. Our leadership team set this tone from the start with a two-pronged approach on stepping up both external and internal communications and engagement.
Externally, Immedis ramped up our customer communications as part of a customer experience enhancement effort we had already planned but accelerated due to COVID. We launched a number of customer-facing newsletters and a new customer communications channel called "Ask Immedis." Immedis also expanded learning, development and training initiatives through Immedis Academy, our learning management system for Immedis customers and our employees alike.
Internally, Immedis focused on keeping our employees motivated and engaged.
While separated physically, we have in fact never been closer as a team. We have put in a huge amount of work since the start of the pandemic to ensure that we stay connected as a team and continue to collaborate remotely. This has been possible by changing our behavior and by embracing technology innovations in employee engagement and communication across the business.
Immedis started hosting weekly CEO Sessions to provide business updates and engage external speakers on topics such as wellness and inclusion. We called these sessions "Ruairi's Stories," named after Ruairi Kelleher, our CEO. Immedis invited our brand ambassadors, Irish pro golfers Shane Lowry and Stephanie Meadow, to support the team in terms of mental resilience, as well as a host of other special guests over the last 18 months.
We also launched Immedis Coffee Connects, biweekly sessions encouraging employees to connect online and have a coffee and an informal chat with no agenda other than to get to know one another – essentially recreating the water cooler. This meant that regardless of where you were based, you got to know people from across the business and from different parts of the world in a way you otherwise would not have. Certainly, we have worked hard to meet the challenges Covid has presented to all of us and find ways, where possible, to turn these challenges into opportunities.
Immedis recently launched Wellbeing@Immedis which is a program for employees to improve their wellbeing both in terms of upskilling and in terms of making small changes that will result in big change. Some of these changes included reducing 60- and 30-minute meetings to 45 or 25 minutes to give people time back so they can take a comfort break and periodically step away from their computers. We are also supporting our employees to ensure they take a lunchbreak and rolling out initiatives such as "no internal meeting Wednesdays." On the education side we are enabling employees to vote on what topics they'd like covered on our dedicated Wellbeing space on our internal social network. We have had sessions to date on pandemic burnout, emotional intelligence and stress management, with more to come.
These new programs and a renewed focus on communications and engagement have given us the opportunity to improve communication across the organization while also improving product delivery and services to our customers. In many ways, the last year has highlighted the importance of the products and services Immedis offers that enable organizations to deliver accurate and timely payroll to their employees no matter where they are in the world.
7. Do blockchain-based payroll platforms like Bitwage present any threat to Immedis? Do you have any plans to adopt blockchain technology?
It would be naïve not to look at all external forces in terms of both the threat and opportunity that they represent. Blockchain technologies, not to be confused with their subset of cryptocurrencies, absolutely have a place in the future of both HR and Payroll technology. Blockchain in its simplest essence allows the concept of trust to be shared – this is fundamentally important as people globally strive for more ownership and control over their own data (data sovereignty). The conundrum becomes – how do you give the person the ownership, while still being able to utterly trust the data that you no longer control and potentially even verify?
Blockchain can be utilised in this way in many aspects of HR from certainty over qualifications, previous employment verification, all the way through to proof of earnings and income.  The employee digital wallet for payroll and payments is the key to unlocking this… watch this space in 2021 Q4.
8. Holding payroll data of millions of people worldwide is a massive security burden, how will you ensure that Immedis doesn't fall foul of any breaches like KPMG Mexico, Facebook and Interserve?
The payroll department holds the most sensitive data about employees, including salary data and banking information. Ensuring the security and confidentiality of this data is crucial. At Immedis, we have multiple measures in place across our people, processes, and technology to ensure the highest standards of data security.
Immedis is a native cloud platform, meaning our infrastructure, application, and development methodology is cutting-edge and of the highest security standards. Hosted in Amazon Web Services (AWS), Immedis customers are safe in the knowledge that their data is stored within secure AWS data centers and that information flowing between and stored in AWS is automatically encrypted.
All data in transit and at rest is fully encrypted using the latest in encryption technologies. For the most sensitive of information, double encryption of specific data fields is enabled for added security and peace of mind.
Additionally, our role-based system access allows for a granular level of data visibility and control, enabling administrators to decide who can view and edit specific information based on their account and data security access level. Immedis is also ISO 27001 certified and Security Operations Centre (SOC) compliant.
9. What advice do you have for payroll or similar industry startups?
What has always driven me is the exciting opportunity to use technology to provide elegant solutions that simplify and solve complex problems that people face every day in work and in life. In that regard, my advice to someone just starting out in technology is to always keep the human element at the center of any business problem you're aiming to solve. This is especially true when it comes to payroll technology innovation. The more human-centred the solution is, the more enriching and satisfying our cultural experiences will be in the workplace, whether that's in the office or working remotely as part of a globally distributed team. Technology should solve problems and make our lives easier, not more complex. Simplification and reducing complexity in global payroll are elemental to everything we do at Immedis.
As an entrepreneur and business leader you get pulled in so many different directions and by so many influences, which is fun and exciting, and all part of becoming successful. But it's important to keep your focus on what you and your team are trying to accomplish. Keeping people and real-world problem solving at the core of everything you do will not only support your business success, but also the success of the people who are working in lockstep with you to deliver the best products and solutions to the market. I think all technology providers and the companies who buy their products and solutions should keep this human-centered approach to technology top of mind across every aspect of the business.
I ask myself every night, "what is the one thing that I need to do tomorrow that is the key to unlocking everything and everyone else?" I obviously try to do more than one thing, but know that if I cannot, then I have done the most important thing first.
10. If you could go back in time and advise your younger self about your career, how far back would you go and what would you say?
This is a hard one to answer. Do you believe in luck, or chance, or opportunity? Oh, to meet Dr. Emmett Brown from Back to the Future!  As a scientist, I do not really believe in luck; but then also as a scientist I learned early in quantum mechanics that virtually anything is possible, even if it is highly improbable (electron energy barriers!). I guess that taught me the value of patience and persistence, being able to hold-fast in the storm to achieve what you know is possible. Even if it seems impossible, it isn't. Being able to bring people with you is key to that.
The other thing that I learned from sport is that ultimately you cannot beat someone that is willing to persistently out work you.  So, I guess ultimately my advice would be to "be your best authentic self, know that nothing is really impossible, and then be willing to work harder than is needed for longer than required… if you do those things then you will succeed in whatever it is you choose to do."  This is all made much easier when you love what you do and the people that you have the privilege of working with!