Improving Critical Thinking and Problem-Solving Skills Through STEM Education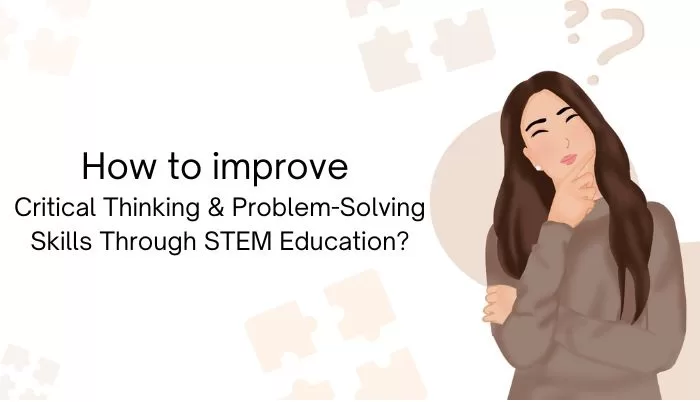 STEM education fosters critical thinking skills like analysis, interpretation, deduction, evaluation, reasoning, and self-reflection. Stem education and these fundamental skills are essential for tackling the complicated problems of today.
Everyone knows how critical thinking and problem-solving skills are important nowadays. These two skills are essential for success in any industry or career. Furthermore, these skills are also helpful in handling issues that arise in daily life, not simply in the professional setting. Today we pay more attention to developing these types of skills through STEM education as a basis for multidisciplinary, active student learning.
A student's educational success is measured by how many correct answers they can provide. However, their reaction to issues and questions for which there are no obvious solutions also matters. Instead of focusing on how students merely repeat learned material, they should try to come up with their own answers.
That's when critical thinking and problem-solving skills step into the game. By asking questions, revising, generating ideas, and considering other people's viewpoints, students learn how to apply critical thinking when writing their assignments. Being able to act on information is just as important as understanding it because students apply both new and old knowledge to solve problems.
And being able to think critically is necessary for problem-solving. Practicing critical thinking abilities is important for students' interest in STEM areas for them to succeed. It also improves their problem-solving and reasoning skills. It's worth noting that critical thinking skills can be learned and developed because they are not always inherent. Almost every student has the potential to master the skills they need to think critically. In this context, the strategies that STEM education offers play a key part.
According to studies, a major factor in students' success in STEM degrees at community colleges and universities is their critical analysis skills. It is proven that critical thinking is a vital skill that is required for success in pursuing a STEM degree and profession. It is important to develop and strengthen critical thinking skills because these skills are directly linked to student motivation and success.
If you want to find a high-quality program that includes real-world STEM problem-solving, look for a STEM curriculum that was created using the engineering design process. Students have the chance to learn a complex problem-solving process they may apply to other disciplines and employ when taking high-stakes exams.
Critical thinking skills can be developed through project-based learning, multidisciplinary study, and problem-solving in the STEM curriculum. Through the use of practical training tools and hardware, students apply the theory they have learned to meet challenges in the real world.
Engineers apply the engineering design process to direct them as they address complex challenges in the real world. To address challenges, engineers follow a process known as the engineering design process. This process is iterative, so they go over the processes as often as necessary to find the best solution. As they go, they learn from their mistakes and discover new design options.
The process mimics how engineers solve problems: they create solutions, test them out, fix any mistakes, and then test new solutions based on what they discovered. Although these steps are usually taught in order, you'll find that when students adopt this approach to problem-solving, they see that it applies to a wide range of problems. As a result, students are taught there are different ways to deal with a challenge and that mistakes help them learn thanks to the focus on creative and critical thinking!
While introducing STEM might appear to be a difficult task, it need not be like that. Starting is the first step in introducing STEM into your curriculum. Start with as little as thirty minutes of weekly integrated STEM learning. A wonderful method to teach STEM to your students and give them an opportunity for critical, complex thinking and problem-solving that incorporates knowledge they have gained from their basic education is to have them complete small STEM projects using the engineering design process.
STEM is beneficial for students. Thus, it should and will remain a popular subject in education. A good STEM program gives students the chance to apply their knowledge across disciplines and approach STEM problem-solving with ease, even if it only takes thirty minutes each week. Students are curious to study their surroundings and rise to the challenges of the future as they start to learn the real-world applications of STEM.